Looking for Easy Recipes With Tofu? When embarking on a vegan or vegetarian lifestyle, it's important to find new sources of protein to ensure a balanced diet. Tofu, also known as bean curd, is a versatile and delicious option. It's packed with protein and a blank canvas for flavor. In this post, we'll dive into the world of tofu. And share some easy and delicious recipes that will have you falling in love with this plant-based protein.
Tofu is made from dried soybeans that are soaked in water, crushed, and boiled. The next step in this process is coagulating soy milk. Then pressing the resulting curds into the solid white blocks we know and love. These vary in different softness including; silken, soft, medium, firm, and extra firm.
10 Easy Recipes With Tofu
Look no further than these 10 easy tofu recipes! Whether you're a seasoned vegan or just looking to cut down on your meat consumption, these recipes will satisfy your cravings and keep you feeling full and energized.
Sticky Sesame Tofu Air Fryer
This mouth-watering sticky sesame tofu is the best way to transform your tofu into a delicious dish!
Check Out This Vegan Recipe

Crispy Air Fryer Tofu
The crispiest most delicious air fryer tofu ever! This crispy tofu recipe is healthy, easy and incredibly versatile. The best way to get your vegan protein!
Check Out This Vegan Recipe

Peanut Butter Thai Tofu Curry
Creamy, easy to make, and bursting with Thai flavours. This vegan peanut butter curry is SO delicious, and perfect for sharing.
Check Out This Vegan Recipe

Vegan Tofu Scramble
Looking for a delicious and healthy breakfast option? Try this vegan tofu scramble recipe! With a texture similar to scrambled eggs, this protein-packed dish is a nutritious and flavorful way to start your day. Plus, it's easy to make with just a few simple ingredients.
Check Out This Vegan Recipe

Air Fryer Buffalo Tofu Wings
Enjoy the bold flavor of buffalo wings in a vegan-friendly way with these Air Fryer Buffalo Tofu Wings. Crispy and delicious, they're easy to make and perfect for a quick and healthy snack or meal. Plus, they can be made gluten-free for those with dietary restrictions.
Check Out This Vegan Recipe

Vegan Rainbow Bowl With Spicy Thai Peanut Sauce
Eating the rainbow has never been so delicious! Loads of colourful veggies and perfectly cooked tofu are topped with a spicy-sweet thai peanut sauce you won't forget.
Check Out This Vegan Recipe
Herb Crusted Tofu Steaks
These herb crusted tofu steaks are crispy, savoury and oh-so delicious. Packed full of nutrients and protein, these vegan tofu steaks make the perfect entree.
Check Out This Vegan Recipe

Easy Vegan Teriyaki Sheet Pan Dinner With Tofu
Only 10 minutes to prep, this healthy dinner makes the perfect easy weeknight meal. It's packed full of savoury, sweet deliciousness and is ideal for vegan meal prep.
Check Out This Vegan Recipe

Satay Tofu Noodle Meal Prep
This satay inspired noodle salad is perfect for vegan meal prep. It's healthy, packed with over 30g of protein per serving, and tastes AMAZING! Prep ahead and enjoy this delicious meal all week long.
Check Out This Vegan Recipe

Vegan Meal Prep Miso Maple Tofu and Quinoa
This vegan meal prep miso maple tofu and quinoa recipe is a delicious and nutritious option for those looking to eat more plant-based meals. Packed with protein and veggies, this recipe is perfect for a healthy lunch or dinner.
Check Out This Vegan Recipe

Extra Firm Tofu
Extra firm tofu is one of the most popular tofu styles for new vegans or vegetarians, this is because it has the least amount of moisture and best resembles the texture of "meat". If you are using soft or medium tofu you might find the texture a little too soft for some dishes and vegan recipes. Extra-firm tofu has an even denser and firmer texture than firm tofu, making it ideal for slicing, grilling, and frying.
Firm Tofu
This type of tofu has a dense, firm texture and holds its shape well. Although firm tofu is slightly less dense than extra-firm, the two are interchangeable in most recipes.
Medium Tofu
Medium tofu type of tofu falls between a firm and soft in terms of texture. This tofu is the perfect consistency for crumbling making it ideal for dishes like tacos or chili. Medium-firm tofu tastes amazing fried, air-fried, or even scrambled in a pan. It has a softer texture than firm or extra-firm tofu and is personally my favorite in a tofu scramble.
Soft Tofu
This type of tofu has a smooth, creamy texture and is often used in dishes where it will be blended or pureed, such as in smoothies, dips, and sauces. Soft tofu contains high moisture content and is great when making desserts or dishes that need to be a little more smooth. Soft tofu can be used as a substitute for dairy, eggs, and even desserts. It's also great in soups like miso.
Sprouted Tofu
Sprouting soybeans before processing them into tofu increases the nutritional value and make it easier to digest. This type of tofu, called sprouted tofu, has a mild, slightly sweet flavor and a softer texture than regular tofu.
You can use it crumbled in dishes such as salads or tacos or blend it into dips or sauces. Some studies suggest that sprouted tofu may have higher protein and antioxidant levels than regular tofu, but more research is needed to confirm these potential health benefits. Keep in mind that sprouted tofu is more expensive and harder to find than regular tofu due to its smaller production quantities. It is also more perishable, so store it in the refrigerator and use it within a few days of purchase.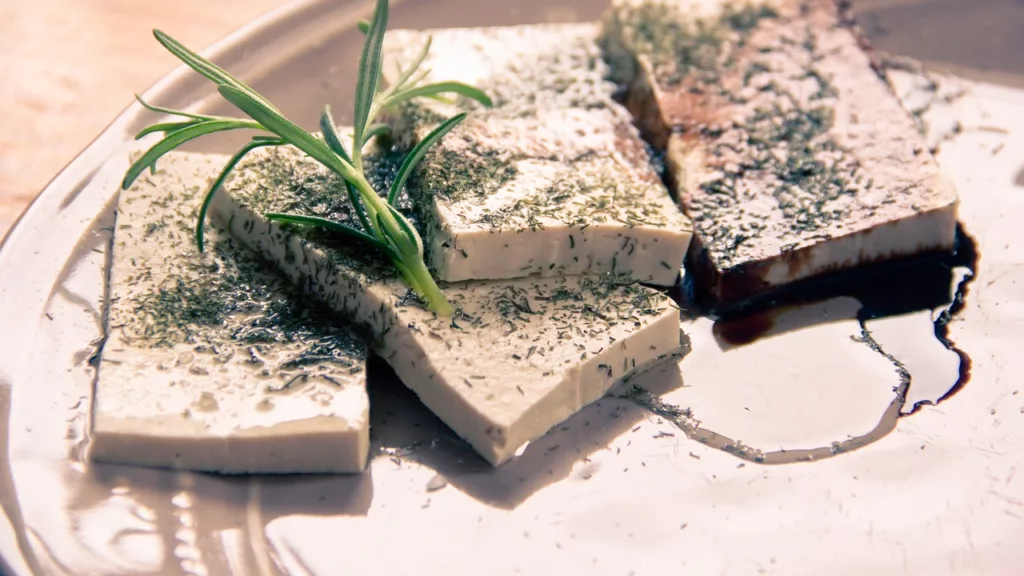 How Tofu Is Prepared
Tofu is extremely versatile and there are so many ways to prepare it. When using extra firm tofu you can use the freeze and dethaw technique to enhance the texture of the tofu used in recipes and when cooked. You can find vegan recipes on this blog that use this technique.
There are many different ways to prepare tofu. The specific method you choose will depend on the type of tofu you are using and the dish you are making. Here are a few common methods for preparing tofu.
Cooking Easy Recipes With Tofu
Now, on to the recipes! There are a lot of different ways to cook tofu, some are simple and some are more complex. You can find easy vegan tofu recipes like my Vegan Tofu Teriyaki Sheet Pan Dinner which can be prepped in 10 minutes! Tofu absorbs flavors well, making it a versatile ingredient in a variety of dishes. It can be marinated, grilled, stir-fried, or blended into soups and sauces. You can also make this Easy Tofu Scramble Recipe which can be made in under 20 minutes. When are have a little more time you can try out one of my most popular recipes which is the Cripsy Herb Crusted Tofu Steaks Recipe. As you can see there are a variety of ways to bake, fry, and cook tofu.
You can find all my tofu-based recipes here.
Best Recipes With Tofu
Here at spicy vegan food, you will find some easy recipes with tofu. So once you learn more of the tips and tricks of cooking with tofu the easier it becomes! Be sure to reach out if you are looking for any other meat dishes that you would like to see veganized!
Conclusion: Easy Recipes With Tofu
In conclusion, tofu is a versatile and delicious ingredient that can be used in a variety of easy recipes. These recipes are perfect for any meal or occasion and are sure to please your taste buds and satisfy your hunger. So, whether you're a vegetarian, vegan, or simply looking to incorporate more plant-based options into your diet, give these recipes a try and you'll be surprised at how easy and delicious they are. So, don't be shy and let your taste buds take a taste test of these easy recipes with tofu, you won't regret it. Ready to be painted with any flavor you desire, these easy recipes are a great starting point. Let your taste buds be the judge and enjoy the delicious world of tofu!