This isn't your average Tomato Toast! Elevating the classic combination of fresh tomato slices and aromatic basil, this toasted open sandwich features our lusciously creamy, protein-rich homemade vegan cream cheese. Perfectly complemented by a drizzle of rich balsamic reduction, it's an irresistible choice for a satisfying breakfast or a delectable snack.
Ingredients & Substitutions
First up is our homemade vegan cream cheese, made from tofu bringing a creamy and protein-rich foundation to the dish. For those who prefer a non-vegan option, regular cream cheese serves as an excellent substitution without compromising on taste and texture.
Next, the star of the show – fresh tomatoes, sliced to perfection. Their juicy and ripe nature adds a burst of freshness that harmonizes beautifully with the cream cheese. To introduce a twist, consider using heirloom or cherry tomatoes for a delightful variation in color and taste.
Complementing this delightful duo is the fragrant basil, which adds an aromatic touch and elevates the overall experience. Should basil be unavailable, the role can be effortlessly filled by baby spinach or peppery arugula, both of which offer their own unique and satisfying flavors.
Finally, a rich balsamic reduction adds the finishing touch. It's sweet and tangy notes tie the elements together flawlessly. In the absence of balsamic reduction, a high-quality balsamic glaze or a zesty vinaigrette can step in to keep the harmony intact.
Of course, no toast is complete without its foundation, and in this case, the choice of bread is yours! Whether you prefer the wholesome nuttiness of rustic whole-grain, the tangy allure of artisan sourdough, or the gluten-free charm of an alternative option, the stage is set for you to express your personal taste and culinary creativity.
Helpful Tools
Food Processor: A food processor is essential for creating the smooth and creamy vegan tofu cream cheese. It will effortlessly blend soaked cashews, extra firm tofu, lemon juice, nutritional yeast, spices, and water into a luscious spread.
Toaster or Pan: You'll need a toaster or a pan to toast your bread until it reaches a delightful golden-brown texture, providing a satisfying crunch to the tomato toast.
Sharp Knife: A sharp knife will come in handy for slicing the small tomato and fresh basil leaves with precision, ensuring even and appealing toppings.
Drizzling Bottle: To achieve an elegant balsamic reduction drizzle, consider using a small drizzling bottle or a spoon with a steady hand for perfect presentation.
How to Make Tomato Toast with Homemade Vegan Cream Cheese
The first step is to prepare the vegan cream cheese. In a food processor, combine soaked cashews, extra firm tofu, fresh lemon juice, nutritional yeast, salt, optional dried spices of your choice, and water.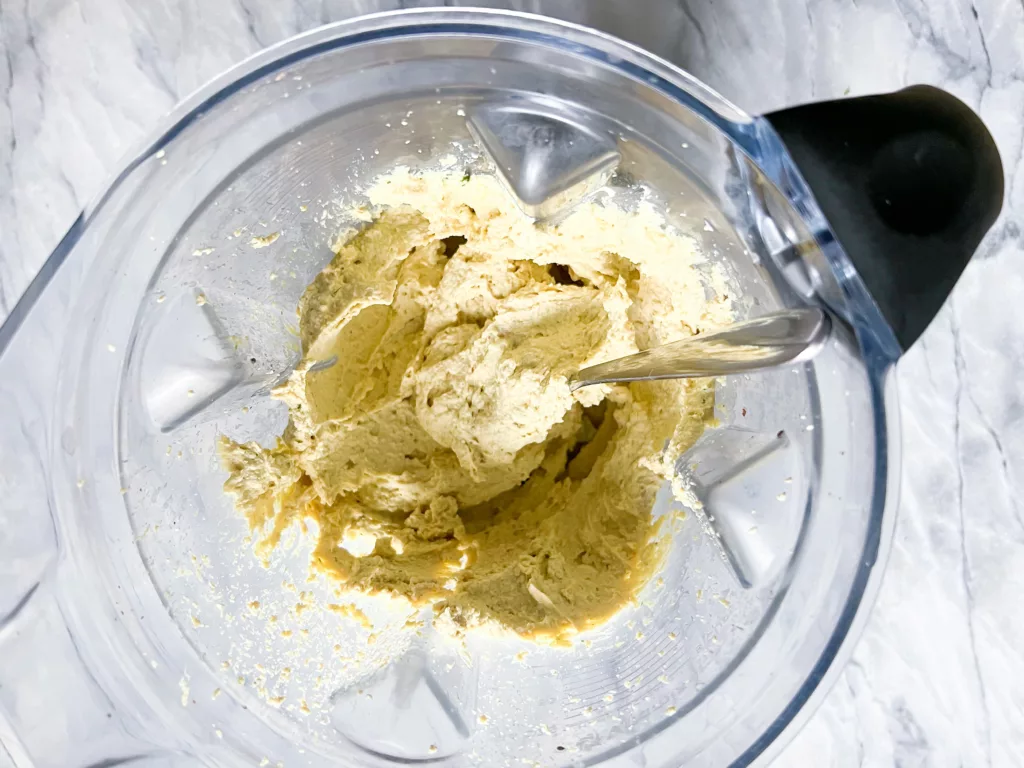 Blend the ingredients until smooth and creamy, creating a luscious vegan cream cheese. Transfer any remaining cream cheese to the refrigerator for future use (it can last up to a week).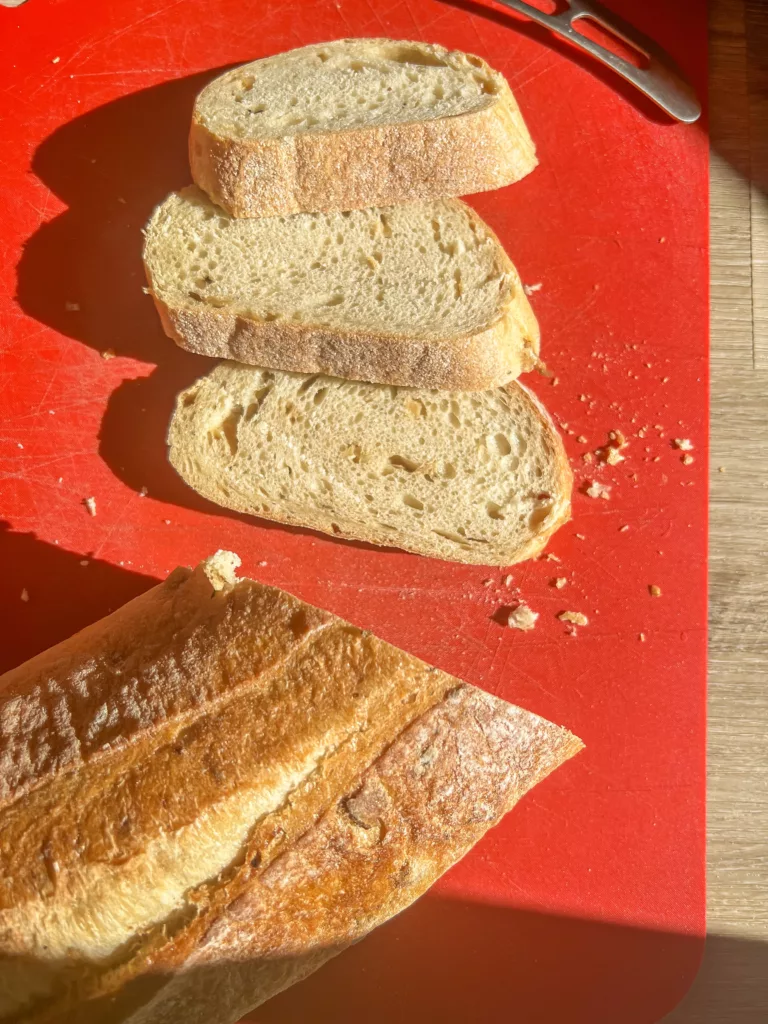 Next, toast two slices of your preferred bread in a toaster or a pan with a little olive oil until they achieve a golden-brown and crispy texture.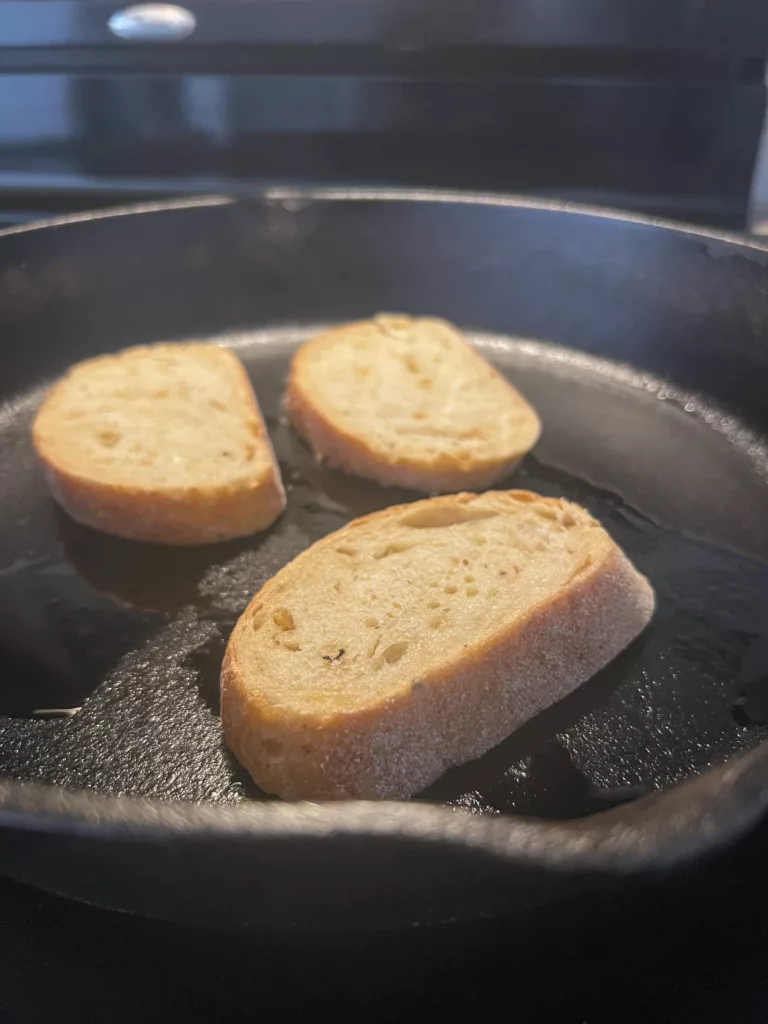 Finally, it's time to assemble your toast! Take the toasted bread and generously spread a thick layer of the prepared vegan cream cheese on each slice.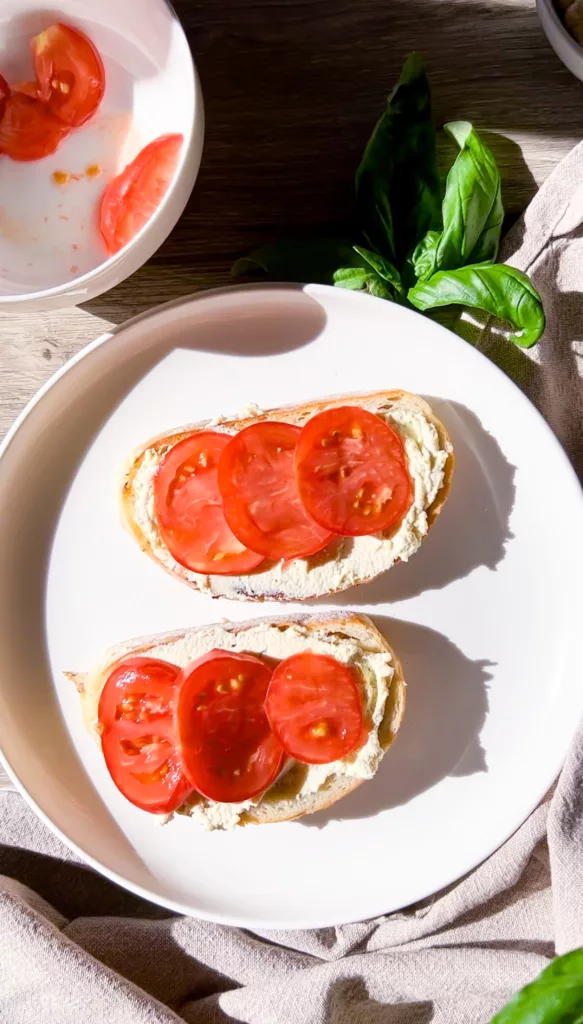 Arrange slices of fresh tomato on top of the cream cheese layer, ensuring even coverage. Add a few leaves of fresh basil on top of the tomatoes, infusing the toast with delightful aroma and flavor.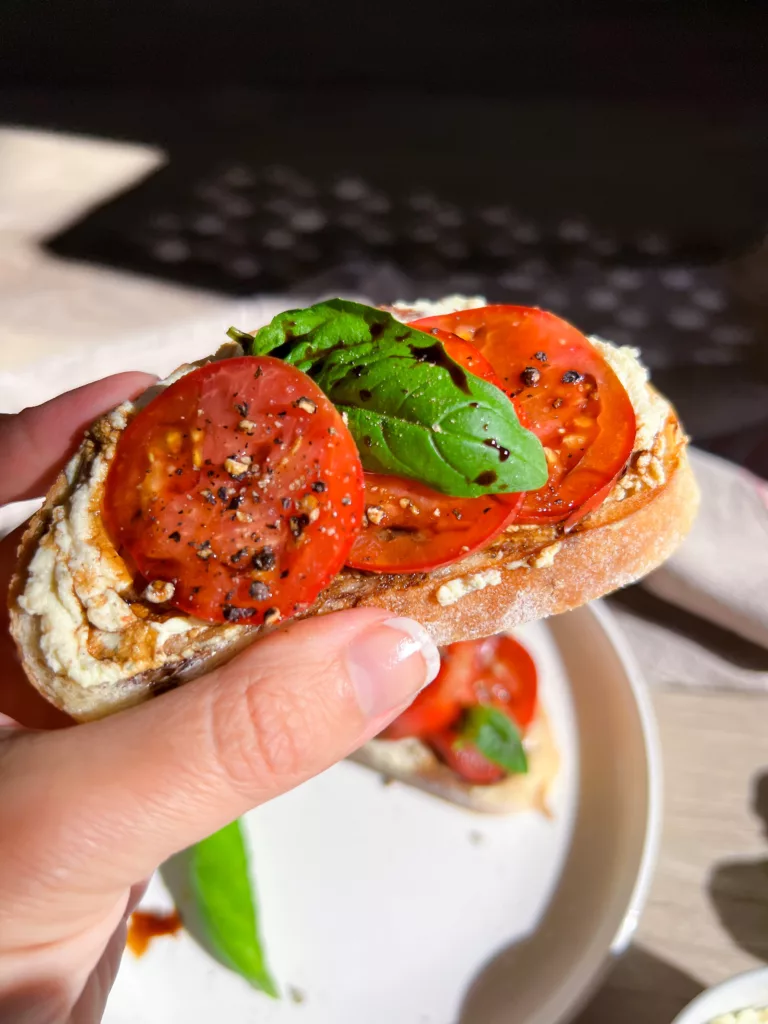 Finish off by drizzling balsamic reduction over the tomato and basil for a tangy and visually appealing touch.
Tips & Tricks
Soak the Cashews: For a smooth and creamy texture in the vegan cream cheese, ensure that you soak the cashews. Overnight soaking is preferred, but if you're short on time, soak them in boiling water for 20 minutes to soften them.
Adjust the Nutritional Yeast: Nutritional yeast adds a savory and cheesy flavor to the cream cheese. If you prefer a milder taste, use a smaller amount of nutritional yeast or adjust it according to your taste preferences.
Customize with Dried Spices: Experiment with different dried spices to create unique flavor profiles. Popular options include garlic, onion, dill, Italian spice, and everything bagel spice.
Choosing the Bread: Opt for your favorite bread, but consider using sprouted grain bread for extra protein and added nutritional benefits.
Spreading the Cream Cheese: Ensure your bread is cooled before spreading the vegan cream cheese to prevent it from melting or becoming soggy.
Slicing the Tomatoes: Use ripe, small tomatoes for the best flavor and texture. Slice them thinly and evenly for a well-balanced topping.
Store the Leftover Cream Cheese: Store any remaining vegan cream cheese in an airtight container in the refrigerator. It can last up to a week, allowing you to enjoy the delightful spread on other dishes.
Serve Fresh: Tomato toast tastes best when served immediately after assembly to savor the vibrant flavors and textures.
FAQ: Tomato Toast with Homemade Vegan Cream Cheese
Is this recipe suitable for vegans and those with dietary restrictions?
Yes, this recipe is entirely plant-based, making it suitable for vegans and those following dairy-free or lactose-free diets.
Can I make the vegan cream cheese in advance?
Absolutely! The vegan tofu cream cheese can be prepared ahead of time and stored in the refrigerator for up to a week.
How should I store the Tomato Toast leftovers?
It's best to consume the Tomato Toast immediately after assembly for the freshest taste. However, if you have leftovers, store them in an airtight container in the refrigerator for a short period and reheat lightly before consuming.
What are some other topping ideas for the Tomato Toast?
Feel free to get creative with your toppings! Avocado slices, roasted vegetables, or even a sprinkle of your favorite vegan cheese can add exciting flavors.
Can I make the cream cheese without a food processor?
While a food processor yields the best results, you can use a high-powered blender as an alternative. Be sure to soak the cashews well for smoothness.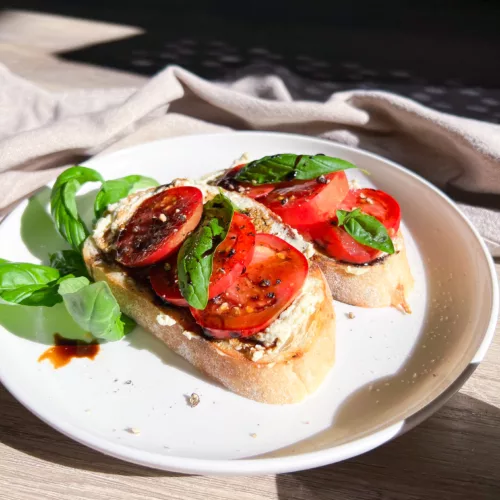 Delicious Tomato Toast with Homemade Vegan Cream Cheese
Savor the goodness of Tomato Toast with Vegan Tofu Cream Cheese—a high-protein delight layered with fresh tomatoes and basil for a scrumptious experience!
Ingredients
Vegan Tofu Cream Cheese
¾

cup

soaked cashews

(soak in water overnight, or in boiling water for 20 mins)

1 ½ 

tsp

salt

¼

cup

nutritional yeast

(use ⅛ cup if you like less nooch)

1

tsp

dried spices of your choosing, optional 

(garlic, onion, dill, Italian spice, everything bagel spice, etc)

¼

cup

water
Tomato Toast
2

slices

bread of choice

(use a sprouted grain bread for extra protien)

1

small

tomato, sliced

a few leaves of fresh basil

balsamic reduction to drizzle
Instructions
Make the vegan high-protein cream cheese by combining soaked cashews, tofu, lemon juice, nutritional yeast, salt, water, and dried spices in a food processor. Blend until smooth and creamy.

Keep the remaining cream cheese in the fridge for future use. This lasts up to a week in the fridge.

Toast the bread in a pan with a little olive oil.

Assemble your tomato toast by adding a thick schmear of vegan cream cheese, and topping with tomato slices, fresh basil, and a drizzle of balsamic reduction. Serve, and enjoy!
Video
Conclusion
Tomato Toast with Vegan Tofu Cream Cheese offers a delectable combination of creamy, protein-rich goodness and the freshness of tomatoes and basil. This plant-based delight is not only a scrumptious treat but also a nutritious option for breakfast or a satisfying snack. Easy to make and customizable with various toppings, this recipe is sure to become a favorite in your culinary repertoire. Enjoy the burst of flavors and wholesome goodness in every bite of this delightful Tomato Toast!