Vegan BBQ wings offer a mouthwatering alternative to traditional chicken wings. Whether you're a committed vegan or simply looking to explore new culinary horizons, these plant-based options are sure to win you over. With the right combination of ingredients and a touch of culinary finesse, you can create a dish that's both satisfying and ethical.
Ingredients & Substitutions
To create these delectable vegan BBQ wings, you'll need the following ingredients:
Firm tofu
Cornstarch
Almond milk
Panko breadcrumbs
Paprika
Pepper
BBQ sauce
Vegan ranch (optional, for serving)
Feel free to customize the recipe by substituting almond milk with your preferred non-dairy milk, or by experimenting with different spices for the coating.
Helpful Tools
Gather the following tools before you begin:
Knife and cutting board
Whisk
Mixing bowls
Air fryer or oven
Baking sheet and parchment paper
Having these tools on hand will streamline the cooking process and ensure that your vegan BBQ wings turn out perfectly crispy.
How to Make Vegan BBQ Wings
Cutting Tofu into Equal-Sized Sticks
Start by cutting the firm tofu into 16 equal-sized sticks. This will help the tofu cook evenly and achieve a satisfying texture.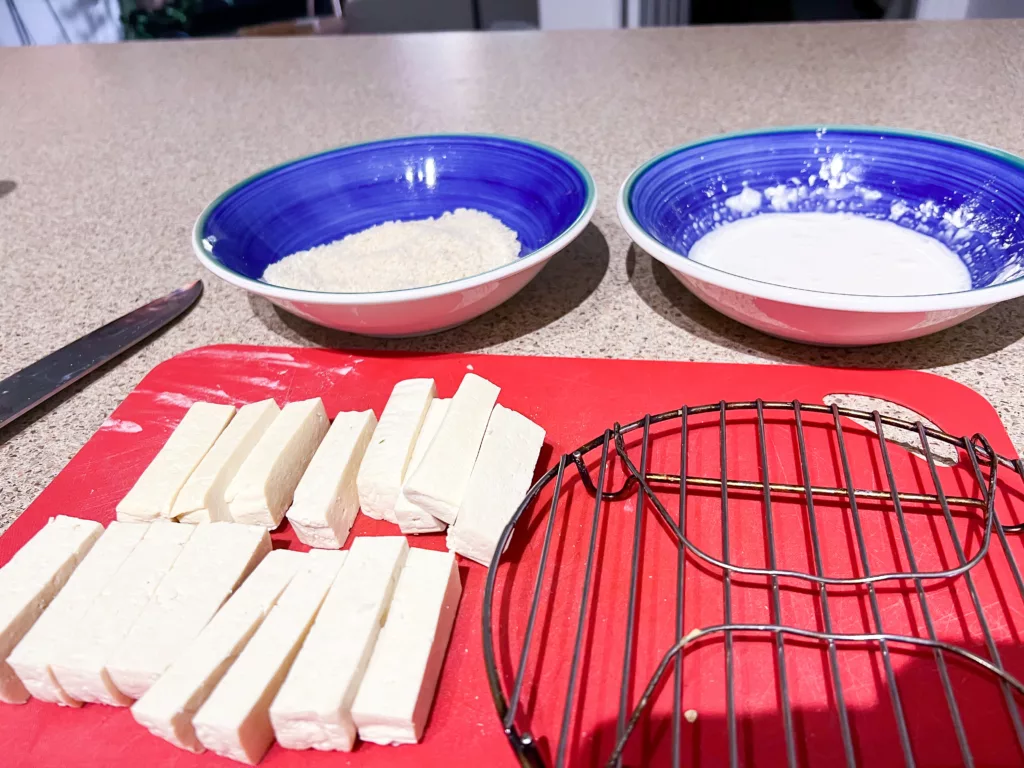 Preparing the Wet Mixture
In a bowl, combine cornstarch and almond milk, whisking until you achieve a thick and consistent mixture. This wet mixture will act as the adhesive for the coating.
Mixing the Dry Coating
In a separate bowl, mix panko breadcrumbs, paprika, and pepper. This combination of ingredients will give your wings a flavorful and crunchy coating.
Breading the Wings
Dip each tofu stick into the wet mixture first, ensuring it's well coated. Then, roll the tofu in the dry coating mixture until it's fully covered.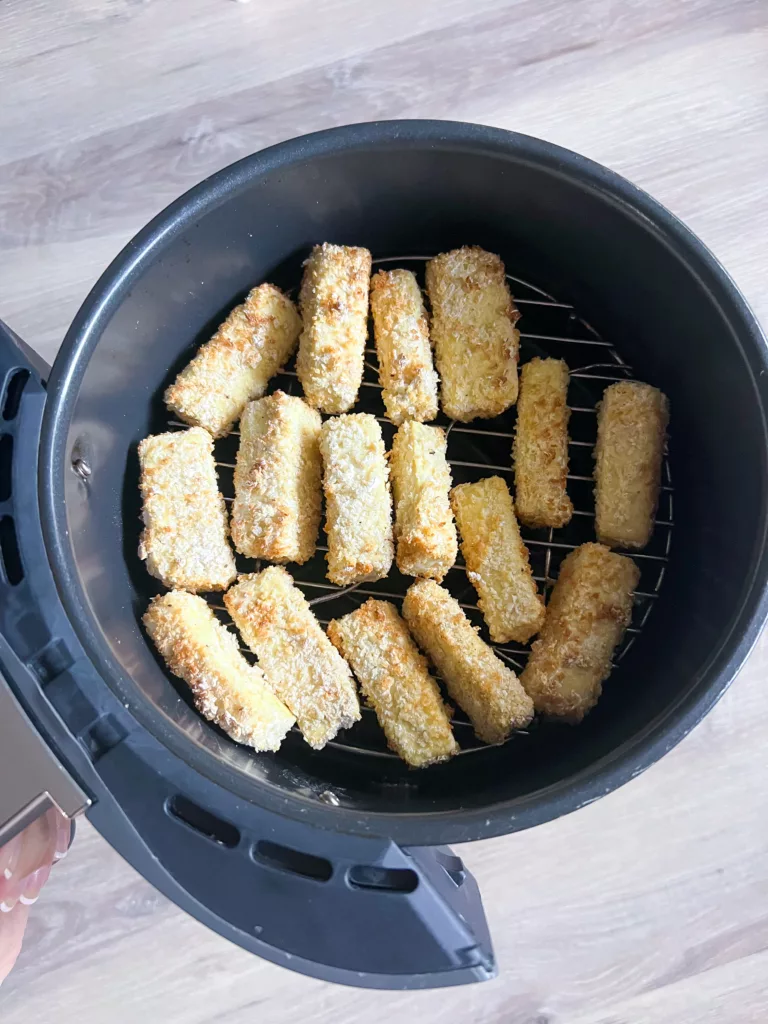 Cooking Instructions: Air Fryer and Oven Baked
For the air fryer method, place the coated wings directly onto the air fryer rack. Cook at 390°F for 8 minutes, flipping them halfway through. Alternatively, for oven-baked wings, place them on a parchment-lined baking sheet and bake at 425°F for 30-35 minutes, flipping halfway through.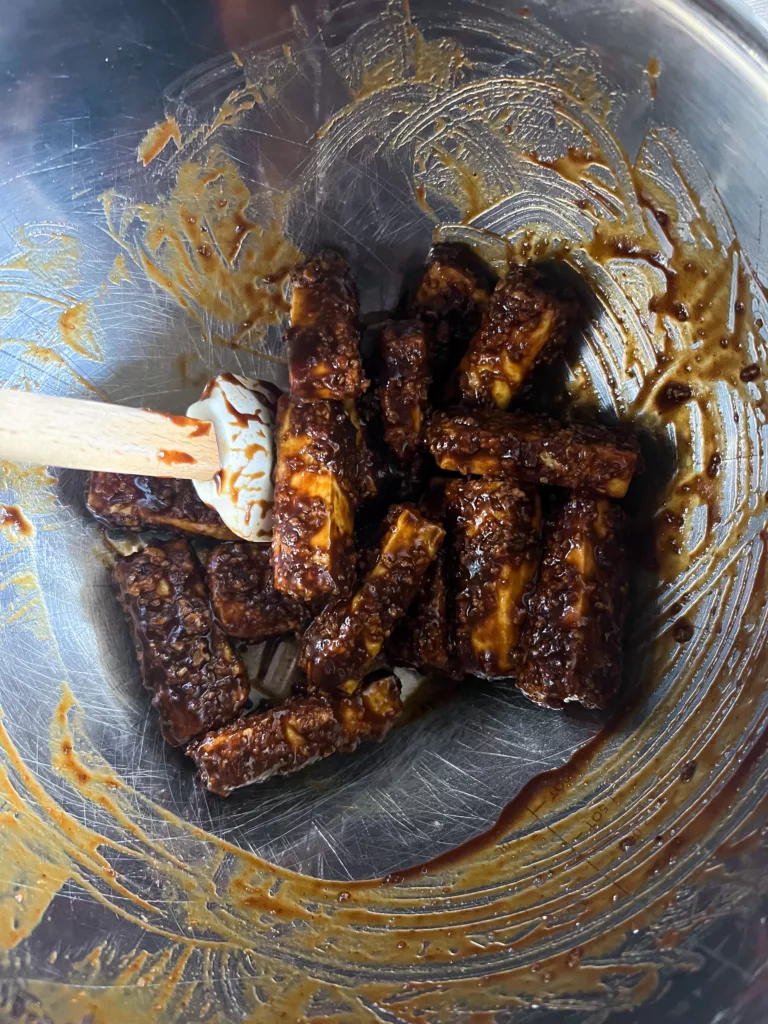 Coating with BBQ Sauce and Serving
Once cooked to crispy perfection, coat each tofu wing entirely with your favorite BBQ sauce. For an extra burst of flavor, serve your wings with vegan ranch on the side. Now, it's time to indulge in your delicious creation!
Tips & Tricks
For an extra layer of flavor, marinate the tofu sticks in your preferred sauce before breading.
Experiment with different spice blends to create unique flavor profiles for your coatings.
Adjust the cooking time to achieve your desired level of crispiness.
FAQ: Vegan BBQ Wings
Can I use a different type of sauce for coating?
Absolutely! While BBQ sauce is a popular choice, you can explore other sauces like teriyaki, buffalo, or sweet chili.
How do I store leftover wings?
Store any leftover wings in an airtight container in the refrigerator for up to 3 days.
Can I make the coating gluten-free?
Certainly! Use gluten-free breadcrumbs and a gluten-free BBQ sauce to make the recipe suitable for those with gluten sensitivities.
Can I use a different type of protein instead of tofu?
Definitely. While tofu is a versatile option, you can try this recipe with tempeh or seitan for a different taste, texutre and cooking time.
BBQ Tofu Wings
Savor the bold flavors of plant-based delight with our Vegan BBQ Wings recipe. Crispy, satisfying, and utterly irresistible.
Ingredients
Breading
6

tbsp

Cornstarch

¾

cup

panko bread crumbs

(sub for GF bread crumbs or cornflakes to make this gluten free)

½

tsp

smoked paprika

salt and pepper to taste
Instructions
Cut tofu into 16 equal sized sticks.

In one bowl, add cornstarch and almond milk. Mix well with a whisk and make sure you have a nice thick consistency.

In a separate bowl, mix together panko, paprika and pepper.

To bread the wings, dip each piece of tofu first in the wet mixture, then roll in the dry mixture until well coated.

Air Fryer Instructions: Placed coated wings directly onto the air fryer rack. Cook in the air fryer at 390° for 8 minutes, flipping half way at 4 minutes.

Oven Baked Instructions: Place on a baking sheet on parchment paper and bake at 425° for 30-35 minutes, flipping the tenders half way. Make sure the tofu wings and nice and crispy before removing from the oven.

Coat each piece entirely with the BBQ sauce. Serve with vegan ranch if desired. Enjoy!
Conclusion: Vegan BBQ Wings
Vegan BBQ wings are a delightful way to enjoy the classic flavors of traditional wings while embracing a plant-based lifestyle. With a crispy coating and a burst of BBQ goodness, these wings are bound to become a favorite among vegans and non-vegans alike. By following our simple steps and creative tips, you'll be able to whip up a batch of these wings that will leave your taste buds satisfied and your heart content.