Are you in search of a refreshing and delightful dish that's perfect for any occasion? Look no further than the delectable pasta salad with balsamic dressing. This crowd-pleaser offers a medley of flavors and textures that will leave your taste buds dancing. Whether it's a summer picnic, a family gathering, or a casual weekday lunch, this pasta salad is here to impress. In this article, we'll guide you through the art of crafting this exquisite dish, from gathering the necessary ingredients to serving up a plate full of culinary bliss.
Ingredients & Substitutions
Before embarking on your pasta salad adventure, it's crucial to gather the necessary ingredients. Here's what you'll need:
Pasta: Opt for your favorite pasta type, such as fusilli, penne, or rotini.
Vegetables: Select a colorful variety, including cherry tomatoes, cucumbers, bell peppers, and red onions.
Vegan Feta: Add a tangy and creamy element with vegan feta cheese crumbles.
Balsamic Dressing Ingredients: Prepare balsamic vinegar, olive oil, dijon mustard, Italian seasoning, salt, and pepper.
Fresh Basil: This aromatic herb is the perfect finishing touch.
Feel free to get creative with substitutions based on your preferences and dietary needs. Swap out veggies or experiment with different types of pasta for a personalized twist.
Helpful Tools
To ensure a smooth cooking experience, having the right tools at your disposal is essential. Here's a quick list of what you'll need:
Large Pot: For cooking the pasta.
Whisk: To combine the balsamic dressing ingredients.
Salad Bowl: A spacious bowl to toss all the delicious components together.
Refrigerator: Allowing the salad to chill enhances the flavors.
Sharp Knife: For precise vegetable chopping.
Cutting Board: To provide a stable surface for chopping.
How to Make Pasta Salad with Balsamic Dressing
Cooking the Pasta to Perfection
Cook the pasta al dente according to the package instructions.
Once cooked, drain the pasta and rinse it under cold water to stop the cooking process.
Whisking Up the Balsamic Dressing
In a bowl, whisk together balsamic vinegar, olive oil, dijon mustard, Italian seasoning, salt, and pepper.
Ensure the ingredients are well combined to create a flavorful dressing.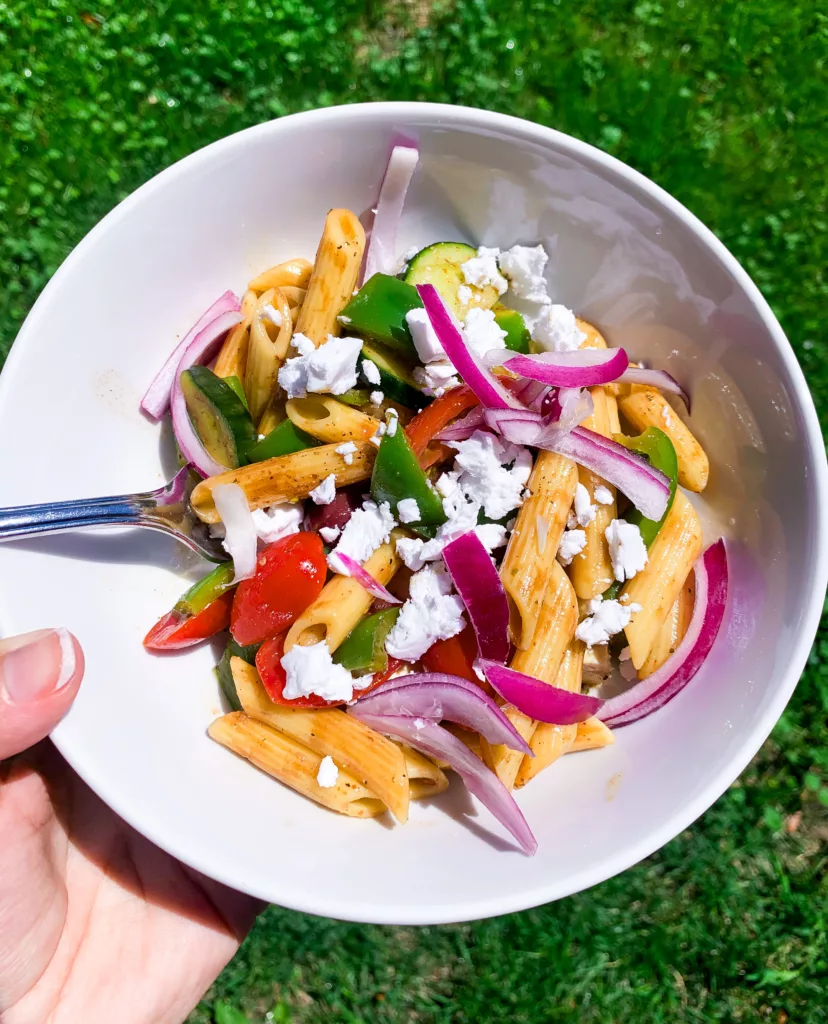 Tossing It All Together
Take a large salad bowl and add the cooked pasta.
Introduce the chopped vegetables and vegan feta cheese to the bowl.
Gently toss the ingredients to distribute them evenly.
Letting the Flavors Marinate
Pour the prepared balsamic dressing over the pasta and vegetables.
Give everything another gentle toss, ensuring the dressing coats the components.
Adding the Finishing Touches
Allow the salad to refrigerate for at least 1 hour. This allows the flavors to meld and develop.
Just before serving, sprinkle freshly chopped basil over the salad.
For an extra touch of elegance, drizzle balsamic reduction over the top.
Tips & Tricks
Texture Variety: Play with the textures by adding crunchy nuts or seeds.
Fresh Herbs: Experiment with different herbs like parsley, mint, or thyme.
Protein Boost: Include grilled chicken or chickpeas for added protein.
FAQ: Pasta Salad with Balsamic
Can I use gluten-free pasta for this recipe?
Absolutely! Feel free to substitute gluten-free pasta to suit your dietary needs.
How long can I store leftovers?
Leftovers can be stored in an airtight container in the refrigerator for up to 3 days.
Can I use regular feta cheese instead of vegan feta?
Of course! You can use regular feta if you're not following a vegan diet.
Can I make the balsamic dressing ahead of time?
Yes, you can prepare the dressing a day in advance and store it in the refrigerator.
What other dressings can I use?
While balsamic dressing adds a unique flavor, you can also try Italian, lemon vinaigrette, or ranch dressings.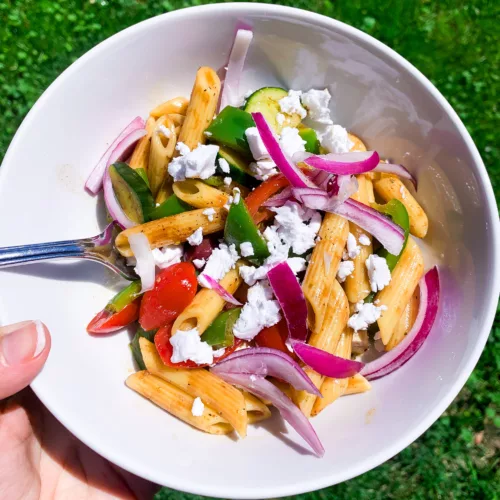 Balsamic Pasta Salad Vegan
Create a vibrant pasta salad with balsamic dressing. Easy steps, fresh ingredients. A delightful dish for all occasions.
Ingredients
Salad
4

cups

uncooked penne

(use lentil noodles to make this high in vegan protein)

¼

cup

vegan feta

½

green bell pepper, diced

½

red bell pepper, diced

½

red onion, thinly sliced

1

cup

cherry tomatoes, cut in half

¼

cup

kalamata olives

(optional)
Balsamic Dressing
¼

cup

balsamic vinegar

¼

cup

extra virgin olive oil

½

tsp

dijon mustard

1

tsp

italian spice blend

salt and pepper to taste
Toppings
balsamic reduction to drizzle

chopped fresh herbs such as basil, or parlsey
Instructions
Cook the pasta al dente, according to the package instructions. Drain and rinse under cold water.

Whisk together balsamic, olive oil, dijon, Italian spice, salt and pepper.

In a large salad bowl, add the cooked pasta, chopped veggies, vegan feta and balsamic dressing. Toss gently to combine.

Allow to refrigerate for 1 hour before serving. Top with freshly chopped basil, and a drizzle of balsamic reduction. Enjoy!
Notes
If your balsamic vinegar is very acidic, add 1 tsp of agave or maple syrup. Taste test the dressing before adding to your pasta mixture.
Conclusion: Pasta Salad With Balsamic Dressing
In conclusion, the pasta salad with balsamic dressing is a culinary masterpiece that effortlessly combines flavors, textures, and freshness. Whether it's a weekday lunch or a special gathering, this dish is bound to be a hit. With the simple steps outlined in this article, you can become the master of creating this delightful pasta salad. So, gather your ingredients, embrace your creativity, and indulge in a dish that's both satisfying and unforgettable.