If you're a fan of fresh flavors, vibrant colors, and wholesome ingredients, then get ready for a treat. In this article, we will delve into a fantastic dish that truly embodies the essence of the Mediterranean diet – the Easy Mediterranean White Bean Salad Recipe. Packed with creamy white beans, tangy roasted red peppers, and a zesty dressing, this salad offers a delightful fusion of textures and flavors that will transport your taste buds to Mediterranean bliss.
Ingredients and Substitutions For This White Bean Salad Recipe
The Mediterranean white bean salad centers around its star ingredient: cannellini beans, which provide a hearty texture and a mild, nutty flavor. However, If you can't find them, don't worry! Great Northern beans or navy beans can serve as excellent substitutes.
Additionally, roasted red peppers add a vibrant pop of color and sweetness to the salad. With their slightly smoky flavor, they perfectly complement the creamy beans. In case roasted red peppers are unavailable, fresh red bell peppers or jarred roasted yellow peppers can be used as alternatives.
Sun-dried tomatoes play a crucial role in striking a delightful balance of sweetness and tanginess. However, if sun-dried tomatoes aren't to your liking, consider trying fresh cherry tomatoes or marinated artichoke hearts for a unique twist.
Now, let's focus on the dressing. It plays a crucial role in uniting all the flavors. The recipe calls for rich and robust oil from the sun-dried tomatoes. However, if you don't have it, extra-virgin olive oil works as a great substitute.
Red wine vinegar provides the desired acidity that complements the other ingredients. However, If you don't have it, balsamic vinegar or apple cider vinegar can step in.
Fresh lemon juice provides a bright and zesty element. Additionally, lemons offer a refreshing citrus flavor that enhances the overall taste. Lime juice can be used as an alternative if you don't have lemons.
Herbs, such as parsley or basil, bring a burst of freshness and earthiness to the dish. Choose your preferred herb based on personal taste or availability.
A touch of shallot adds a mild onion-like flavor with subtle sweetness. However, if shallots aren't readily available, finely diced red onions or scallions work as substitutes.
Helpful Tools
Colander: A colander is essential for rinsing and draining the canned cannellini beans. It ensures that excess liquid is removed, allowing the beans to retain their texture and prevent a watery salad.
Mixing Bowl: A large mixing bowl provides ample space for combining all the salad ingredients. Opt for a sturdy bowl that can accommodate the volume of beans and other additions without overflowing.
Whisk or Fork: To create a well-blended dressing, you'll need a whisk or a fork to thoroughly mix the oil, vinegar, lemon juice, and herbs. This ensures that the flavors are evenly distributed throughout the salad.
Sharp Knife: A sharp knife comes in handy for finely chopping the roasted red peppers, sun-dried tomatoes, and shallots. It allows for precise cutting, ensuring that the salad ingredients are uniformly sized.
Citrus Juicer: If you're using fresh lemons or limes for the dressing, a citrus juicer can simplify the task of extracting the juice. It helps to yield more juice and minimizes the effort required to squeeze the citrus fruits by hand.
How to Make this Easy Mediterranean White Bean Salad Recipe
To bring this salad to life, we begin with a flavorful dressing. In a small bowl, combine oil, red wine vinegar, lemon juice, chopped parsley, diced shallot, and a touch of Calabrian chili paste for heat. As you mix these ingredients, the aroma fills the air, giving you a preview of the deliciousness that awaits.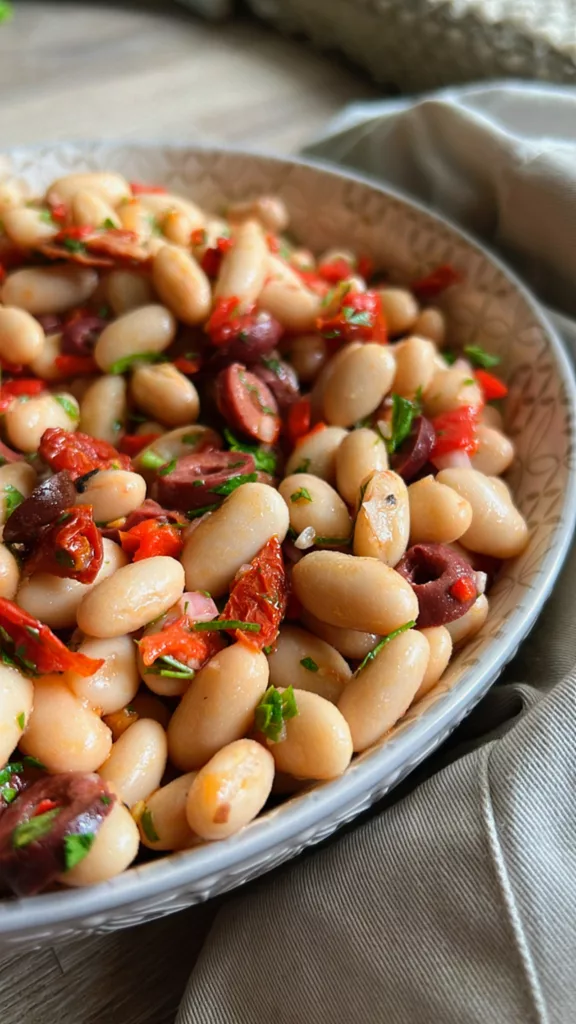 Next, it's time to assemble the salad. In a generous-sized mixing bowl, you'll find a bed of rinsed cannellini beans, known for their creamy texture. Finely chopped roasted red peppers add a pop of color and smoky sweetness, while sun-dried tomatoes provide a delightful balance of tanginess and sweetness. For those seeking adventure, diced kalamata olives can be added for a briny twist.
Once the ingredients are in the bowl, it's time to combine everything. Pour the vibrant dressing over the bean and vegetable mixture, gently enveloping each ingredient. With a toss, the dressing coats the beans, peppers, and tomatoes, ensuring that every mouthful is infused with a harmonious blend of flavors.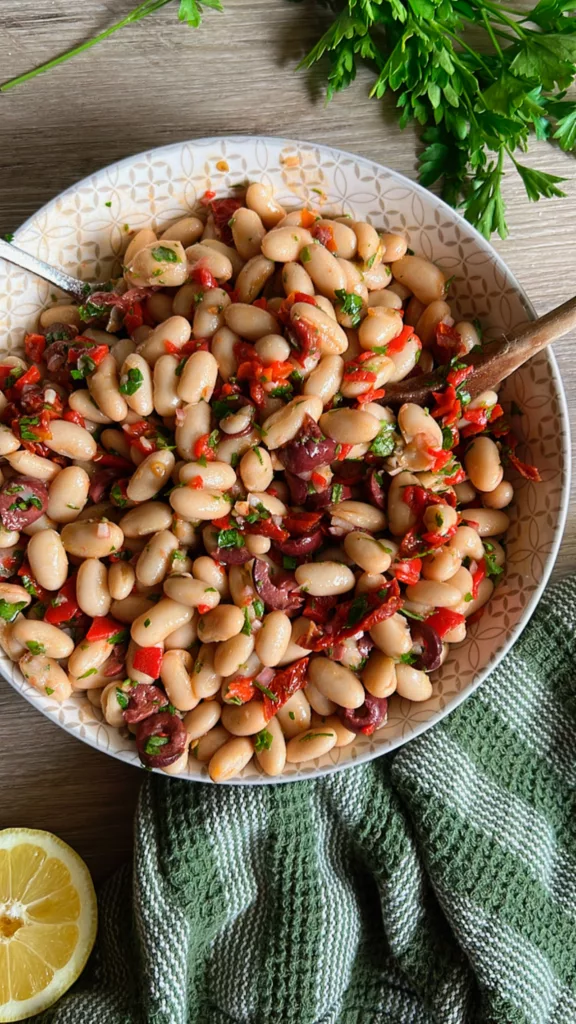 Now, it's time to savor your creation. This Mediterranean white bean salad can be enjoyed in various ways. You can relish it as a standalone salad or as a side dish. Alternatively, serve it on top of grilled crusty bread for an indulgent twist, where the creamy beans and tangy vegetables mingle with the smoky grill flavors. It's a burst of Mediterranean goodness in every bite.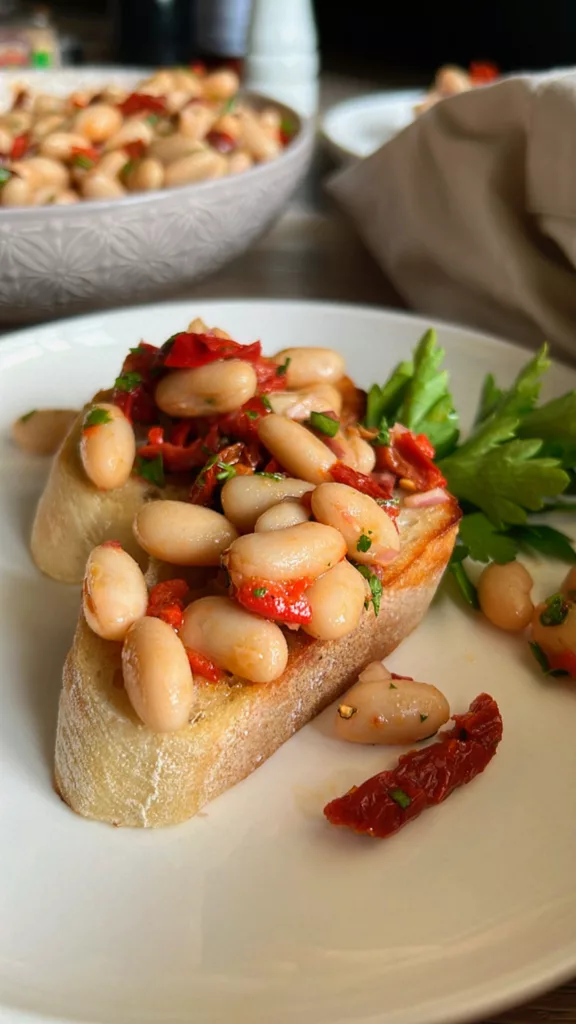 Tips & Tricks
To enhance the flavor, opt for high-quality cannellini beans that offer a creamy texture and a subtle nutty taste.
If available, choose freshly roasted red peppers to add a vibrant color and a delightful smoky sweetness to your salad.
Select the best sun-dried tomatoes available, as they provide a perfect balance of tanginess and natural sweetness.
Harness the power of fresh herbs like chopped parsley or basil to add a burst of freshness and earthiness to your salad.
Utilize flavorful dressing ingredients such as high-quality olive oil and tangy red wine vinegar to enhance the overall taste.
Elevate the presentation by adding garnishes such as fresh herbs, a sprinkle of feta cheese, or a drizzle of balsamic glaze.
Consider pairing your Mediterranean White Bean Salad with complementary dishes like grilled tofu, crusty bread, or a side of marinated olives to create a complete and satisfying meal.
FAQ: Mediterranean White Bean Salad Recipe
Can I make this salad in advance?
Yes, you can prepare this salad in advance. However, it's best to add the dressing right before serving to maintain the freshness and texture of the ingredients.
How long does this salad stay fresh in the refrigerator?
When stored in an airtight container, the salad can stay fresh in the refrigerator for up to 2-3 days. Just make sure to give it a gentle toss before serving to redistribute the flavors.
How long will this salad last in the refrigerator?
This salad is best when eaten fresh, but it can last in the refrigerator for up to 2-3 days.
Can I substitute the Calabrian chili paste with something milder?
If you prefer a milder spice level, you can substitute the Calabrian chili paste with a dash of paprika or a pinch of red pepper flakes. Adjust the amount according to your taste preference.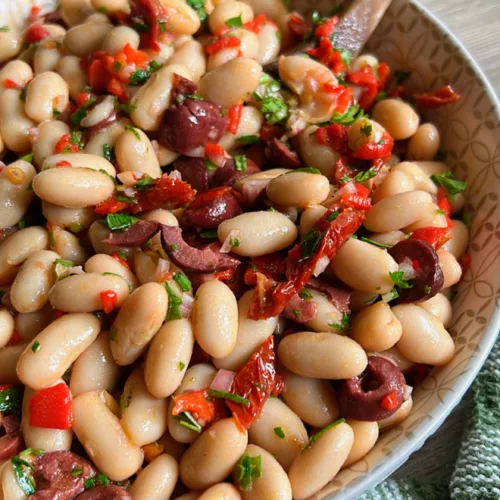 Easy Mediterranean White Bean Salad Recipe
The Mediterranean White Bean Salad Recipe is a refreshing and wholesome dish featuring creamy cannellini beans, smoky roasted red peppers, and tangy sun-dried tomatoes. This vibrant salad captures the essence of Mediterranean flavors, making it a perfect choice for a light lunch, a flavorful side dish, or a substantial main course.
Ingredients
Salad
2

19oz

cans rinsed and drained cannellini beans

(white beans)

½

cup

roasted red peppers, finely chopped

⅓

cup

diced kalamata olives

¼

cup

sun-dried tomatoes, finely chopped
Dressing
2

tbsp

oil from the sun-dried tomatoes

(or olive oil)

1

tbsp

red wine vinegar

½

cup

chopped parsley

(or basil)

1

shallot, finely diced

salt and pepper to taste
Optional
1

tbsp

Calabrian chili paste
Instructions
Prepare the dressing by adding oil, red wine vinegar, lemon juice, parsley, shallot, and Calabrian chili paste to a small bowl. Mix well to combine.

In a medium to large mixing bowl, add rinsed Cannellini beans, roasted red pepper, sun-dried tomatoes, and kalamata olives.

Add the dressing, and toss gently to combine. Serve by itself or on top of a grilled crusty bread. Enjoy!
Video
Conclusion
This Easy Mediterranean White Bean Salad Recipe offers a perfect balance of textures and tastes, combining the creaminess of cannellini beans, the smoky sweetness of roasted red peppers, the tanginess of sun-dried tomatoes, and the refreshing kick of the dressing. It's a true celebration of wholesome ingredients that nourish your body and delight your senses.