Indulge in the ultimate dairy-free delight with our recipe for Velvety Vegan Chocolate Mousse. Silken tofu provides a lusciously creamy base, while rich dark chocolate and cocoa powder create a decadent chocolate flavor. This dessert is not only vegan but also incredibly easy to make. With a few simple steps and some handy tips, you'll have a sumptuous treat ready to impress your taste buds and guests. Get ready to experience a velvety, chocolatey sensation like never before!
Ingredients & Substitutions
The key ingredients for this velvety vegan chocolate mousse include silken tofu, dark chocolate, cocoa powder, maple syrup, and a pinch of salt.
Silken tofu serves as the creamy base, but if you're looking for alternatives, consider silken tofu made from ingredients like almond or cashew for a soy-free option.
The rich, chocolatey flavor comes from high-quality dark chocolate, but you can easily make it vegan by opting for dairy-free chocolate. Cocoa powder intensifies the chocolate taste, and you can experiment with raw cacao powder for a less processed option.
To sweeten the mousse, maple syrup is used, but feel free to substitute it with agave syrup, honey (if not following a strict vegan diet), or your preferred liquid sweetener.
Additionally, a pinch of salt enhances the overall flavor, but you can adjust it according to your taste or use a salt alternative if desired.
Helpful Tools
Blender: A high-powered blender is essential for achieving the smooth and creamy texture of this velvety vegan chocolate mousse. It ensures that all the ingredients, including the silken tofu and melted chocolate, are thoroughly blended together.
Double Boiler or Microwave: You'll need a double boiler or a microwave to melt the dark chocolate bars. The double boiler provides gentle and even heat, while the microwave can work in 30-second intervals, allowing you to stir until the chocolate reaches the desired consistency.
Ramekins or Wine Glasses: These are perfect for serving the mousse and make for an elegant presentation. They allow you to portion out the mousse and chill it in the refrigerator.
Paper Towels or Tea Towel: These come in handy if your silken tofu has excess moisture. You can use them to pat the tofu dry or gently squeeze out any extra liquid before blending, ensuring your mousse is rich and creamy.
How to Make Vegan Chocolate Mousse
To make a delectable Vegan Chocolate Mousse, begin by draining silken tofu. Then, melt dark chocolate bars using either a double boiler or by microwaving them in 30-second intervals, stirring until the chocolate is smooth and glossy.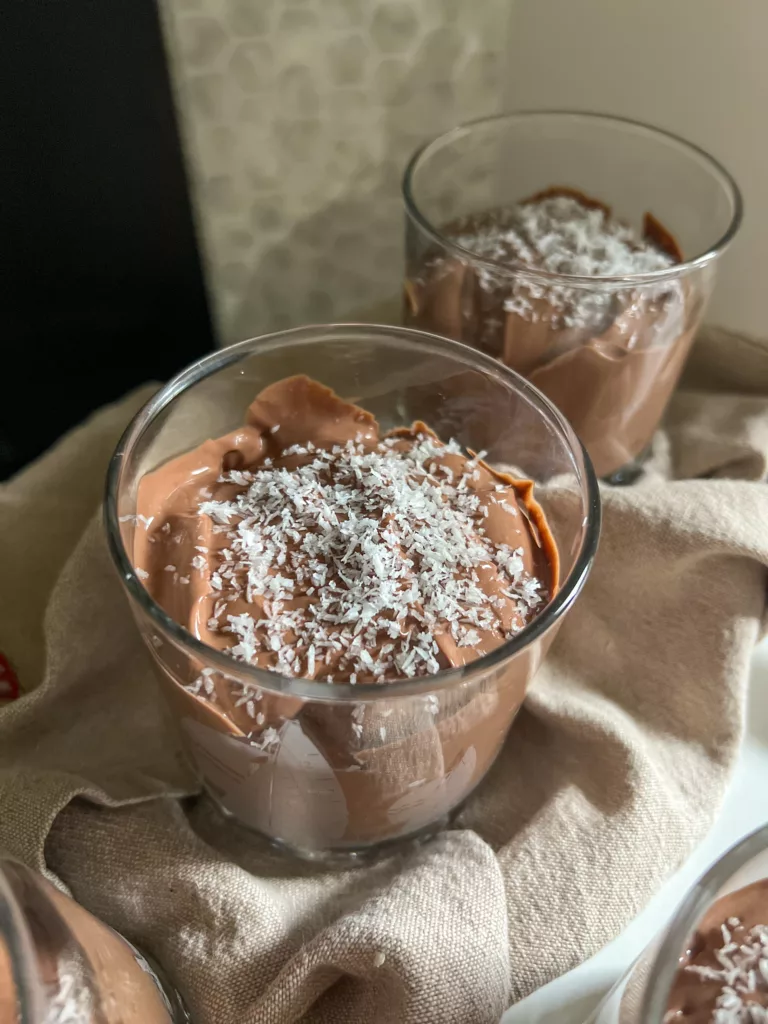 Combine the drained silken tofu, the melted chocolate, cocoa powder, maple syrup, and a pinch of salt in a high-powered blender. Blend the ingredients until they achieve a smooth and creamy consistency.
Once your mousse mixture is ready, transfer it into ramekins or wine glasses, and refrigerate for approximately 30 minutes to set.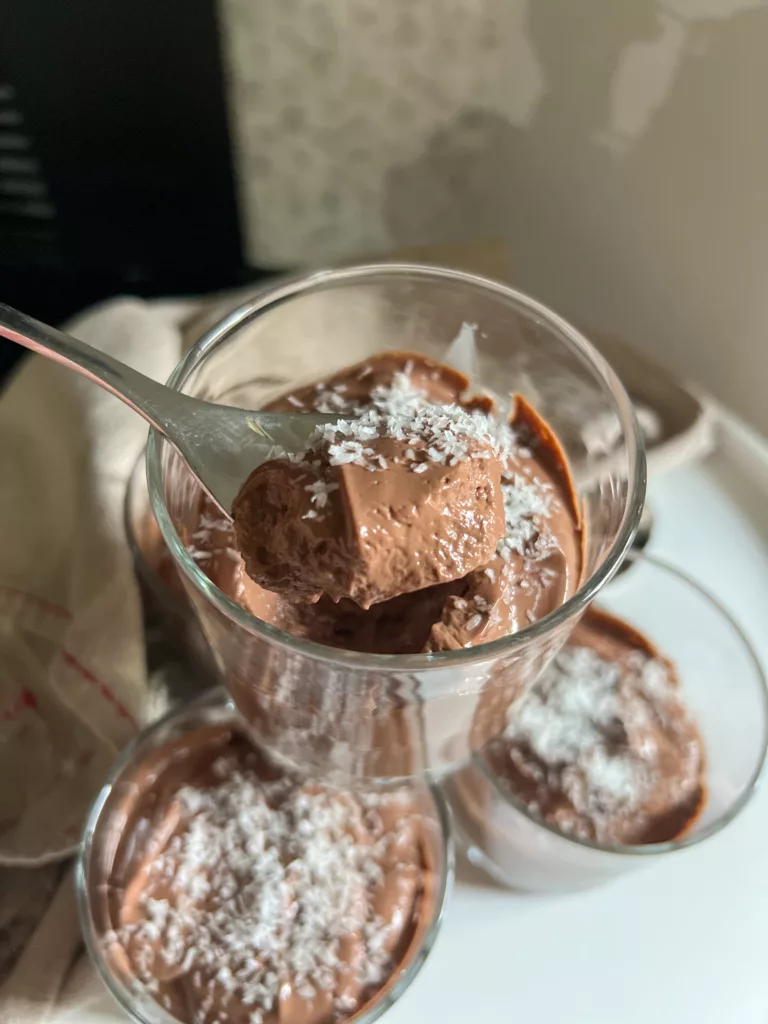 Before serving, adorn your velvety mousse with your choice of toppings, such as shredded coconut, chocolate shavings, fresh berries, or other preferred options.
Tips & Tricks
Silken Tofu Texture: If your silken tofu appears excessively watery, take a moment to drain it further by placing it on a paper towel or gently squeezing out excess moisture with a tea towel. This step helps maintain the desired creamy consistency in your mousse.
Chocolate Melting: When melting the dark chocolate, whether using a double boiler or microwave, be cautious not to overheat it. Stir the chocolate at regular intervals to ensure it melts evenly and doesn't scorch.
Taste Adjustments: Before refrigerating your mousse, give it a quick taste. You can adjust the sweetness by adding a bit more maple syrup if needed or a touch of vanilla extract for extra flavor.
Toppings Galore: Get creative with your toppings! Shredded coconut, chocolate shavings, fresh berries, crushed nuts, or a dollop of vegan whipped cream can all enhance the presentation and taste of your mousse.
Chilling Time: Allow your mousse to chill in the refrigerator for at least 30 minutes. However, if you can resist the temptation, letting it set for a few hours or overnight can yield an even smoother and more flavorful result.
FAQ: Vegan Chocolate Mousse
Can I use regular tofu instead of silken tofu?
For the best texture and creaminess, we recommend sticking with silken tofu. Regular tofu can be grainier and may not yield the same velvety result.
Is there a substitute for dark chocolate if I want it sweeter?
If you prefer a sweeter mousse, you can use semi-sweet or even milk chocolate instead of dark chocolate. Adjust the sweetness to your liking with the choice of chocolate.
Can I make this mousse ahead of time?
Absolutely! In fact, allowing the mousse to chill for a few hours or overnight can enhance its flavor and texture. Just be sure to cover it while refrigerating.
Are there any nut-free topping suggestions?
Yes, if you're avoiding nuts, consider topping your mousse with fresh fruit, vegan whipped cream, or even a dusting of cocoa powder for added flavor and visual appeal.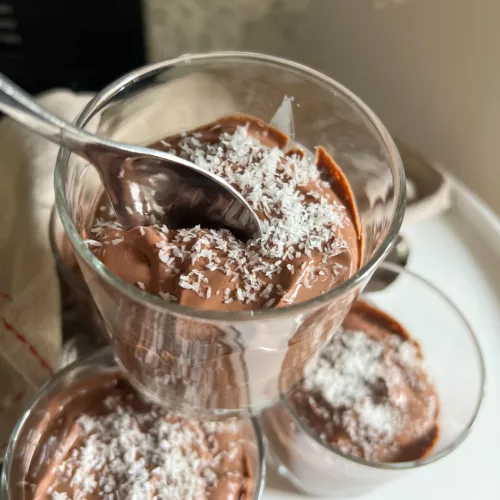 Velvety Vegan Chocolate Mousse With Silken Tofu
Velvety Vegan Chocolate Mousse with Silken Tofu is a dairy-free delight that combines silken tofu and dark chocolate for a creamy, indulgent dessert.
Ingredients
2

blocks

silken tofu, drained

(700 grams)

2

dark chocolate bars, melted

(200 grams)

2

tbsp

cocoa powder

2

tbsp

maple syrup

pinch salt
Instructions
Melt the chocolate using either a double boiler or by microwaving in 30 second increments, and stirring until melted.

Add the silken tofu, melted chocolate, cocoa powder, maple syrup and salt to a high powered blender. Blend on high until smooth and creamy.

Transfer into ramekins or wine glasses, and refrigerate for 30 mins. Top with shredded coconut, chocolate, fresh berries, or your other favourite toppings. Enjoy!
Notes
If your tofu seems extremely watery, allow it to sit on a paper towel, or squeeze the liquid out gently with a tea towel before adding to the blender. 
Conclusion
Velvety Vegan Chocolate Mousse with Silken Tofu is a delectable dairy-free dessert that satisfies your chocolate cravings. With its rich, creamy texture and intense chocolate flavor, it's a delightful treat for vegans and non-vegans alike. This recipe proves that vegan desserts can be just as indulgent and flavorful as their traditional counterparts. So, whip up this mousse, garnish it with your favorite toppings, and savor the sweet satisfaction of a homemade, velvety delight. Enjoy!