Baked tofu bites are a delightful snack that can satisfy your cravings while keeping you on the path to a healthier lifestyle. Whether you're a vegetarian, vegan, or simply looking for a guilt-free snack, these tofu bites are the answer. In this article, we'll guide you through the process of making this delectable treat at home.
Ingredients & Substitutions
Before we get into the preparation, let's take a look at the key ingredients you'll need:
Substitutions
If you want to get creative or have dietary restrictions, here are some substitutions you can consider:
Tofu: You can use firm tofu if you can't find extra firm tofu.
Soy Sauce: Tamari is a great gluten-free alternative.
Nutritional Yeast: If you're not a fan of nutritional yeast, you can omit it or use grated vegan cheese.
Italian Spice Blend: Create your own blend with herbs like basil, oregano, and thyme.
Helpful Tools
To make the perfect baked tofu bites, you'll need a few essential tools:
Cutting Board and Knife: For preparing the tofu.
Bowl: To mix the marinade.
Air Fryer (or Oven): To cook the tofu to perfection.
Baking Sheet (if using the oven): For baking.
How to Make this
Now, let's get to the fun part—preparing the baked tofu bites:
Cut the Tofu: Start by cutting the extra firm tofu into bite-sized cubes.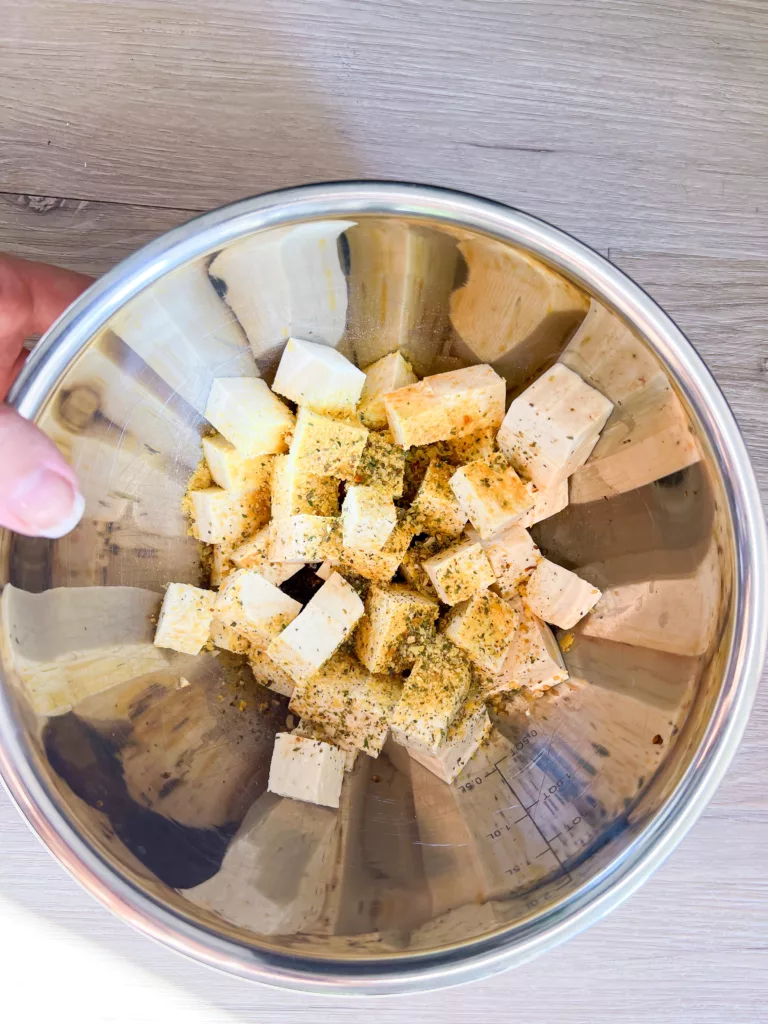 Marinate: In a bowl, toss the tofu cubes with low sodium soy sauce, nutritional yeast, and the Italian spice blend until they are evenly coated. Don't forget to season with a pinch of salt and pepper.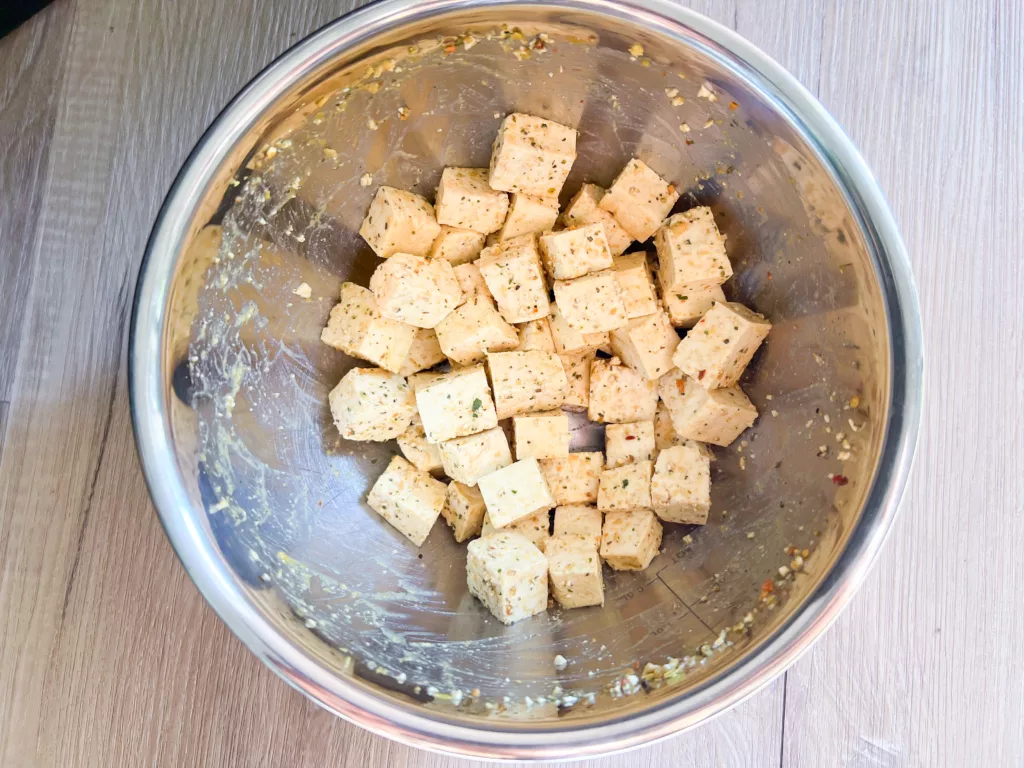 Air Fryer Method: Preheat your air fryer to 390 degrees. Place the marinated tofu cubes in the air fryer basket and cook for 8 minutes, flipping them halfway for even crispiness.
Oven Baked Method: If you don't have an air fryer, no worries! You can achieve the same delicious results in your oven. Preheat it to 400 degrees, place the tofu cubes on a baking sheet, and bake for 25-30 minutes, flipping them halfway through.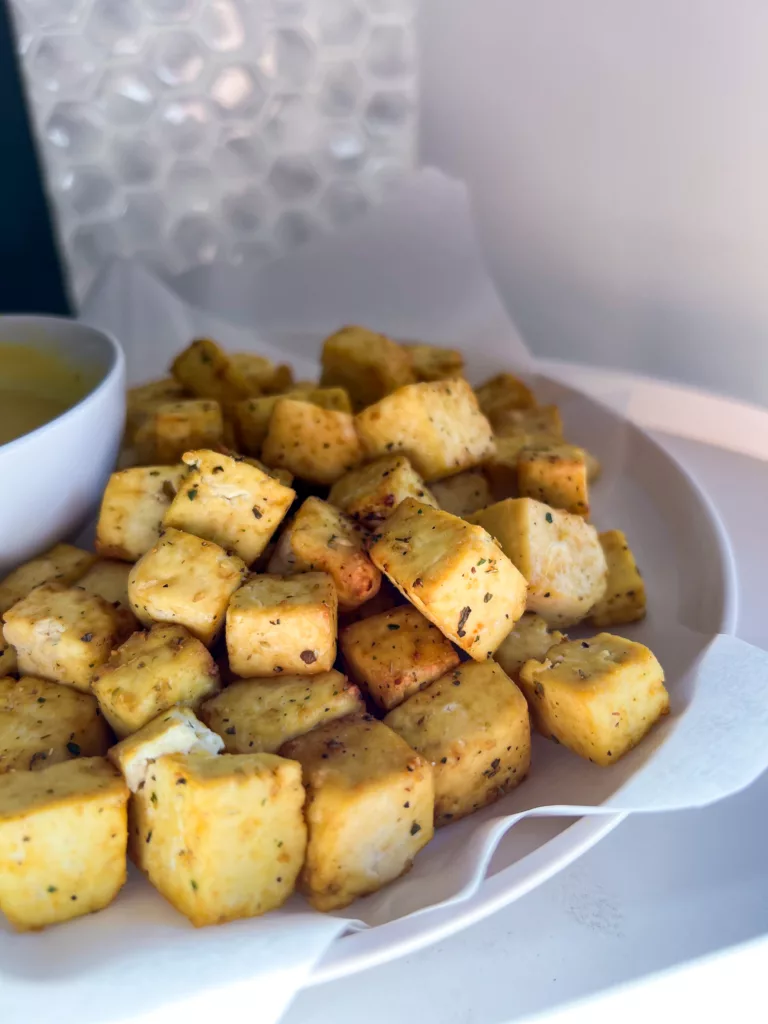 Serve and Enjoy: Once cooked, serve your baked tofu bites with your favorite dipping sauce. Vegan honey mustard is a fantastic choice!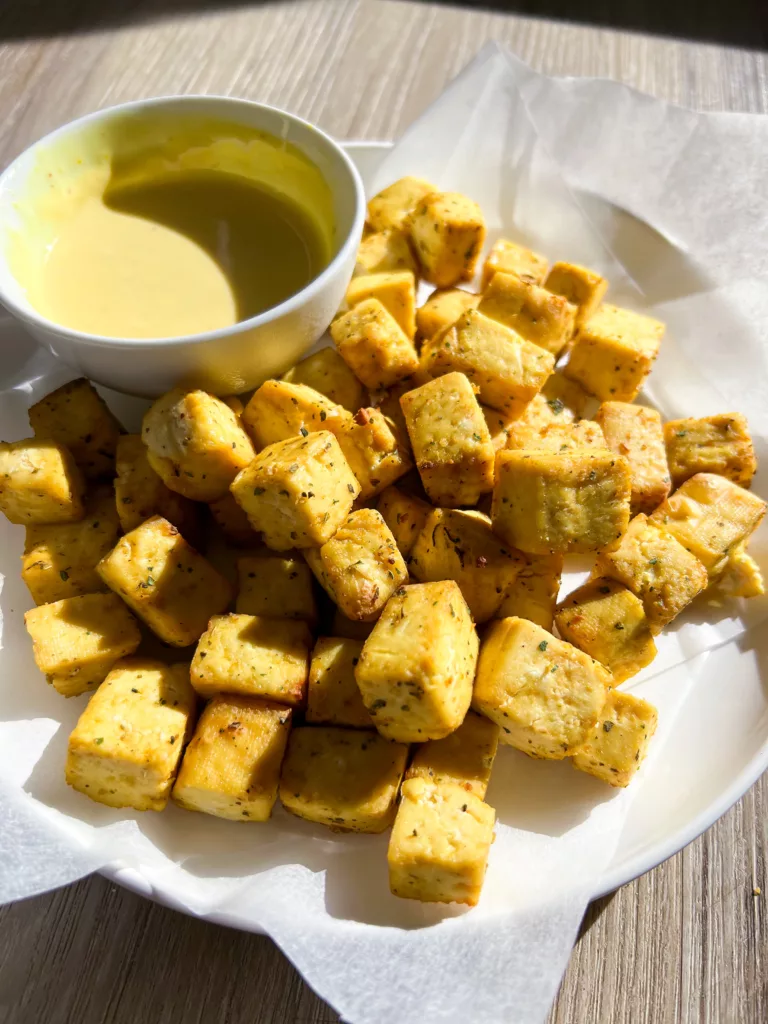 Tips & Tricks
To make your baked tofu bites even better, here are some tips and tricks:
Marinate Longer: For a richer flavor, marinate the tofu for an hour or two before cooking.
Variations: Experiment with different spice blends and sauces to create unique flavors.
Crispy Texture: For an extra crispy texture, lightly coat the tofu cubes in cornstarch before marinating.
FAQ: Baked Tofu Bites
Are baked tofu bites suitable for vegans?
Yes, they are! Baked tofu bites are entirely vegan, making them a great plant-based snack option.
Can I make baked tofu bites gluten-free?
Absolutely! Simply use tamari instead of soy sauce, and ensure your spice blend is gluten-free.
Can I store leftover baked tofu bites?
Yes, you can store them in an airtight container in the refrigerator for up to three days. Reheat in the oven or air fryer for best results.
Are baked tofu bites a good source of protein?
Yes, tofu is a high-protein food, making these bites an excellent protein-packed snack.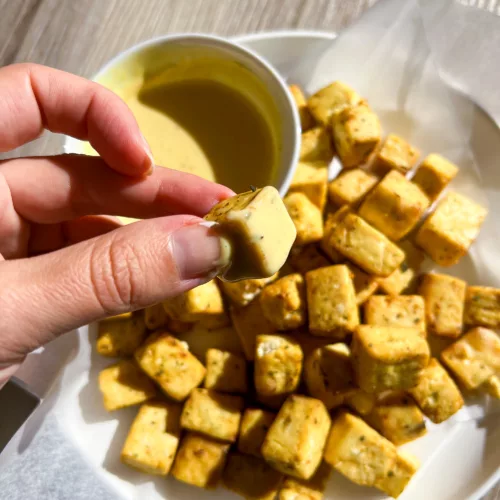 Baked Tofu Bites 4 Ingredients
Discover the delight of homemade baked tofu bites – a tasty, protein-packed snack. Easy to make with only 4 ingredients and irresistibly healthy!
Instructions
Cut tofu into bite sized cubes and toss with soy sauce, nutritional yeast, and Italian spice until evenly coated.

Air fry at 390 degrees for 8 minutes, flipping halfway. (Oven Baked Instructions: Place on a baking sheet and bake at 400 degrees for 25-30 mins, flipping halfway.)

Serve with your favourite dipping sauce (I used vegan honey mustard) and enjoy!
Video
Conclusion
Baked tofu bites are not only a scrumptious snack but also a healthy choice for those looking to enjoy a guilt-free indulgence. With these simple steps and tips, you can make your own batch of crispy, flavorful tofu bites at home. Say goodbye to bland snacks and savor the goodness of baked tofu bites today!