In the world of culinary delights, there's nothing quite as satisfying as indulging in a scrumptious dessert that's not only delectable but also healthy. If you're a fan of bananas and the convenience of an air fryer, you're in for a treat! We're about to explore an exquisite recipe that combines the sweetness of bananas with the richness of dark chocolate and the nutty goodness of peanut butter. So, without further ado, let's dive into the world of "Air Fryer Banana," a delightful vegan dessert.
Ingredients & Substitutions
Before we embark on this culinary adventure, let's gather our ingredients. Here's what you'll need:
1 whole banana in the peel
1-2 tsp of all-natural peanut butter
2 tbsp dark chocolate chips
¼ tsp cinnamon
A drizzle of maple syrup (optional)
Substitutions
If you're looking to make some substitutions for dietary preferences or allergies, here are some alternatives:
Use almond butter or sunflower seed butter instead of peanut butter.
If you're not a fan of maple syrup, agave nectar or honey can be used as sweeteners.
Helpful Tools
To make this delicious dessert, you'll need an air fryer. Ensure it's preheated to 390 degrees for our recipe.
How to Make This Delightful Dessert
Now, let's dive into the step-by-step process of making this delightful treat:
Start by placing the whole banana, still in its peel, in the air fryer.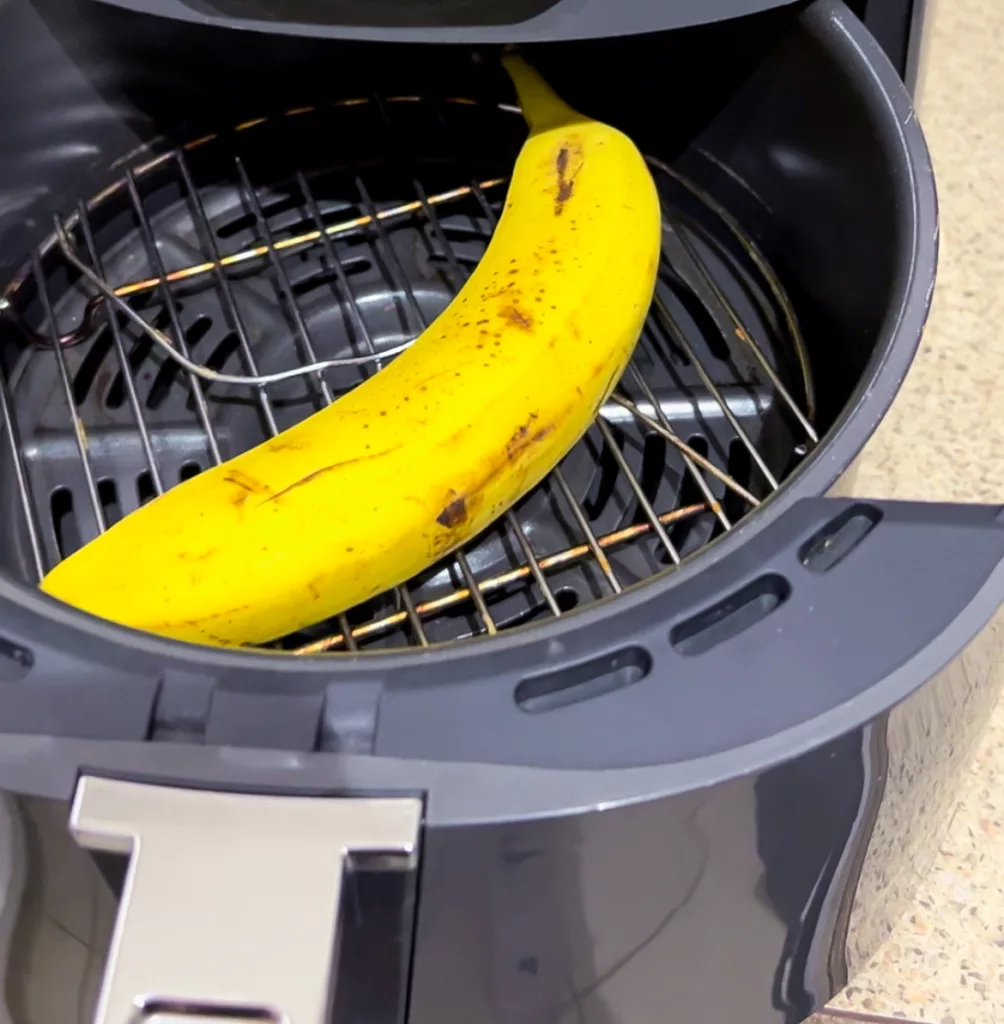 Set the air fryer to 390 degrees and let it cook for about 6 minutes. Remember to flip the banana halfway through the cooking time to ensure even browning.
Once the banana is perfectly cooked and has a caramelized appearance, carefully remove it from the air fryer.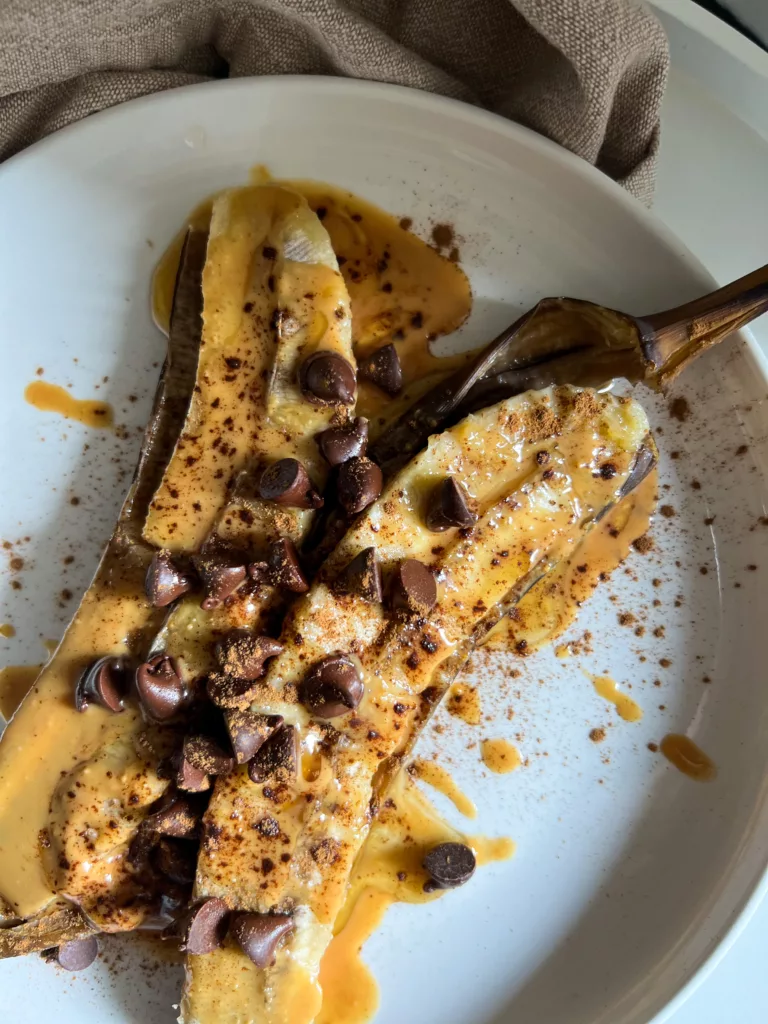 Next, make a lengthwise incision down the middle of the banana, creating a pocket.
Gently drizzle the all-natural peanut butter into this pocket, allowing it to melt slightly from the residual heat.
Sprinkle the dark chocolate chips generously over the peanut butter, letting them melt into gooey deliciousness.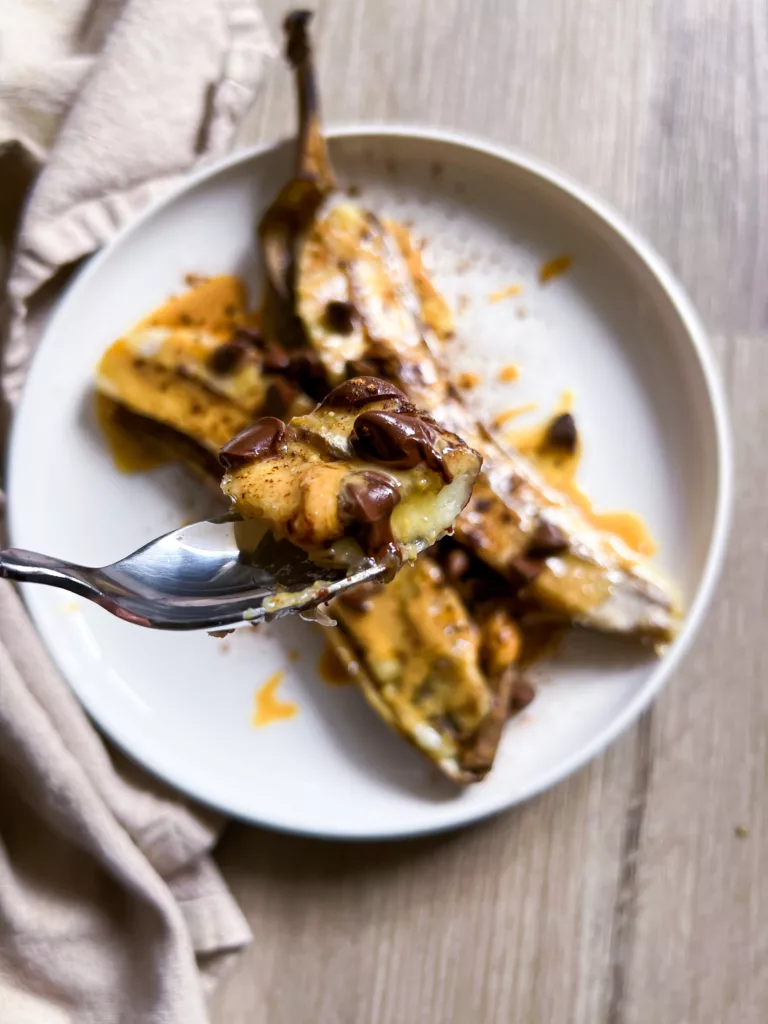 To enhance the flavor, add a dusting of cinnamon, and if you have a sweet tooth, a drizzle of maple syrup (or your preferred sweetener).
Serve your air-fried banana immediately, and relish the warm, creamy, and decadent flavors.
Tips & Tricks
Experiment with toppings: Feel free to add crushed nuts, shredded coconut, or even a scoop of vegan ice cream for extra indulgence.
Don't overcook: Keep an eye on your banana while it's in the air fryer to prevent it from becoming overly mushy.
Customize the sweetness: Adjust the amount of sweetener to suit your taste.
FAQ:
Can I use frozen bananas for this recipe?
No, frozen bananas will not work with this recipe.
Can I substitute almond butter for peanut butter?
Absolutely! Almond butter works wonderfully in this recipe.
Is this dessert suitable for kids?
Indeed, it's a kid-friendly dessert. You can even let the little ones customize their toppings.
How can I store any leftover air-fried banana?
If you have any leftovers (which is rare!), store them in an airtight container in the refrigerator for up to two days.
Can I make this recipe without an air fryer?
While an air fryer is the best tool for this recipe, you can achieve a similar result by baking the banana in the oven at 350 degrees for about 15 minutes.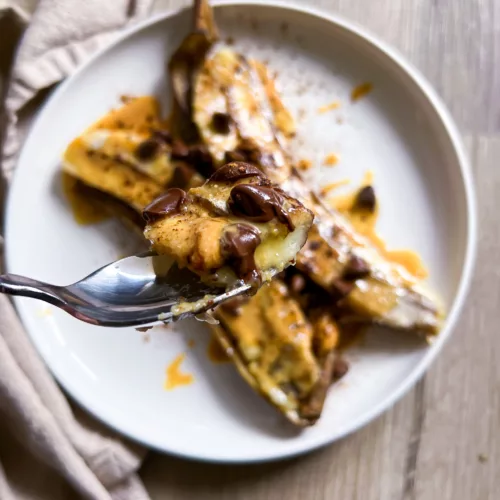 Air Fryer Banana Vegan
Discover the magic of Air Fryer Banana – a vegan delight that combines ripe banana, dark chocolate, and peanut butter for a dessert that's both healthy and heavenly.
Ingredients
1

whole

banana in the peel

1-2

tsp

all natural peanut butter

2

tbsp

dark chocolate chips

¼

tsp

cinnamon

drizzle of maple syrup

(optional)
Instructions
Place the whole banana in the peel in the air fryer at 390 degrees for 6 minutes, flipping halfway.

Cut the banana open lengthwise, down the middle and drizzle with peanut butter, chocolate chips, a drizzle of maple syrup and a dusting of cinnamon. Serve and enjoy!
Video
Conclusion: Air Fryer Banana
In conclusion, "Air Fryer Banana" is not just a dessert; it's an experience. The fusion of flavors and textures in this recipe creates a delightful treat that satisfies your cravings while keeping things vegan and healthy. So, the next time you're in the mood for a sweet indulgence, give this recipe a try. You won't be disappointed!