Are you in need of some tasty and easy vegan appetizers ideas for your next party or gathering? Look no further! With a little creativity and some simple ingredients, you can create a variety of delicious and satisfying vegan appetizers that will please any crowd.
Easy Vegan Appetizer Recipes
When it comes to vegan appetizers, the options are endless. From dips and spreads to bite-sized snacks and finger foods, there's something for everyone. The key is to think outside the box and experiment with different flavors and textures.
White Bean Artichoke Dip Vegan
Elevate Your Appetizers with this Delicious Vegan White Bean Artichoke Dip. Creamy, tangy, and packed with flavor, this dip is sure to be a hit at any party or gathering.
Check Out This Vegan Recipe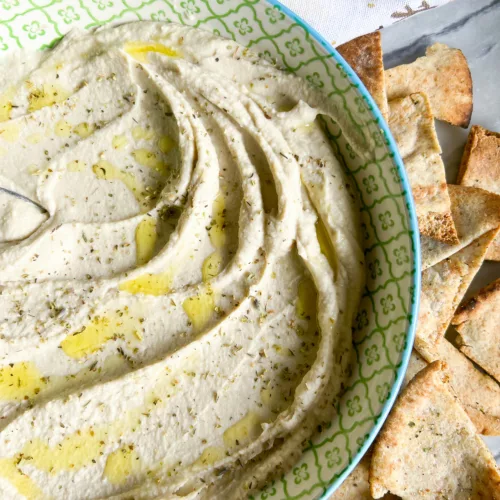 Easy Vegan Buffalo Chickpea Quesadillas
Delicious, filling, and SO easy to make. These fusion buffalo quesadillas come together in just 12 minutes!
Check Out This Vegan Recipe

Easiest Roasted Red Pepper Dip Vegan
This is the easiest roasted red pepper dip you'll ever make! It's creamy, delicious and comes together in only 5 minutes! It's the perfect appetizer to serve your vegan guests.
Check Out This Vegan Recipe

The Best Cowboy Caviar (Texas Caviar)
A colourful blend of beans and veggies topped with a chili lime vinaigrette. This appetizer will have your guests begging for the recipe!
Check Out This Vegan Recipe

Vegan Ricotta Cheese with Tofu & Cashew
This homemade cashew ricotta cheese is full of plant-based ingredients, high in protein and the flavour is out of this world! Use this in ANY recipe that calls for ricotta for the perfect cheesy flavour.
Check Out This Vegan Recipe

Cucumber Salsa (no tomatoes)
Refreshing cool and crisp! This cucumber salsa is the perfect addition to your tacos or chips.
Check Out This Vegan Recipe

Crispy Air Fryer Tofu
The crispiest most delicious air fryer tofu ever! This crispy tofu recipe is healthy, easy and incredibly versatile. The best way to get your vegan protein!
Check Out This Vegan Recipe

One great starting point is to use plant-based versions of traditional appetizers. For example, instead of serving a cheese platter, try a platter of marinated and grilled vegetables. With a vegan cheese sauce or a hummus dip with veggies. You can also make mini pizzas using a cauliflower crust or create a flavorful dip using avocado and spices.
Another idea is to focus on finger foods, such as popcorn, nuts, and crackers. These can be easily dressed up with seasonings or dips to make them more interesting. Additionally, you can also make your own vegan meat alternatives. Such as seitan or tempeh, and serve them in small portions.
Drinks
When it comes to drinks, non-alcoholic options like flavored water, iced tea, and homemade lemonade, can be a refreshing addition to any appetizer spread.
Incorporating a variety of colors and textures will make for a visually pleasing and appetizing spread. Fresh herbs, edible flowers, and a sprinkle of nuts or seeds can add a touch of elegance.
The great thing about vegan appetizers is that they can be made in advance, which means less stress for the host. So don't be afraid to get creative and have fun with your vegan appetizers. Your guests will be impressed and satisfied by the delicious and easy options you serve up.
Conclusion: Easy Vegan Appetizers
In conclusion, vegan appetizers are a delicious and easy way to include plant-based options in any occasion. Whether you are hosting a party, attending a potluck, or simply looking for a healthy snack, there are countless vegan appetizers to choose from. With a little creativity and the right ingredients, you can create appetizers that are not only healthy but also satisfying and delicious. The key to creating the perfect vegan appetizer is to experiment with different flavors, textures, and ingredients, and to have fun in the process. So, don't be afraid to get creative and try something new. You'll be surprised at how delicious and satisfying vegan appetizers can be.