This Simple Vegan Minestrone Soup is meant to help clear out all the old veggies from your fridge. So don't be shy to add whatever veggies you need to use up and add to this vegan soup! This recipe is for a double batch feel free to cut the recipe in half if it's too much.
There is one dinner that will never go out of style: minestrone soup. It's a soup that appeals to all sizes of appetites and is well known for its eclectic blend of vegetables. Despite being a fan favorite, many people are unaware of the significance of this soup.
When ordered in a restaurant they will include even more veggies and beans to help make up the body of the soup when minestrone is made without meat.
Personally, I enjoy putting my own unique take on classic minestrone recipes. With the addition of potatoes, cannellini beans, and kidney beans, we give this traditional dish our own spin.
How Minestrone Got Its Name
Minestrone soup is a classic Italian dish with a rich history and a variety of delicious variations. The origins of minestrone can be traced back hundreds of years to when Rome conquered Italy in the second century BC. During this period, an economic expansion made it possible for a wide range of fresh vegetables to flood the market, giving birth to the popularity of minestrone soup.
The name "minestrone" comes from the Italian word "minestra," which means "soup." This simple and hearty soup is made with a variety of vegetables. It can include ingredients like tomatoes, onions, carrots, celery, potatoes, and beans. It's a perfect dish for vegans because it's easy to make and can be served as a main course or as a side dish.
Traditionally, Italian peasants would prepare this "poor man's soup" using the leftovers from meals. Because of this, there is still no definitive recipe on how to make this soup. It's a versatile dish that can be adapted to suit your taste and dietary preferences. So, If you're looking for a simple and delicious plant-based minestrone soup recipe, you've come to the right place!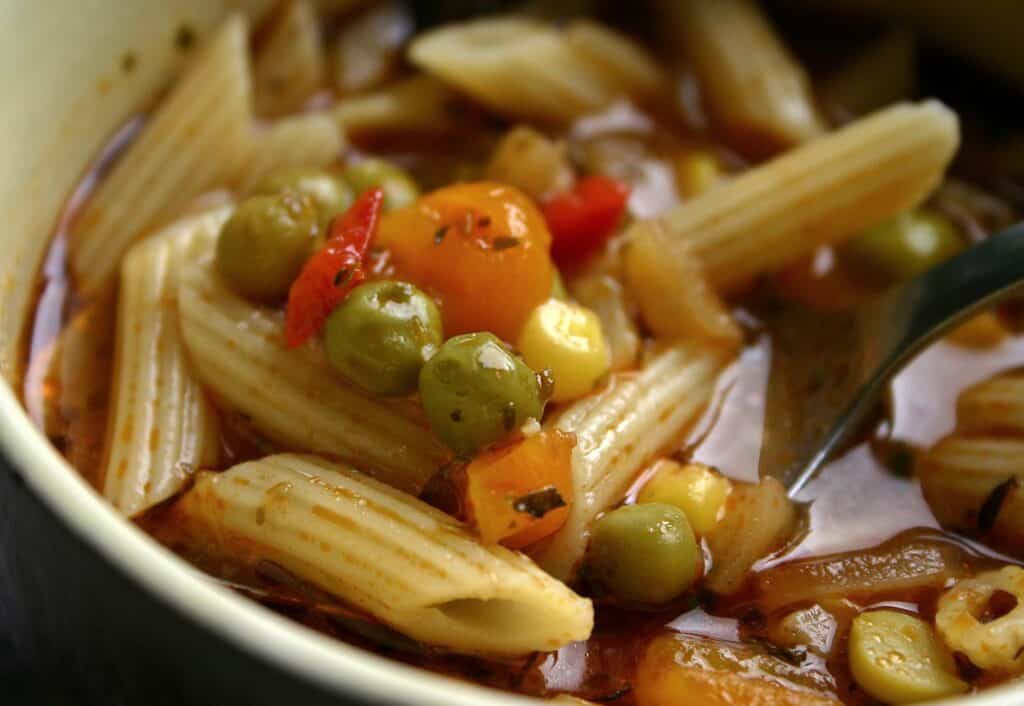 Ingredients & Substitutions: Vegan Minestrone Soup
When it comes to making Minestrone Soup, there are a variety of ingredients that can be used. But there are a few core vegetables that are present in almost every recipe. These vegetables are considered the backbone of Minestrone and give it its classic flavor and texture.
The most common core vegetables that you'll find in almost every cup of Vegan Minestrone Soup are:
Onions: They add a depth of flavor and sweetness to the soup.
Garlic: It gives the soup an aromatic and pungent flavor.
Celery: It adds a subtle crunch and a slightly bitter flavor.
Tomatoes: They provide the base for the soup and give it a tangy and slightly sweet flavor.
Carrots: They add a natural sweetness and a slightly earthy flavor.
Potatoes: They add a creamy texture and a starchy flavor to the soup.
Pasta Noodles: They provide a comforting and filling element to the soup.
These vegetables are the foundation of the soup. But you can feel free to add other vegetables of your choice to make them more personalized and to suit your taste.
These ingredients can be found at any grocery store and are easy to prepare. You can make a big batch of it and have it ready to go for a quick and easy lunch or dinner. The possibilities are endless with Minestrone Soup, the recipe is very flexible and you can make it as simple or as complex as you want.
Helpful Tools
To make this soup recipe, you'll need some basic kitchen equipment:
Large pot: You'll need a large pot to cook the soup. A 6-quart pot should be sufficient to hold all the ingredients.
Sharp knife: You'll need a sharp knife to chop the vegetables. A chef's knife or a Santoku knife would work well.
Cutting board: You'll need a cutting board to chop the vegetables. A wooden or plastic cutting board is recommended.
Wooden spoon: You will need a wooden spoon to stir the soup as it cooks.
Measuring cups and spoons: You will need measuring cups and spoons to measure out the ingredients.
Having these basic kitchen tools will make the process of preparing this Simple Vegan Minestrone Soup recipe much easier and more efficient. Make sure to have them ready before you start cooking.
How To Make This Simple Vegan Minestrone Soup Recipe
To make Simple Vegan Minestrone Soup, start by covering the bottom of a large pot with extra virgin olive oil. Don't be shy, you have a lot of veggies to fry! Add 2 finely chopped onions, 4 large chopped carrots, 3 large stocks of diced celery (don't forget to add the celery leaves – they are edible, nutritious, and flavorful!), and 6-8 cloves of minced garlic. Cook on medium heat until soft, stirring often. Be careful not to let them brown too much – if necessary, turn down the heat.
Next, add 3 cubes of potatoes, 3 cups of crushed tomatoes, 2 bay leaves, 3 Tbsp of Italian spice blend, and cover with 8 cups of vegetable broth. Add hot chilies to taste, then bring to a boil and reduce to a simmer for 10 minutes.
Add 2 cans of kidney beans and 1 can of cannelloni beans, and 1 cup of pasta (GF pasta is good too!). Cook for another 7-8 minutes or until the pasta is al dente. Finally, add fresh herbs like basil or parsley, and salt and pepper to taste.
Tips & Tricks For This Vegan Minestrone Soup
Use fresh and seasonal ingredients: The flavor and quality of the ingredients you use can make a big difference in the final taste of the soup. Use fresh vegetables and herbs, and try to use seasonal ingredients for the best flavor.
Don't overcook the vegetables: It's important to cook the vegetables until they are tender, but be careful not to overcook them. Overcooking can make them mushy and lose their nutrients.
Use a good quality vegetable broth: The broth is the base of the soup, so it's important to use a good quality one. If you don't have homemade broth, use a store-bought one that is low in sodium and has no artificial flavors or preservatives.
Adjust the seasoning: The amount of seasoning you use can vary depending on your taste and the saltiness of the broth. Taste the soup often and adjust the seasoning as needed.
Customize the recipe: Feel free to add or substitute vegetables or beans to your liking. You can also experiment with different herbs and spices to create a unique flavor profile.
By following these tips and tricks, you'll be able to cook a delicious and nutritious Vegan Minestrone Soup that will warm your body and soul.
FAQ: Vegan Minestrone Soup
Is Olive Garden's Minestrone Soup Vegan?
Olive Garden's minestrone soup is not vegan, as it contains both beef and chicken base.
How Is Minestrone Soup Different From Vegetable Soup?
Minestrone is a type of vegetable soup that is typically made with a variety of vegetables, beans, and pasta or rice. It is usually seasoned with Italian herbs and spices and often contains tomato broth, while vegetable soup can have a wider variety of ingredients and seasonings depending on the recipe.
How Do You Add Richness To Vegan Soup?
To add richness to vegan soup, you can use ingredients like full-fat coconut milk, cashews, or blended silken tofu. You can also sauté aromatics like onions and garlic in oil before adding the rest of the ingredients to deepen the flavor. Although I wouldn't recommend adding these ingredients to the vegan minestrone.
Is Minestrone Always Vegetarian?
Minestrone soup is typically vegetarian, as it is made primarily with vegetables and vegetable broth. However, some recipes may include meat or meat-based broth, so it is important to read the ingredients carefully.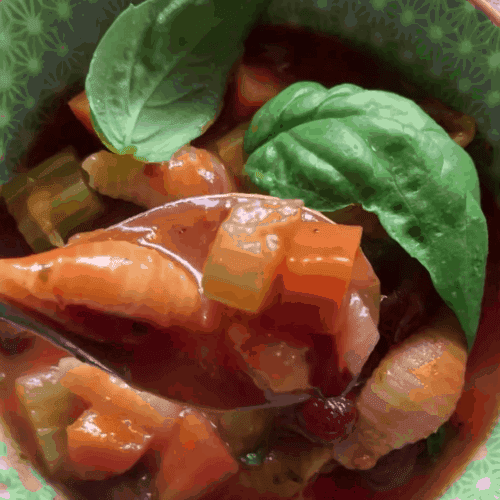 Simple Vegan Minestrone Soup
Looking for a tasty and nutritious vegan soup option? Try out our Vegan Minestrone Soup recipe! Packed with a variety of vegetables and protein-rich beans, this hearty soup is sure to satisfy your cravings. Plus, it's easy to make and perfect for meal prep. Get the recipe now and enjoy a warm and comforting bowl of soup.
Ingredients
Vegan Minestrone Soup
Extra virgin olive oil 

Just enough to cover the bottom of the pot

2

Onions

4

Large chopped carrots

3

Large stocks celery diced

6-8

Garlic cloves

3

Potatoes

3

cups

Crushed tomatoes

2

Bay leaves

3

tbsp

Italian spice blend

8

cups

Vegetable broth

Hot chillis (to taste)

2

cans

Kidney beans

540 mL 19 fl oz

1

can

Cannelloni beans

540 mL 19 fl oz

1

cup

Pasta

Fresh herbs (basil or parsley)

1

tbsp

Salt

1

tbsp

Pepper
Instructions
 Cover the bottom of the pot with extra virgin olive oil (don't be shy you have a lot of veggies to fry!) Add onion, carrot, celery, bay leaves and garlic. Cook on medium heat for 3-4 minutes stirring constantly.

Next, add potatoes, tomatoes, Italian spice, hot chili flakes, and vegetable broth. Stir well to combine.

Bring you a boil then reduce to simmer for 10 Mins, stirring occasionally.

Add kidney beans, cannelloni beans and pasta. ook another 7-8 minutes (till pasta is al dente).

Add fresh herbs, salt and pepper to taste, top with vegan parmesan and enjoy!
Video
Notes
Ps. If you want to freeze this don't add the pasta noodles until you are ready to eat it. 
Conclusion: Vegan Minestrone Soup
Vegan Minestrone Soup is a delicious and hearty meal that is perfect for any occasion. It's a simple and easy-to-make recipe that can be customized to your liking. Whether you prefer a spicy kick or a more mild flavor, this soup can be adjusted to suit your taste buds. With the right combination of vegetables, herbs, and spices, you can create a soup that is both nutritious and satisfying. So the next time you're looking for a comforting meal, give this recipe a try!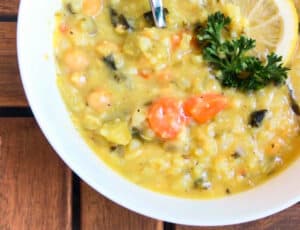 Experience the bold flavors of Greece with this delicious Vegan Greek Lemon Orzo Soup (Avgolemono
4 Comments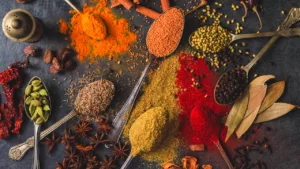 When it comes to vegan cooking, spices can make all the difference. They're the secret
2 Comments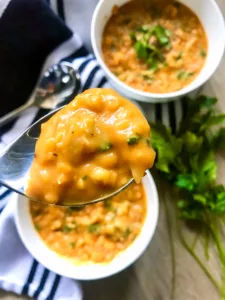 Looking for a healthy and delicious red lentil soup recipe? This hearty, gluten-free soup is
8 Comments