In this delightful recipe, we'll show you how to create a mouthwatering treat that combines the natural sweetness of medjool dates with the richness of dark chocolate, the creaminess of peanut butter, and the delightful crunch of chopped peanuts (or other nuts of your choice). This easy-to-make bark is a perfect balance of flavors and textures, making it an irresistible indulgence for any occasion. Whether you're a seasoned cook or a beginner in the kitchen, join us as we guide you through the simple steps to create this delicious masterpiece. So, let's get ready to whip up some Snickers Date Bark magic that will impress your taste buds and leave your friends and family wanting more!
Ingredients & Substitutions
This recipe features a few key ingredients that come together to create a delightful treat. The star of the show is the medjool dates, known for their natural sweetness and chewy texture, providing the perfect base for the bark. The melted dark chocolate adds a rich and indulgent layer, complementing the dates with its decadent flavor. Along with the chocolate, the chopped peanuts (or other nuts of your choice) add a delightful crunch, enhancing the overall texture and taste of the bark. To tie it all together, the natural peanut butter is drizzled over the layers, infusing the treat with a creamy and nutty essence.
While the original recipe features specific ingredients, there are various substitutions you can explore to tailor the recipe to your liking or dietary needs. For instance, if you prefer a sweeter option, you can use milk chocolate instead of dark chocolate. For those with peanut allergies or seeking different flavors, almond butter or cashew butter can be excellent alternatives to peanut butter. Likewise, you can experiment with a variety of nuts, such as almonds, cashews, or pecans, to introduce your personal touch to the bark.
Making substitutions allows you to get creative and explore different flavor combinations. However, when opting for alternatives, be mindful of any allergies or dietary restrictions that you or your guests may have. Reading labels and ensuring the ingredients are suitable for your needs is essential in creating a safe and enjoyable treat for everyone.
Helpful Tools
Baking Sheet: A sturdy baking sheet lined with parchment paper is essential for assembling and setting the Snickers Date Bark. It provides a flat and non-stick surface, making it easy to work with the layers and ensures the bark doesn't stick when it's time to cut it into squares.
Measuring Cups: Although the recipe omitted quantities, having measuring cups handy will help you portion out the ingredients accurately if you decide to adjust the recipe to your preferences or serve a larger group.
Microwave or Double Boiler: Melted dark chocolate is a key component of the bark, and having a microwave or double boiler will allow you to melt the chocolate smoothly and without burning it. If using a microwave, remember to melt the chocolate in short intervals and stir in between to avoid overheating.
Spatula: A spatula will come in handy when spreading the melted chocolate evenly over the dates and nuts. It allows for precise and smooth distribution, ensuring that every bite has the perfect amount of chocolate.
Small Whisk or Spoon: For drizzling the peanut butter over the bark, a small whisk or spoon will give you control over the amount and placement of the peanut butter, adding a beautiful swirl to the finished product.
How to Make Snickers Date Bark
Begin by preparing a baking sheet and lining it with parchment paper. Take the medjool dates, ensuring they are pitted and sliced open, and lay them flat on the parchment paper. Press down on the dates gently so they all stick together in a neat arrangement.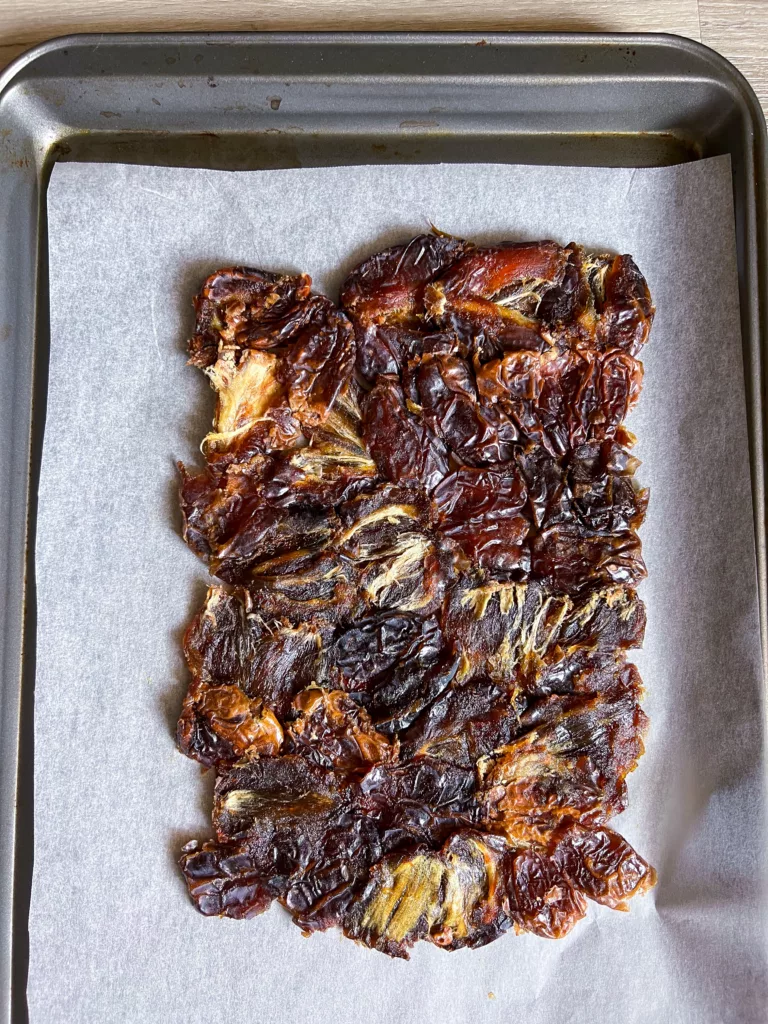 Next, it's time to add some delightful crunch! Sprinkle the chopped peanuts (or any other nuts you prefer) over the dates, covering them evenly with nutty goodness. Now, take the natural peanut butter and drizzle it over the dates and peanuts. The rich, creamy peanut butter will add a wonderful flavor to the bark.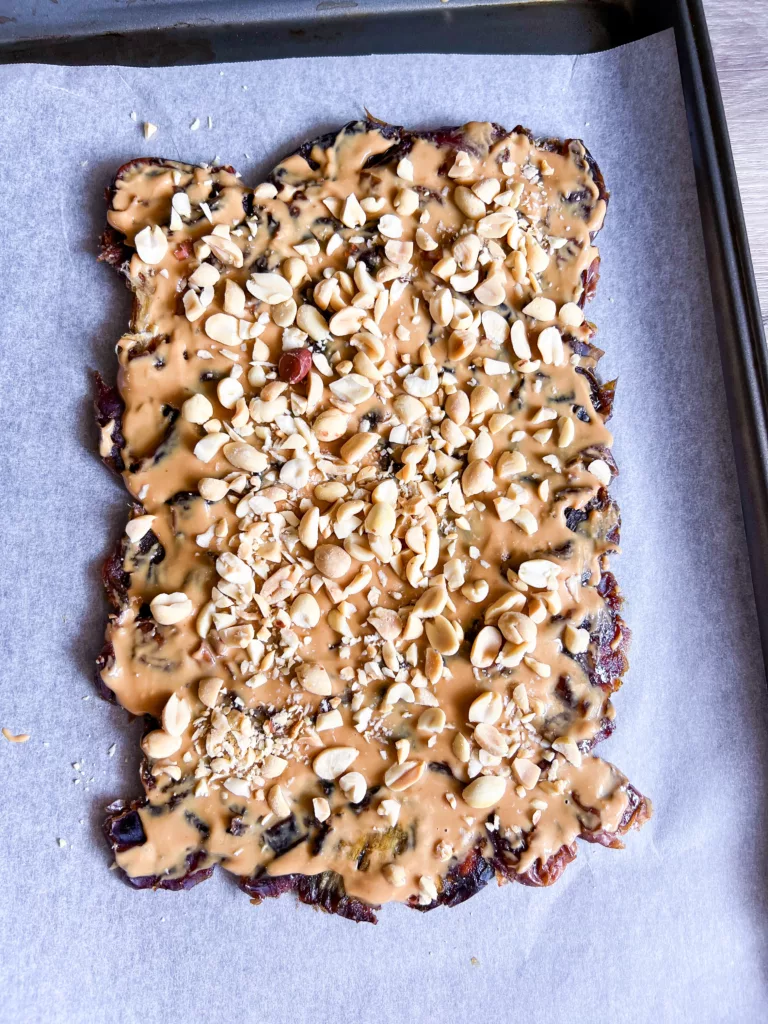 Here comes the chocolaty part! Take the melted dark chocolate and pour it over the date and peanut layers. Use a spatula if needed to spread the chocolate evenly, ensuring that every bite is filled with chocolatey delight. For that extra touch of indulgence, sprinkle some coarse salt on top of the chocolate layer.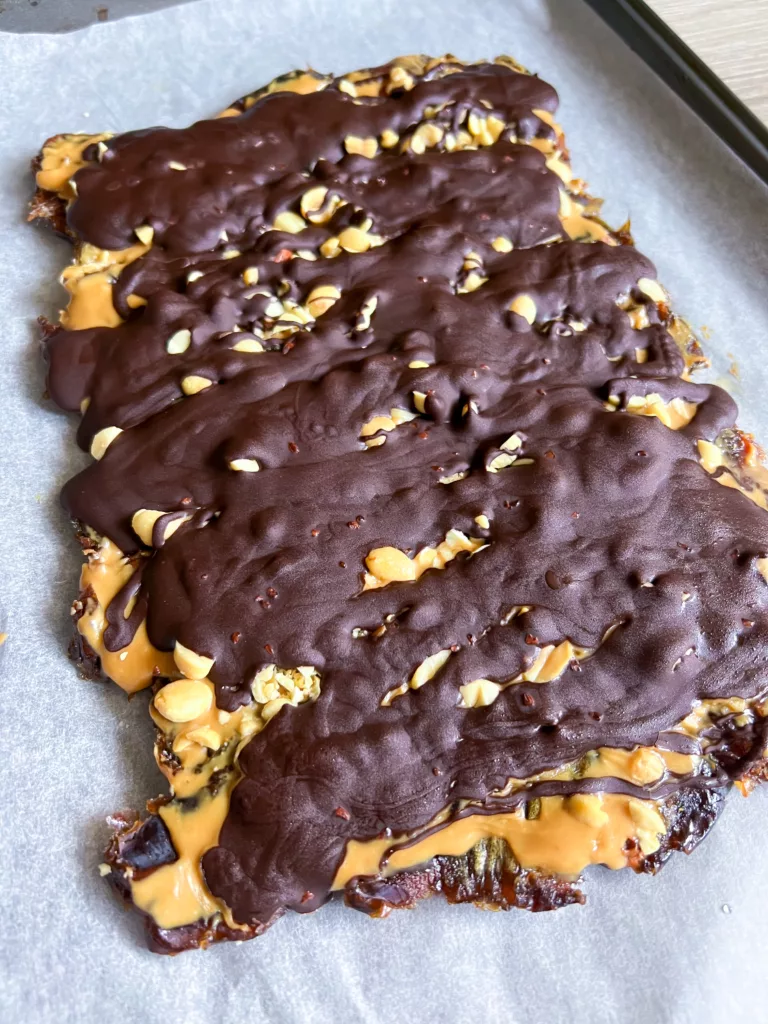 Finally, place the baking sheet with all the heavenly layers in the fridge for approximately 40 minutes. This will allow the bark to set and firm up, ensuring that it holds together when you cut it into squares.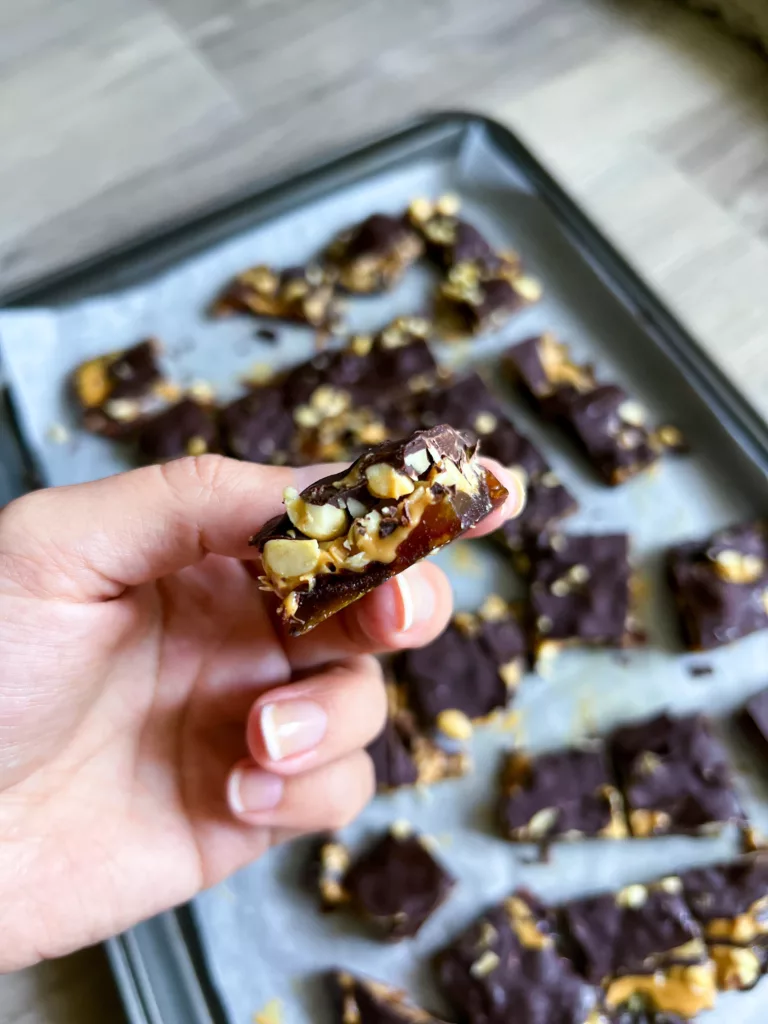 Once the waiting time is up, take out the baking sheet from the fridge, and behold the masterpiece! Cut the Snickers Date Bark into squares, and it's ready to serve. Each square is a delightful combination of sweet dates, crunchy nuts, creamy peanut butter, and decadent dark chocolate, with a touch of salt to balance the flavors.
Tips & Tricks
Choose Quality Ingredients: Opt for high-quality medjool dates, dark chocolate, natural peanut butter, and fresh nuts. Better ingredients will result in a more flavorful and satisfying bark.
Use a Sharp Knife: A sharp knife not only makes slicing the dates easier but also ensures clean cuts, resulting in a neat and presentable final product.
Even Nut Distribution: When sprinkling the chopped nuts, aim for even coverage to ensure that every bite of the bark has a delightful crunch.
Work Quickly with Chocolate: Once the chocolate is melted, work efficiently when spreading it over the dates and nuts, as it can begin to set relatively quickly.
Peanut Butter Drizzle: To achieve an attractive peanut butter drizzle, warm the peanut butter slightly to make it more fluid before drizzling it over the bark.
Chill for the Right Time: While the recipe suggests 40 minutes in the fridge, note that setting time may vary depending on the thickness of the bark and the temperature of your fridge. Check for firmness before cutting into squares.
Sprinkle Salt Gently: When adding the coarse salt, sprinkle it lightly and evenly across the surface. A little goes a long way in enhancing the flavors.
Serve and Store: Serve the Snickers Date Bark on a beautiful platter or in gift bags for friends and family. Store any leftovers in an airtight container in the fridge to maintain freshness.
FAQ: Snickers Date Bark
Can I use other types of dates for this recipe?
Absolutely! While the recipe recommends medjool dates, you can use other date varieties as well. Keep in mind that the size and sweetness may vary slightly, but the result will still be delicious.
Can I add extra ingredients like shredded coconut or dried fruits?
Absolutely! The beauty of this recipe lies in its adaptability. You can add shredded coconut, dried fruits, or even a sprinkle of your favorite spices to create your personalized version of the bark.
How should I store the Snickers Date Bark?
Store any leftover bark in an airtight container in the fridge to maintain its freshness. This will help it last for several days, although we doubt it'll stay uneaten for long!
Can I freeze the bark for later consumption?
While it's possible to freeze the bark, we recommend enjoying it fresh for the best taste and texture. Freezing can alter the consistency, especially due to the moisture content of the dates.
Is the Snickers Date Bark suitable for a vegan diet?
The recipe is vegan-friendly if you use dairy-free dark chocolate and choose a nut butter that doesn't contain animal products. Always check the labels to ensure the ingredients align with your dietary preferences.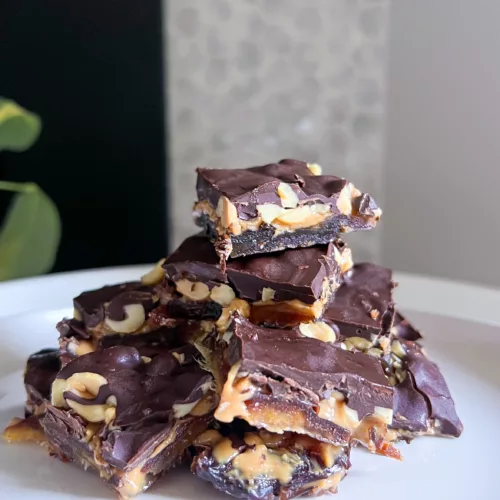 Snickers Date Bark Viral Recipe
Snickers Date Bark is a delightful treat that combines sweet medjool dates, rich dark chocolate, creamy peanut butter, and crunchy nuts. It's easy to make, versatile, and sure to please any palate.
Ingredients
20

medjool dates, pitted and sliced open

⅓

cup

chopped peanuts

(or other nuts)

⅓

cup

natural peanut butter

1 ¼

cup

melted dark chocolate

course salt to sprinkle on top
Instructions
On a baking sheet lined with parchment paper, lay the dates flat and press down on them so they all stick together.

Sprinkle on the chopped peanuts, then drizzle on the peanut butter.

Pour the melted chocolate overtop and spread around evenly using a spatula if needed. Sprinkle on some course salt, and place in the fridge for 40 mins to set. Cut into squares, serve and enjoy!
Video
Conclusion
The Snickers Date Bark is a delightful and versatile treat that brings together the perfect combination of flavors and textures. Whether you enjoy it as a special treat for yourself or share it with loved ones, this simple recipe is sure to impress. With its sweet medjool dates, rich dark chocolate, creamy peanut butter, and crunchy nuts, it's a crowd-pleaser for any occasion. So, the next time you're looking for a quick and delicious homemade dessert, remember to give this Snickers Date Bark a try. Get creative with different nut options or even a drizzle of your favorite extract. No matter how you choose to make it, this irresistible bark will have everyone asking for seconds. Happy baking and enjoy every sweet moment!