Craving a refreshing way to beat the summer heat? Look no further! This Frozen Candy Grapes recipe has taken TikTok by storm, and it's easy to see why. These frozen treats are packed with tangy flavors that will leave you wanting seconds. Plus, you won't believe how simple and fuss-free they are to make. With just a handful of ingredients and a few easy steps, you'll be savoring these icy delights in a flash. So, get ready to indulge in a cool and tasty treat that will satisfy your cravings and keep you refreshed all summer long!
Ingredients & Substitutions
To create your own unique twist on the Frozen Sour Grapes recipe, let's take a closer look at the key ingredients and explore some easy substitutions. Don't be afraid to get creative and experiment with flavors that suit your taste preferences!
First and foremost, green grapes are the star of the show. Their vibrant color and natural sweetness provide the perfect base for this icy treat. However, if green grapes aren't your thing, feel free to substitute them with red or black grapes. The choice is yours!
Next up, we have lime juice, which adds a zesty kick to the grapes. If you don't have limes on hand, don't fret. You can easily substitute them with lemons for a slightly different citrusy flavor. Or, if you prefer a milder tang, try using a splash of orange juice instead.
When it comes to the sweet element, organic cane sugar is the go-to option. However, if you're looking for a healthier alternative, consider using honey or maple syrup as substitutes. These natural sweeteners can add a touch of sweetness while imparting their distinct flavors.
Feel free to explore other creative additions as well. For a burst of freshness, consider adding some finely chopped mint leaves or a sprinkle of lime zest to the sugar coating. These little extras can elevate the flavor profile and take your frozen sour grapes to the next level of deliciousness!
Remember, the beauty of this recipe lies in its versatility. Don't be afraid to make it your own by experimenting with different fruits, flavors, and sweeteners. This way, you can enjoy a unique frozen treat that suits your personal taste preferences.
Helpful Tools
Mixing Bowl: A medium-sized mixing bowl is essential for tossing the grapes with lime juice. Choose a bowl that is spacious enough to accommodate the grapes while allowing room for gentle mixing.
Citrus Juicer: To extract the maximum juice from your limes (or lemons), a citrus juicer is a valuable tool. This handheld gadget makes the task effortless, allowing you to squeeze every last drop of tangy goodness.
Small Bowl: A small bowl comes in handy for the organic cane sugar. It provides a convenient vessel for dipping the grapes and evenly coating them with a light layer of sweetness.
Freezer-Safe Container: Once your grapes are coated and ready for freezing, a suitable freezer-safe container is crucial. Opt for an airtight container that can withstand low temperatures and effectively preserve the frozen sour grapes for an extended period.
Zester or Grater: If you decide to incorporate additional flavors like lime zest, having a zester or grater on hand will simplify the task. This tool allows you to effortlessly extract the fragrant zest, adding a delightful aroma to your frozen treats.
How to Make Sour Frozen Candy Grapes
Start by washing and drying 4 cups of green grapes. Remove the stems and place the grapes into a medium mixing bowl.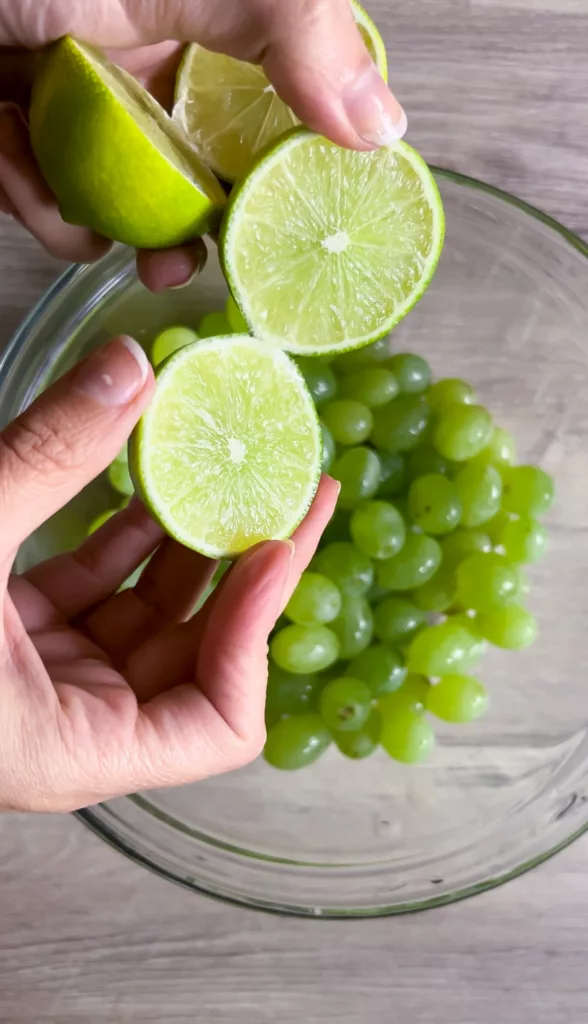 Next, squeeze the juice of 2 limes over the grapes and gently toss to combine using a spoon or your hands.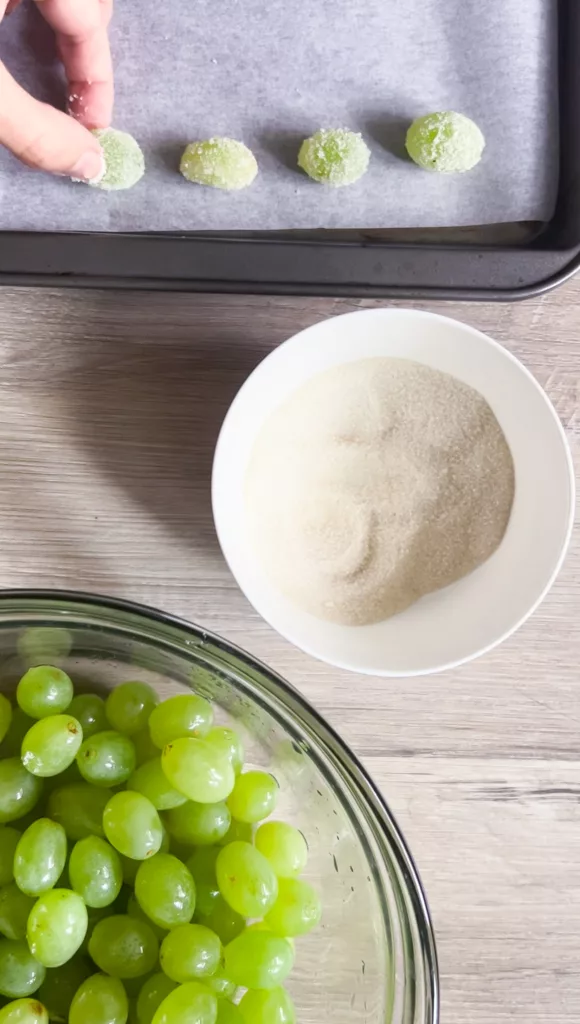 In a small bowl, put the organic cane sugar. Take each grape and dip it into the sugar, ensuring a light and even coating. Place the sugar-coated grapes on a tray or plate in a single layer.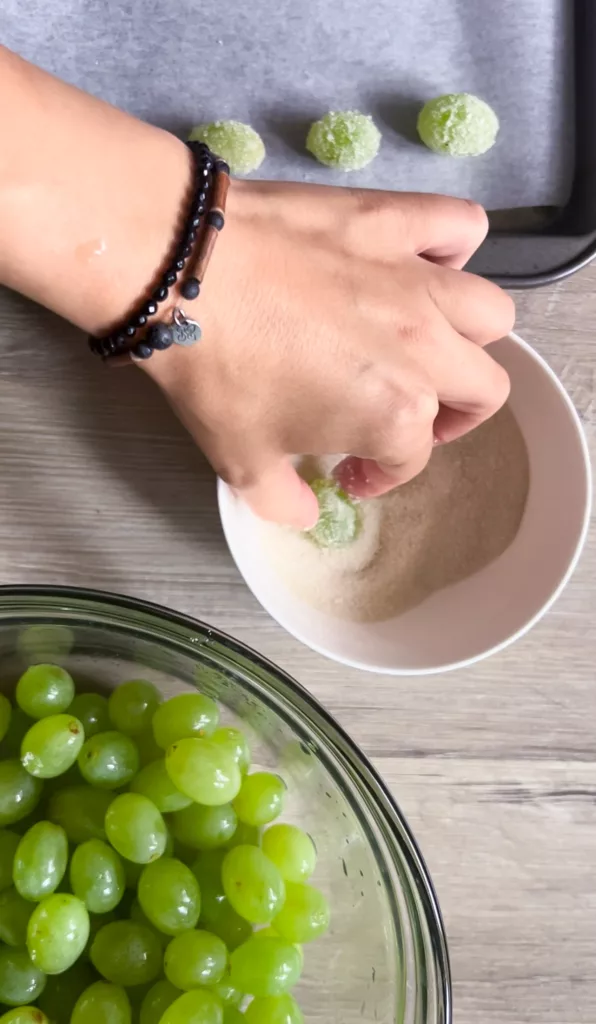 Now, transfer the grapes to the freezer and let them freeze for approximately 2 hours. Once frozen, they're ready to be enjoyed!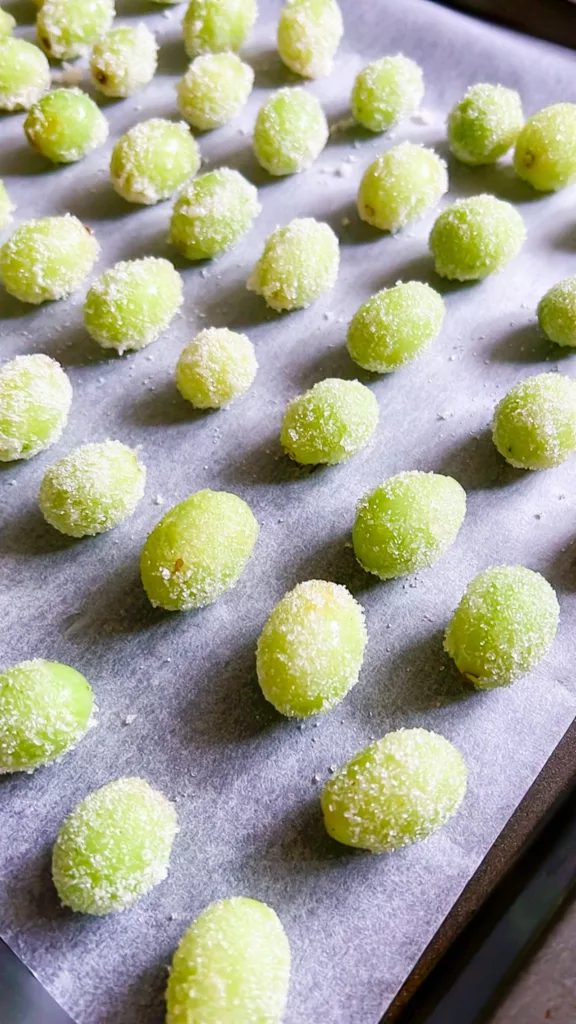 Serve them as is or use them to garnish your favorite beverages or desserts. Remember, these frozen sour grapes can last up to 3 months in an airtight container in the freezer, so you can always have a refreshing treat on hand.
Tips & Tricks
Choose Ripe and Firm Grapes: Opt for grapes that are ripe, firm, and free from bruises. This ensures that you'll enjoy the best texture and flavor once they're frozen.
Adjust Sweetness to Taste: The amount of organic cane sugar used to coat the grapes can be adjusted according to your personal preference. Start with a light coating and gradually increase if you prefer a sweeter taste. Remember, it's all about finding the perfect balance of tangy and sweet!
Experiment with Citrus: While the recipe calls for lime juice, feel free to experiment with different citrus fruits. Try using lemon juice for a more vibrant and tangy flavor, or even orange juice for a hint of sweetness. The choice is yours!
Add a Hint of Zest: For an extra burst of flavor, consider zesting a lime or lemon and mixing it with the organic cane sugar before coating the grapes. This adds a fragrant and aromatic touch that will elevate the taste experience.
Freeze in Single Layers: To prevent the grapes from sticking together, freeze them in a single layer before transferring them to an airtight container. This ensures easy portioning and serving whenever you're ready to enjoy them.
Customize with Additional Ingredients: Get creative and add your personal touch to the recipe. Consider tossing in a handful of chopped fresh mint leaves for a refreshing twist or sprinkling a pinch of sea salt on top for a contrasting flavor.
Serve in Creative Ways: While Frozen Sour Grapes are delicious on their own, there are endless ways to enjoy them. Use them as a garnish for sparkling water or cocktails, toss them into fruit salads for an extra burst of flavor, or even incorporate them into frozen desserts for a unique twist.
Store Properly for Longevity: To maintain the best quality, store the frozen grapes in an airtight container in the freezer. They can last for up to 3 months, allowing you to enjoy them whenever you need a quick and refreshing treat.
FAQ: Sour Frozen Candy Grapes
Can I use different types of grapes for this recipe?
Absolutely! While the recipe calls for green grapes, you can experiment with red or black grapes for a different flavor experience.
Can I substitute the lime juice with lemon juice?
Yes, you can substitute lime juice with lemon juice to give the grapes a tangy twist. It will add a vibrant citrus flavor to the frozen sour grapes.
Can I use other sweeteners instead of organic cane sugar?
Definitely! If you prefer alternatives to organic cane sugar, you can try using honey or maple syrup as natural sweeteners. They will add a different flavor profile to the grapes.
How long should I freeze the grapes?
It's recommended to freeze the grapes for approximately 2 hours. This will allow them to become firm and icy while maintaining their delicious flavor.
How should I store the frozen sour grapes?
Once the grapes are frozen, transfer them to an airtight container and store them in the freezer. They can last up to 3 months, maintaining their taste and texture.
How can I serve the frozen sour grapes?
There are numerous ways to enjoy these frozen treats. You can serve them on their own as a refreshing snack, use them as a garnish for beverages like sparkling water or cocktails, or incorporate them into fruit salads or frozen desserts for an added tangy surprise.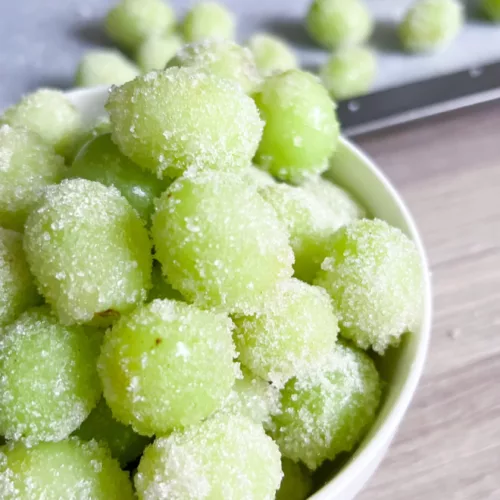 Sour Frozen Candy Grapes
Frozen Sour Grapes are a delightful and refreshing way to enjoy tangy frozen treats. With simple ingredients and easy steps, these icy delights will keep you cool and satisfied all summer long.
Ingredients
4

cups

green grapes, washed and dried

3-4

tbsp

organic cane sugar

2

limes

juiced
Instructions
Wash the grapes, remove the stems, and place into a medium mixing bowl.

Add lime juice on top of the grapes and toss gently to combine.

Place organic cane sugar into a small bowl, and dip each grape into the mixture to coat it lightly and evenly.

Place in the freezer for 2 hours, then serve and enjoy! Lasts up to 3 months in the freezer in a airtight container.
Video
Conclusion
Frozen Sour Grapes are a fantastic choice for those hot summer days when you're craving a cool and tangy treat. With just a few simple steps, you can transform ordinary grapes into delightful frozen goodies bursting with flavor. Whether you enjoy them on their own or use them to enhance your favorite beverages or desserts, these icy treats are sure to impress. Get creative with different grape varieties, citrus juices, and additional ingredients to customize your frozen sour grapes and make them truly your own.