If you're looking for a wholesome and energizing snack, these little bites of goodness are just what you need. Packed with nutritious ingredients like rolled oats, walnuts, grated carrots, and Medjool dates, they not only satisfy your sweet cravings but also provide a boost of energy to power you through the day. Whether you're a dedicated vegan or simply enjoy exploring new flavors, these bites are sure to win over your taste buds. So, let's dive into the simple and easy-to-follow recipe and start rolling out these delectable Vegan Carrot Cake Energy Bites that you can enjoy anytime, anywhere. Get ready for a burst of flavors in every bite that'll keep you coming back for more!
Ingredients & Substitutions
This recipe combines wholesome ingredients to craft a delectable treat. Let's delve into each element and explore potential substitutions for personal tastes or dietary requisites.
First, the robust foundation consists of rolled oats, imparting a gratifying texture and ample fiber. Those with gluten sensitivities can opt for certified gluten-free oats.
Medjool dates follow, serving as natural sweeteners that contribute to the irresistibly gooey consistency. In lieu of Medjool dates, soak regular dates briefly in hot water before blending.
Walnuts arrive next, offering a nutty flavor and healthy fats. Those seeking nut-free alternatives can swap in seeds like pumpkin or sunflower. Alternatively, increased shredded coconut lends a pleasing texture and nutty note.
Grated carrot is pivotal, infusing hints of carrot cake while providing essential nutrients. For variety, experiment with grated zucchini or apple for a unique touch.
Maple syrup imparts distinctive sweetness and enhances the overall flavor. Non-vegans can replace it with honey or agave nectar for similar sweetness.
Cinnamon and nutmeg interplay, adding warmth akin to classic carrot cake. Adjust spice quantities to taste, or venture into flavors like ginger or cardamom.
A touch of vanilla extract enriches aroma and flavor. Almond extract is an alternative, or omit if unavailable.
Lastly, a pinch of salt balances sweetness and elevates flavors. Opt for sea salt or pink Himalayan salt to introduce subtle mineral hints.
These versatile ingredients allow personalized adjustments, fostering a tailored recipe. Feel free to experiment, crafting unique Vegan Carrot Cake Energy Bites. Revel in discovering flavor harmonies while preserving carrot cake's essence in every bite!
Helpful Tools
Food Processor: A reliable food processor is essential for effortlessly blending all the ingredients into a smooth and well-combined mixture, saving you time and effort in the process.
Grater: This tool allows you to grate the carrots perfectly, ensuring uniform texture and optimal flavor distribution throughout the energy bites.
Cookie Scoop (optional): Using a cookie scoop makes it easier to portion out the batter evenly, resulting in uniformly shaped energy bites for a more appealing presentation.
Parchment Paper: Having parchment paper on hand makes rolling the mixture into balls a breeze and prevents sticking, ensuring smooth preparation and easy cleanup.
How to Make Carrot Cake Energy Bites
To begin, soak the Medjool dates in boiling water for about 5 minutes, if needed, to ensure they are soft and easy to blend.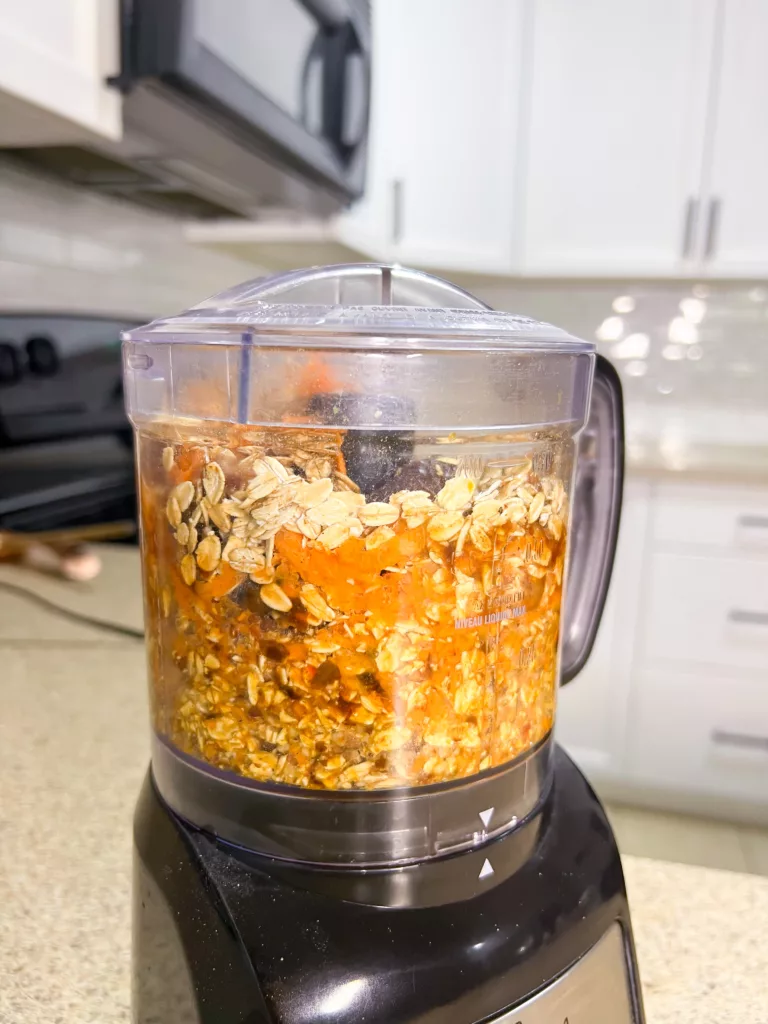 Next, gather your trusty food processor to combine the grated carrot, rolled oats, walnuts, maple syrup, softened dates, cinnamon, vanilla extract, a pinch of nutmeg, and a pinch of salt. Adjust the mixture's consistency by adding coconut milk or water, one tablespoon at a time, until it reaches the desired texture. If it becomes too thin, simply sprinkle in some oats, one tablespoon at a time, until it's just right.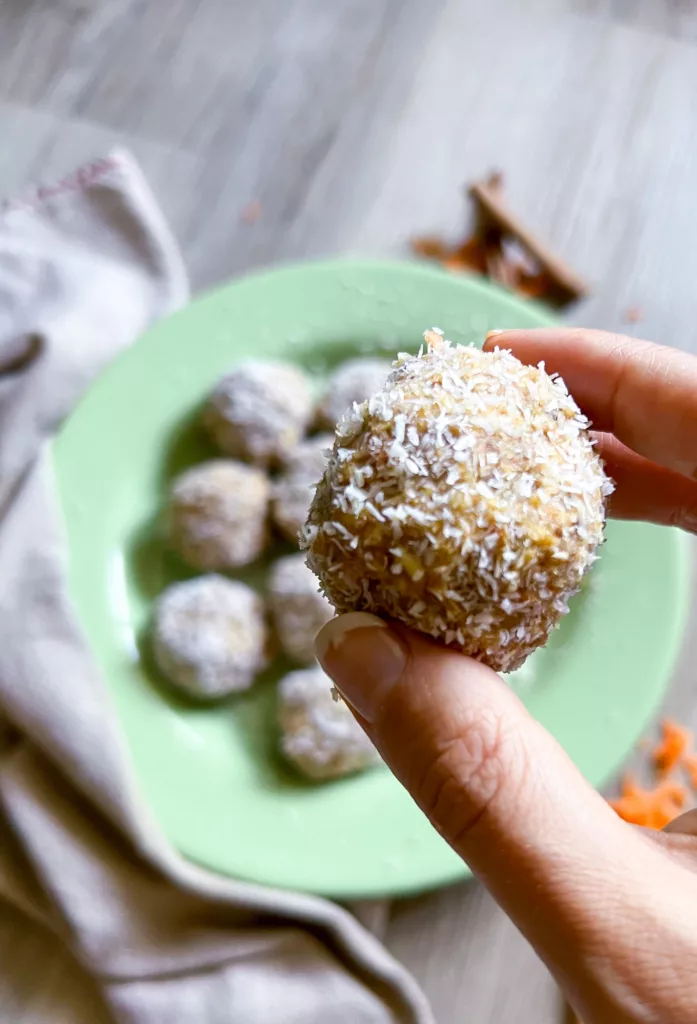 Now comes the fun part – shaping the batter into 12 equal-sized balls. Once you've rolled them to perfection, give them a delightful finishing touch by gently rolling each ball in finely shredded coconut. The coconut adds a burst of flavor and a pleasant crunch to these tasty bites.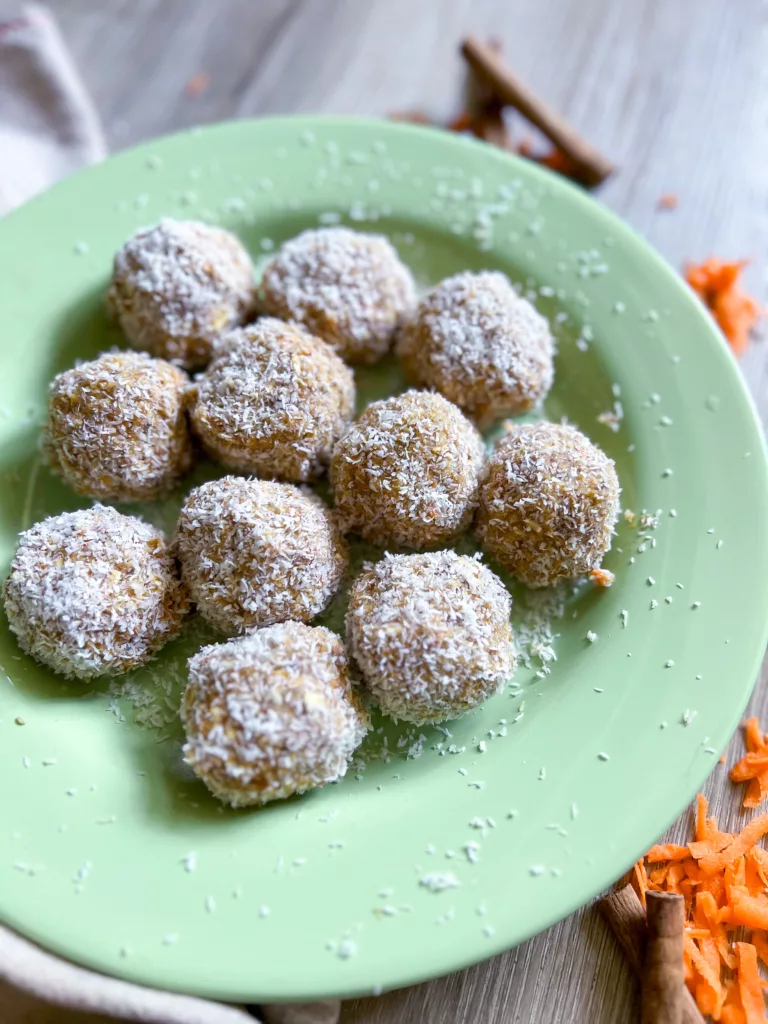 Finally, for easy storage, pop the energy bites into the fridge and keep them ready for whenever you need a quick and nourishing pick-me-up. There you have it! Your scrumptious Vegan Carrot Cake Energy Bites are now ready to be enjoyed – a wholesome treat that packs a nutritious punch and will leave you feeling energized and satisfied.
Tips & Tricks
Soften Dates: If your Medjool dates are not soft enough, you can quickly soften them by soaking them in boiling water for about 5 minutes before using. This will make them easier to blend and ensure a smoother texture for your energy bites.
Experiment with Flavors: Don't hesitate to add a personal touch to the recipe. Consider incorporating other spices like ginger or cardamom to enhance the flavor profile. You can also toss in some chopped nuts or dried fruits for added texture and taste.
Keep Hands Moist: When rolling the batter into balls, dampen your hands slightly with water. This will prevent the mixture from sticking to your hands and make the shaping process easier and less messy.
Storage Tips: Store your finished energy bites in an airtight container in the fridge. They will stay fresh for several days, making them a convenient grab-and-go snack whenever you need a quick boost of energy.
Nut-Free Options: If you have nut allergies, feel free to swap the walnuts for seeds like pumpkin seeds or sunflower seeds. They will still provide a delightful crunch and make the bites suitable for those with nut sensitivities.
FAQ: Vegan Carrot Cake Energy Bites
Can I use regular dates instead of Medjool dates?
While Medjool dates are preferred for their soft and gooey texture, you can use regular dates if that's what you have on hand. Just make sure to soak them in hot water for a few extra minutes to soften them before blending.
Are these energy bites gluten-free?
Yes, these Vegan Carrot Cake Energy Bites are gluten-free, as they are made with rolled oats and do not contain any wheat or gluten-containing ingredients.
Can I freeze the energy bites for later consumption?
Absolutely! These energy bites freeze well and can be stored in an airtight container or freezer bag for up to 3 months. Thaw them in the refrigerator before enjoying.
Can I add protein powder to the recipe?
Absolutely! If you want to boost the protein content, you can mix in your favorite plant-based protein powder while blending the ingredients in the food processor.
Are these energy bites suitable for a pre-workout snack?
Yes, these Vegan Carrot Cake Energy Bites are a great option for a pre-workout snack due to their blend of complex carbohydrates and natural sugars, providing a quick source of energy.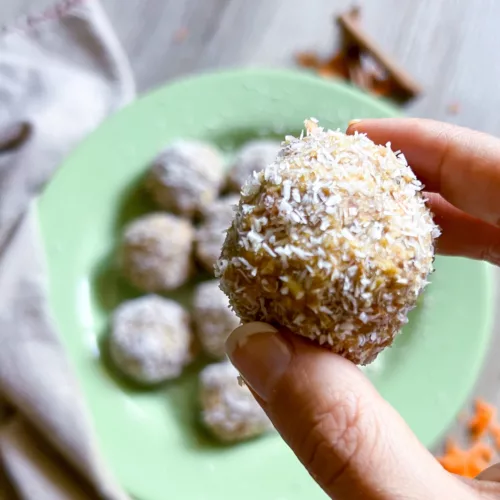 Vegan Carrot Cake Energy Bites
Indulge in the delightful flavors of Vegan Carrot Cake Energy Bites, packed with nutritious oats, walnuts, carrots, and dates. These no-bake treats are quick to make and perfect for a wholesome snack anytime!
Ingredients
1

cup

rolled oats

12

Medjool dates

½

cup

walnuts

½

cup

grated carrot

1

tbsp

maple syrup

1

tsp

cinnamon

1

tsp

vanilla extract

pinch nutmeg & pinch of salt

½

cup

shredded coconut for rolling
Instructions
Soak the dates in boiling water to soften for 5 minutes if needed.

In a food processor, combine carrot, oats, walnuts, maple syrup, dates, cinnamon, vanilla, salt, and nutmeg. If needed, add coconut milk or water 1 tbsp at a time to thin it out. If the mixture is too thin, add oats 1 tbsp at a time.

Form the batter into 12 equal balls, and roll in finely shredded coconut. Store in the fridge, and enjoy!
Video
Conclusion
Whip up these Vegan Carrot Cake Energy Bites for a delightful and nutritious treat that brings the flavors of carrot cake to a wholesome snack. Easy to make and packed with goodness, these no-bake bites will keep you energized and satisfied throughout the day. Enjoy the blend of oats, walnuts, carrots, and dates in every delicious bite!