Are you looking for a quick and healthy snack that combines the richness of peanut butter with the sweetness of bananas? Look no further! Peanut Butter Banana Roll Ups are a delightful treat that's easy to make, packed with nutrients, and perfect for all ages. In this article, we'll guide you through the process of creating these delectable roll-ups while providing valuable tips, substitutions, and FAQs. So, let's dive into the world of flavors and learn how to whip up these mouthwatering delights!
Ingredients & Substitutions
To create these delightful roll-ups, you'll need the following ingredients:
Whole wheat tortillas
Creamy peanut butter
Ripe bananas
Hemp hearts (optional)
Substitutions:
If you have dietary restrictions, you can use gluten-free tortillas.
For nut allergies, consider using sunflower seed butter instead of peanut butter.
Feel free to swap bananas with other fruits like strawberries or apple slices for variety.
Helpful Tools
Gathering the right tools can make the process smoother and more enjoyable. Here's what you'll need:
Large cutting board
Butter knife or spatula for spreading peanut butter
Knife for slicing the roll-ups
How to Make Peanut Butter Banana Roll Ups
1. Spread the Peanut Butter
Lay the tortillas flat on a large cutting board. Take a butter knife or spatula and spread a generous layer of creamy peanut butter over each tortilla. Ensure an even distribution for a burst of flavor in every bite.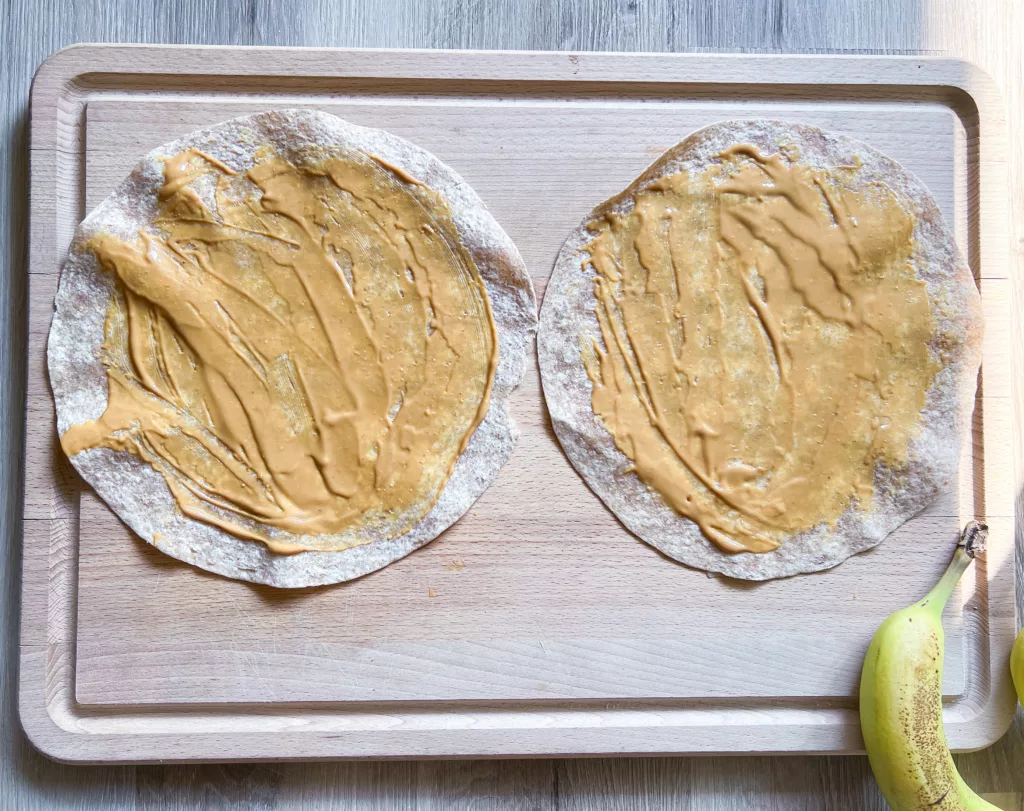 2. Add Hemp Hearts (Optional)
For an extra nutritional boost and a pleasant crunch, sprinkle hemp hearts over the peanut butter layer. These tiny seeds are rich in essential fatty acids and protein, making your roll-ups even more nutritious.
3. Place and Roll the Banana
Peel the ripe bananas and place one at the edge of each tortilla. Carefully roll up the tortilla, securing the banana inside. The peanut butter will help hold everything together.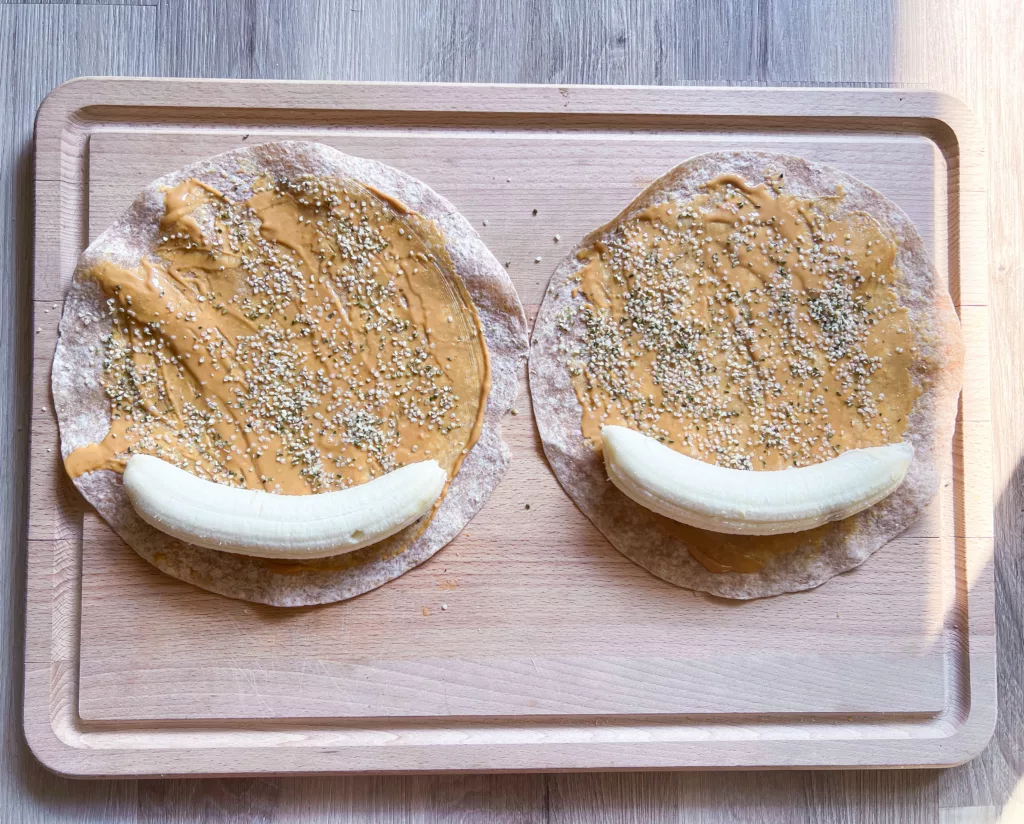 4. Slice and Enjoy!
With the roll-ups neatly rolled, use a knife to slice them into bite-sized pieces, resembling pinwheels. Now, it's time to savor the fruits of your labor. Enjoy the harmonious blend of flavors and textures in every mouthful.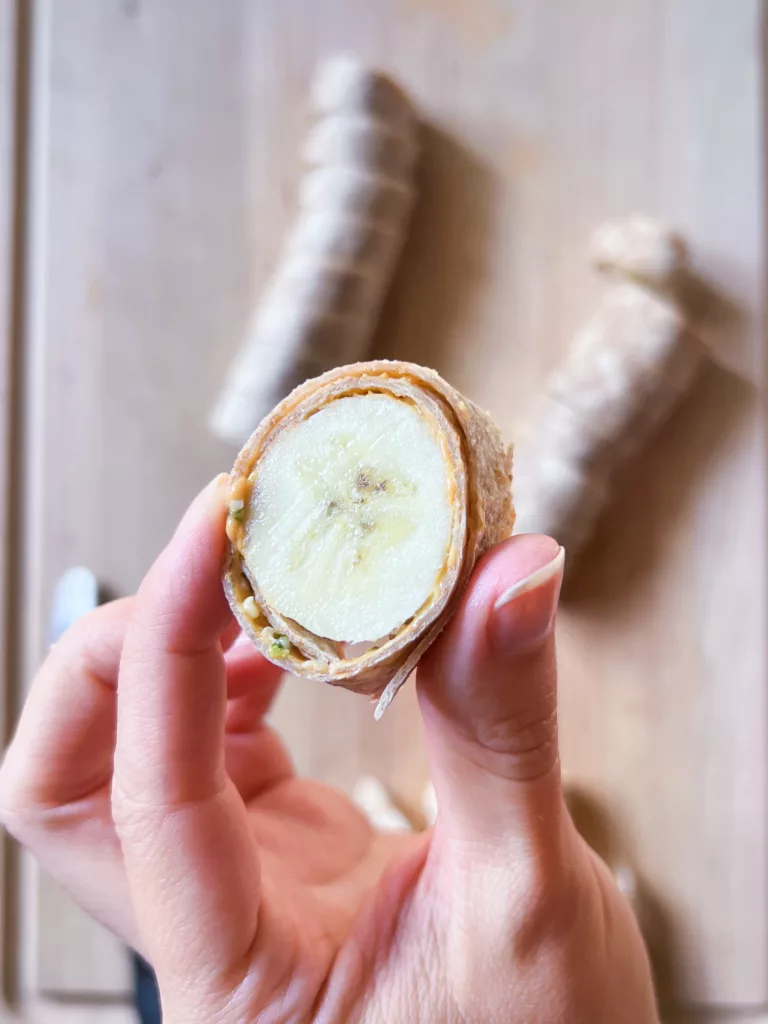 Tips & Tricks
To prevent the banana from browning, you can lightly brush it with lemon juice before rolling it up. Although this will change the flavor.
Experiment with different nut butters, such as almond or cashew butter, to create unique flavor profiles.
For added sweetness, drizzle a touch of honey or maple syrup over the peanut butter before rolling.
FAQs: Peanut Butter Banana Roll Ups
Can I make these roll-ups in advance?
Absolutely! Prepare the roll-ups, slice them, and store them in an airtight container in the refrigerator for a convenient snack later.
Are hemp hearts necessary?
No, hemp hearts are optional. They add a nutritional boost and a pleasant crunch, but the roll-ups will still be delicious without them.
Can I use tortilla wraps instead of whole wheat tortillas?
Yes, you can use regular tortilla wraps or even flavored ones to add an extra dimension to the flavor.
How can I make this snack more indulgent?
Consider adding a sprinkle of dark chocolate chips or chopped nuts for a touch of indulgence.
Are these roll-ups suitable for kids?
Absolutely! These roll-ups are not only tasty but also visually appealing, making them a hit among kids.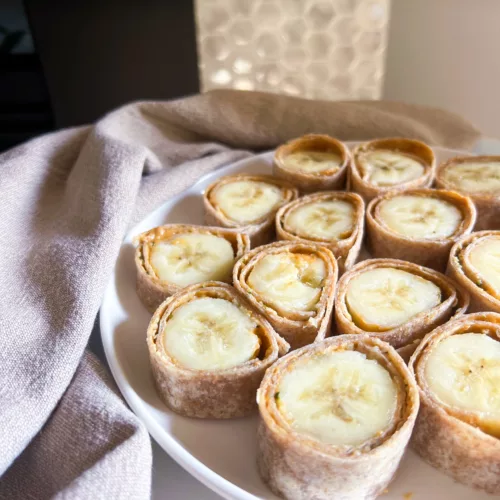 Peanut Butter Banana Roll Ups
Wholesome and delicious Peanut Butter Banana Roll Ups – a quick, nutritious, and flavorful snack for all ages. Get the recipe now
Ingredients
2

whole grain tortillas

2

whole bananas

2-4

tbsp

all natural peanut butter

2

tbsp

hemp hearts

(optional)
Instructions
Place the tortillas flat on a large cutting board, and spread the peanut butter evenly over each tortilla.

Sprinkle with hemp hearts if you are adding them.

Place 1 peeled banana on the edge of each tortilla and roll it up securely.

Slice into bite sized pieces (like pinwheels) and enjoy!
Video
Notes
* Add 1 tbsp of agave or honey to make these sweeter if desired. 
Conclusion: Peanut Butter Banana Roll Ups
Peanut Butter Banana Roll Ups are a delightful combination of wholesome ingredients that come together to create a scrumptious snack or light meal. Whether you're in need of a quick energy boost or a satisfying treat, these roll-ups have got you covered. Feel free to get creative with your ingredients and enjoy the versatility of this recipe. So, go ahead and whip up a batch of these delectable roll-ups and treat yourself to a burst of flavors!