If you're a vegan or someone looking for a meatless alternative to meat-based gravy, then you're in the right place. In this article, we'll be sharing with you an easy vegan gravy recipe that's not only delicious but also plant-based. With just a few simple ingredients, you can make a flavorful and satisfying vegan gravy that's perfect for any occasion.
Why Vegan Gravy?
While gravy accompanies many dishes, it frequently includes meat-based ingredients like beef or chicken broth in traditional recipes. This can be a problem for vegans or those who are looking for a healthier alternative to meat-based gravy. Fortunately, vegan gravy is a great solution that can be made with simple and healthy ingredients.
Ingredients & Substitutions:
Chickenless vegan broth or vegetable broth
Soy sauce (or coconut aminos/tamari for GF)
Dijon mustard
All-purpose flour (or all-purpose gluten-free flour for GF option)
Nutritional yeast
Onion powder
Freshly ground black pepper
Melted vegan butter (optional)
Helpful Tools
To whip up this gravy with ease, keep the following tools on hand:
Medium-sized saucepan
Whisk
How To Make This Recipe
Now, let's get to the heart of it. Crafting this savory vegan gravy is a breeze:
Add all the ingredients to a medium-sized saucepan and whisk them together.
Turn the stove on to medium heat.
Whisk constantly, and you'll notice the gravy starting to thicken. This should take around 3 minutes, but it can vary depending on your stove.
Once your gravy reaches the desired consistency, serve and savor the plant-based goodness.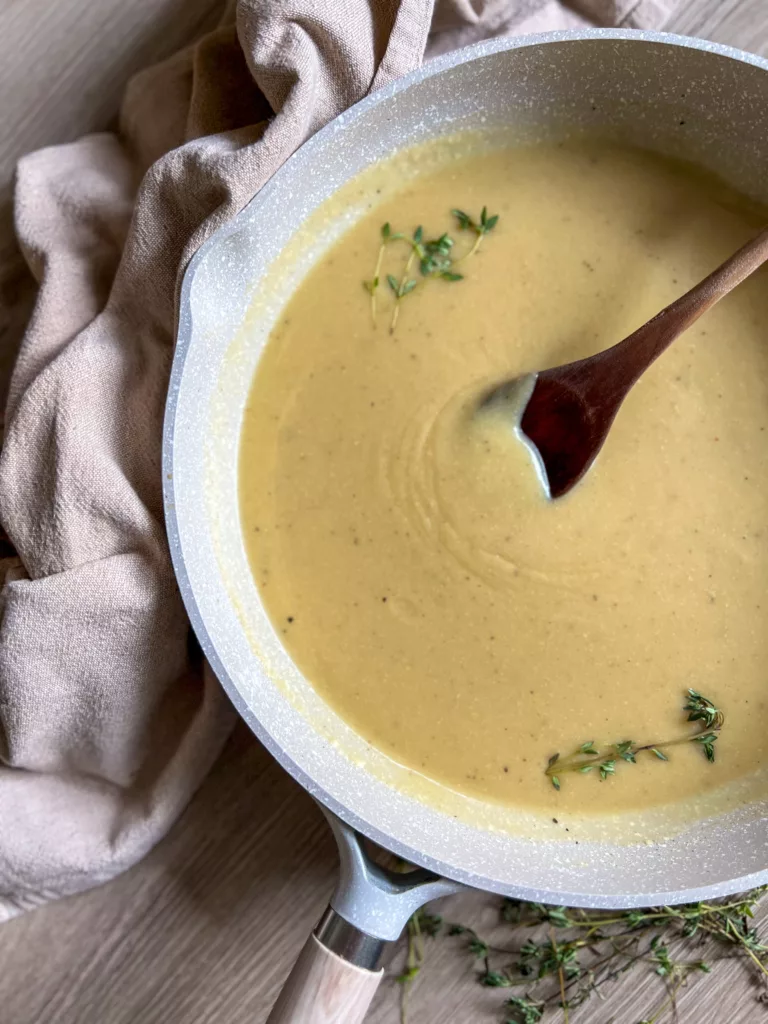 This easy method results in a flavorful, smooth gravy that can be made in just a few minutes.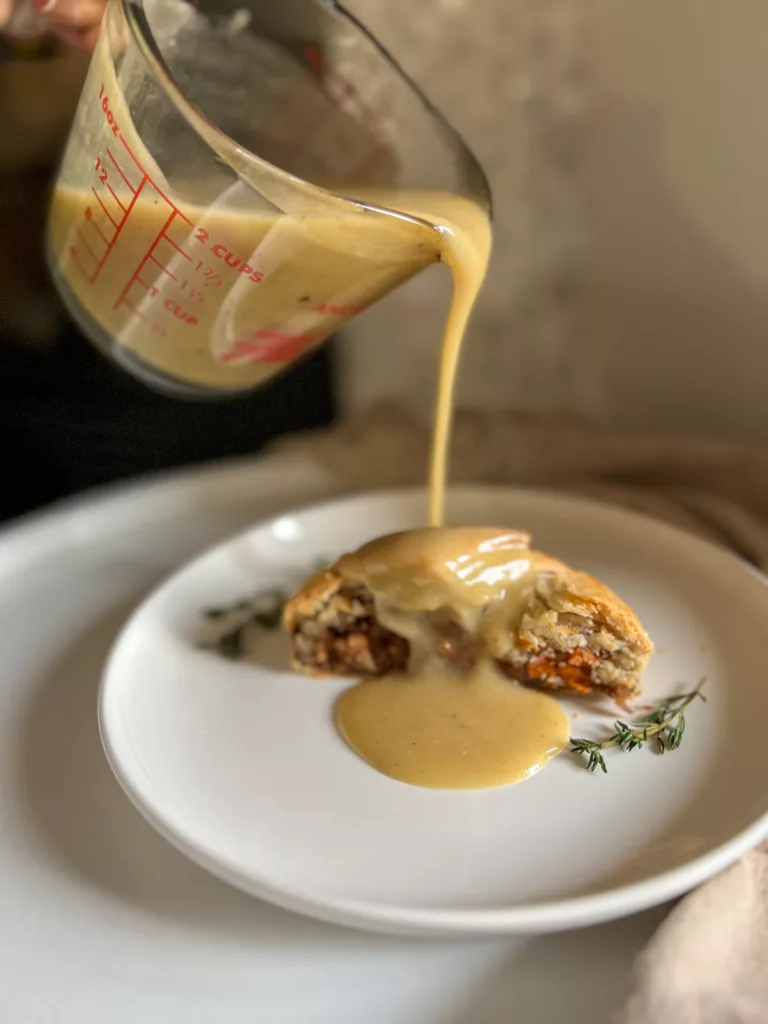 Tips & Tricks For This Vegan Gravy Recipe
To make the gravy thicker, increase the amount of flour in the recipe. Alternatively, to make it thinner, add more broth.
If you want a richer flavor, consider using mushroom broth instead of vegetable broth.
Make sure to whisk the gravy constantly to avoid lumps from forming.
If you're making the gravy ahead of time, store it in an airtight container in the refrigerator. When you're ready to reheat it, add a bit of extra broth to thin it out.
For a more savory flavor, consider adding in some sautéed onions or garlic to the gravy.
FAQ: Vegan Gravy Recipe
How to adjust the consistency?
You can adjust the consistency by adding more or less broth to suit your preference, and you can also adjust the flavor by adding more or less nutritional yeast or soy sauce. It's a recipe that you can make your own and have fun with in the kitchen.
Can the gravy be made gluten free?
Yes! Simply swap out the all-purpose flour for a gluten-free alternative and use tamari or coconut aminos instead of soy sauce. Enjoy a hearty and flavorful gravy without any gluten.
How long does vegan gravy last?
This meat-free gravy can be stored in the fridge for up to 5 days in an airtight container. It may be a little thick when you re-heat, so water can be added to thin it out.
How to Reheat Vegan Gravy?
The best way to reheat vegan gravy is on the stovetop over low heat. Stir occasionally and add a splash of plant-based milk or water if the gravy has thickened too much. You can also reheat it in the microwave, but be sure to stir it every 30 seconds to prevent it from getting too thick or overheating.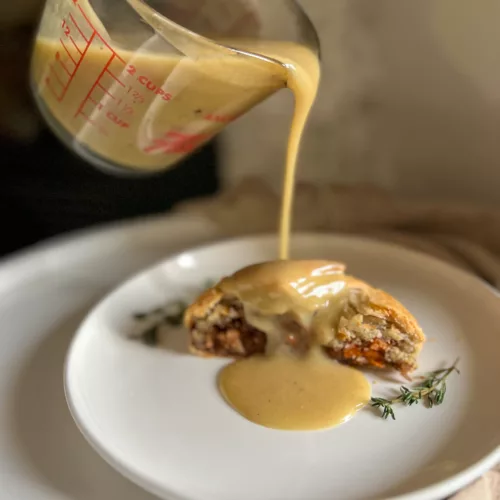 Best Easy Vegan Gravy
This vegan gravy is such a game changer because it's SO easy and comes together in less than 5 minutes! The flavour is delicious and makes the perfect plant-based gravy to top vegan mashed potatoes, poutine, biscuits, vegan pot-pie, stuffing, or any vegan holiday feast.
Ingredients
2

cups

chickenless vegan broth

(or vegetable broth)

1

tbsp

soy sauce

(coconut aminos or tamari for GF)

¾

tsp

dijon mustard

¼

cup

all purpose flour

(use all-purpose gluten free flour for GF option)

3

tbsp

nutritional yeast

1

tsp

onion powder

1

tsp

freshly ground black pepper

1

tbsp

melted vegan butter

(optional)
Instructions
Add all ingredients to a medium sized saucepan and whisk together.

Next, turn the stove on to medium heat.

Whisk constantly, and the gravy will start to get nice and thick.

This should only take about 3 minutes (up to 5 depending on your stove).
Video
Notes
This is an oil-free, butter-free vegan gravy, and the flavor is there without any extras. But if it's a holiday, and you want to make this gravy EXTRA decadent, just throw in 1 tbsp of vegan butter. 
Conclusion
This easy vegan gravy recipe is perfect for anyone looking for a delicious and simple alternative to traditional meat-based gravy. With just a few simple ingredients and a quick cooking time, you can enjoy a flavorful and creamy gravy that pairs perfectly with your favorite dishes.
Now, don't get me wrong I adore a delicious mushroom gravy. However, there are times when I lack the ingredients or the time to prepare it. This Quick Vegan Gravy Recipe also offers a milder flavor, making it an ideal replacement for KFC's vegan gravy or a plant-based 'turkey' gravy. This delicious recipe tastes amazing on a variety of dishes including my Quick and Easy Vegan Quinoa Stuffing.