In the world of comforting, hearty meals, stuffing ranks high on the list. But what if you're a vegan looking to enjoy this classic side dish without compromising your dietary choices? Look no further, because we've got a scrumptious Vegan Stuffing Recipe that's sure to delight your taste buds. In this article, we'll guide you through the ingredients, substitutions, and a step-by-step process to whip up this delectable delight. Let's get started!
Ingredients & Substitutions
Creating the perfect vegan stuffing begins with the right ingredients. Here's what you'll need:
1. Vegan Bread
Start with a loaf of vegan bread, cut into cubes. Opt for your favorite variety, as long as it's vegan-friendly. Here is a link to my homemade Crusty Dutch Oven Bread Recipe For Beginners which works amazing in this recipe.
2. Celery and Onion
1 rib of celery, diced
1 white onion, finely diced
3. Aromatic Flavors
4 cloves minced garlic
1 bay leaf
1-2 tbsp fresh rosemary
5 sage leaves
1 tsp poultry seasoning
4. Vegan Butter
For that rich, buttery taste, use 1-2 tbsp of vegan butter.
5. Broth
Choose between 2-3 cups of chickenless broth or vegetable broth. The choice is yours.
6. Seasoning
Don't forget to season with salt and pepper to taste.
These ingredients are all easy to find at your local grocery store and are essential for creating delicious and nutritious vegan stuffing. So gather them up and get ready to make a dish that will impress your family and friends!
Helpful Tools
For this recipe, you'll need:
A cast iron pan
A baking dish (if you don't have a cast iron pan)
Aluminum foil for covering
How to Make This Vegan Stuffing Recipe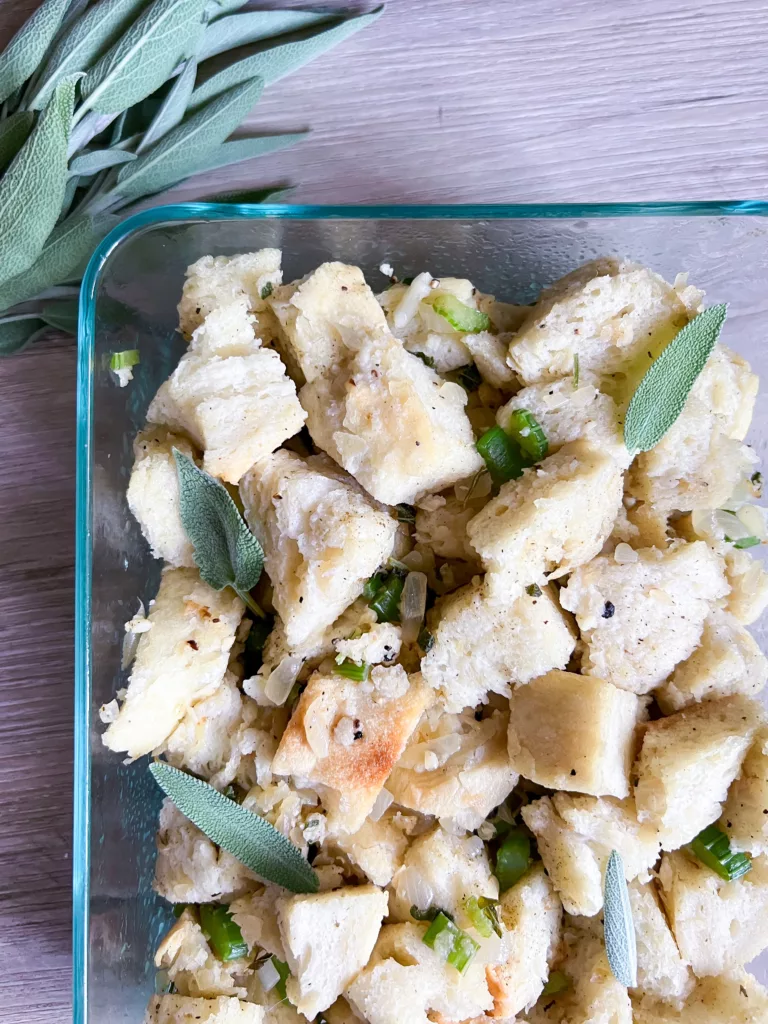 Begin by adding a dash of olive oil to your cast iron pan over medium heat.
Add the diced celery, onion, minced garlic, bay leaf, fresh rosemary, sage leaves, and poultry seasoning to the pan. Sauté for about 3 minutes.
Melt the vegan butter in the pan, then gently stir in the bread cubes. Toast them until they're slightly dry and crispy.
Gradually pour the broth over the stuffing. You want the bread to be moist but not saturated, so you may not need all the broth.
Cover the pan with aluminum foil and bake at 375 degrees for 30-40 minutes. If you're not using a cast iron pan, transfer the stuffing to a baking dish and cover it with foil. For a crispy top, remove the foil for the last 10-15 minutes of baking.
Serve and relish in the savory goodness!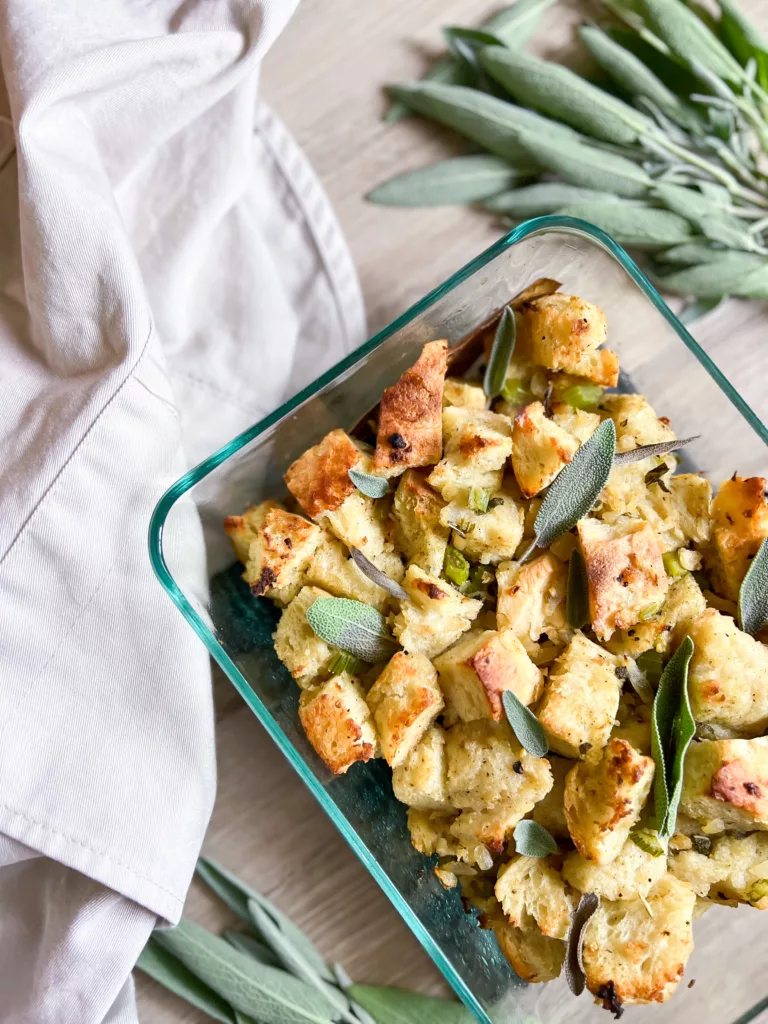 Tips & Tricks:
Gluten-free option: Use gluten-free bread.
Season Liberally: Don't be shy with the seasonings. The blend of rosemary, sage, and poultry seasoning is what gives this stuffing its unforgettable flavor.
Texture Matters: Toasting the bread before adding the broth ensures the stuffing has the ideal mix of crispy and moist textures.
Customize Your Veggie Mix: Feel free to add other vegetables like mushrooms, carrots, or spinach to make this stuffing your own.
FAQ: Vegan Stuffing Recipe
Can I use a different type of bread?
Yes, you can use any type of vegan bread you like. French, sourdough, or whole wheat bread are all great options.
Can I make this recipe ahead of time?
Yes, you can make the stuffing a day ahead of time and refrigerate it. When you're ready to serve it, simply reheat it in the oven for 20-30 minutes.
How long does this vegan stuffing last?
This vegan stuffing recipe is a great dish to make ahead of time, as the flavors meld and intensify as it sits in the refrigerator. When stored in an airtight container, it can last for about 7 days in the refrigerator. Reheating the stuffing is also easy, you can use the microwave or a pan on the stove. If you choose to reheat it in a pan, use a spatula or spoon to move it around. Adding a little bit of oil or water if needed, to prevent it from sticking. This method is similar to making fried rice.
Can I make this stuffing with nuts?
Yes, you can add nuts if you prefer or replace them with a different type of nut, such as almonds or cashews.
Can I use chicken broth instead of vegetable broth?
Yes, you can if you are not vegan or vegetarian. If you don't have any vegetable broth on hand, you can make your own by boiling water and adding some vegetables such as carrots, celery, and onions.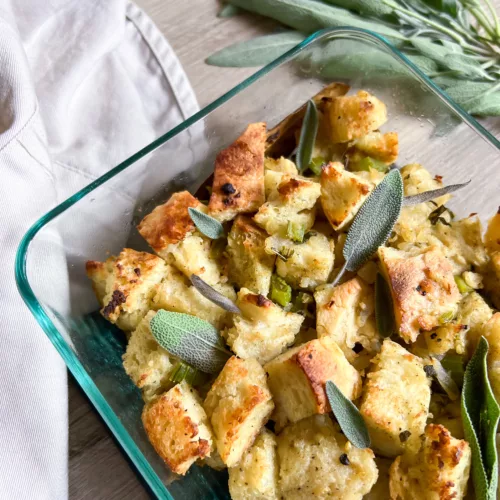 Easy Vegan Stuffing
Enjoy a delectable Vegan Stuffing with aromatic herbs and a delightful mix of textures. Perfect for vegans and meat-eaters alike.
Ingredients
1

loaf

vegan bread, cut into cubes

1

rib

celery, diced

1

white onion, finely diced

4

cloves

minced garlic

1

bay leaf

1-2

tbsp

fresh rosemary

5

sage leaves

1

tsp

poultry seasoning

1-2

tbsp

vegan butter

2-3

cups

chickenless broth

(or veg broth)

salt & pepper to taste
Instructions
Add a little olive oil to a cast iron pan on medium heat.

Next add the celery, onion, garlic, bay leaf, rosemary, sage leaves, and poultry seasoning. Cook for about 3 minutes.

Melt the butter in the pan, and stir in the bread cubes. Lightly toast the bread in the pan until its a bit dry and crispy.

Add the broth gradually over the stuffing. The bread should a bit moist, not saturated. You may not have to use all the broth.

Cover with foil and bake at 375 degrees for 30-40 minutes. (If you do not have a cast iron, transfer your stuffing from the pan, into baking dish and cover wtih foil.) If you want the top to get crispy, remove the foil for the last 10-15 minutes. Serve and enjoy!
Notes
If you want the top of the stuffing even crispier, broil for 1-3 minutes on high. Keep a close eye on it to avoid burning. 
Conclusion
With this Vegan Stuffing Recipe, you don't have to miss out on the classic flavors of stuffing just because you're vegan. This savory dish is perfect for holiday feasts, Sunday dinners, or any time you crave a heartwarming meal. Give it a try and savor the delectable taste of this plant-based stuffing recipe.