Looking for a delicious and authentic New York-style bagel that is vegan? Look no further than the Vegan New York Style Bagel. These bagels are made without any animal products, making them a perfect choice for those who follow a plant-based diet. In this article, we will guide you through the process of making your own
Ingredients & Substitutions: What Is In A Vegan New York Style Bagel
To make the perfect Vegan New York Style Bagel, it all starts with the right ingredients. Here's what you'll need:
Bread Flour: Use around 500g of bread flour (approximately 3.5 cups) to achieve the right texture and chewiness in your Vegan NY Style Bagel.
White Sugar: Add approximately 23g (or 1.5 tbsp) of white sugar to help activate the yeast and provide a slightly sweet flavor.
Instant Dried Yeast: You'll need approximately 10g (or 1 tbsp) of instant dried yeast to help the bagels rise properly.
Warm Water: Use around 297g (or 320mL) of warm water at 90 degrees Fahrenheit to activate the yeast and create a smooth dough.
Salt: Add around 6g (or 1.5 tbsp) of salt for flavor and to help regulate the yeast's growth.
Optional: For a richer flavor, you can also add half a cup of almond milk and everything bagel spice to the dough.
When choosing your ingredients, be sure to check that they're vegan-friendly. For example, some white sugars are processed using bone char, which would make them non-vegan. By using vegan alternatives, such as beet sugar or organic cane sugar, you can ensure that your NY-style bagels are 100% vegan-friendly.
By using high-quality ingredients and following our tips and tricks, you'll be able to create delicious, chewy, and perfectly-shaped vegan homemade bagels that are sure to impress!
Helpful Tools
To make the perfect Vegan New York Style Bagels, having the right equipment is just as important as having the right ingredients. Here are the equipment essentials that you'll need:
Scale: Using a kitchen scale is essential for measuring your ingredients accurately. Measuring by weight rather than volume will give you much more consistent results and will help ensure that your homemade bagels come out perfectly every time.
Mixing Bowls: You'll need at least one large mixing bowl to mix and knead your bagel dough. Make sure it's big enough to accommodate the amount of dough you'll be making. You may also want to have a second bowl on hand for mixing your toppings or glazes.
Measuring Cups: Although a scale is more precise, measuring cups are still useful for measuring small amounts of ingredients like salt or sugar. Make sure you have both dry and liquid measuring cups on hand.
Cooking Thermometer: A cooking thermometer is an essential tool for making sure your water is at the right temperature (around 90 degrees Fahrenheit) to activate the yeast. It's also useful for checking the internal temperature of your bagels when they're done baking.
How To Make This Vegan NY Style Bagel Recipe
Follow these steps to make perfect, chewy vegan bagels every time:
Prepare the Yeast Mixture: Start by mixing warm water (90 degrees Fahrenheit) and white sugar in a small mixing bowl or measuring glass. Stir until the sugar dissolves, and then add instant dried yeast. Set the mixture aside for about 10 minutes, allowing the yeast to activate and create bubbles.
Mix the Dough: In a large mixing bowl, add bread flour and salt, and mix them together. Once the yeast mixture is ready, give it another stir and slowly pour it into the dry mixture. Use clean hands to mix the dough until you have a shaggy texture. Turn the dough onto a lightly floured surface and knead it for about 10 minutes until it's smooth and soft.
Let the Dough Rise: Place the dough in a greased mixing bowl, and cover it with a damp towel. Let the dough rise for 1 hour until it doubles in size.
Shape the Dough: Once the dough has risen. Place it on a lightly floured surface and divide it into 8 equal pieces. Roll each piece into a ball, and cover them with a damp towel for 10 minutes. Then, use your fingers to poke a hole in the center of each ball and shape them into bagels.
Boil the Bagels: Bring a large pot of water to a boil and carefully drop the bagels in. Boil them for 1-2 minutes per side, depending on your desired chewiness.
Add Toppings and Bake: Preheat the oven to 425 degrees Fahrenheit. Transfer the boiled bagels to a baking sheet. Brush them with almond milk or a coconut oil substitute for egg wash, and sprinkle them with everything bagel spice. Bake the bagels for 20 minutes or until they are golden brown.
Enjoy!: Once your bagels are finished baking, let them cool on a wire rack before adding your favorite toppings.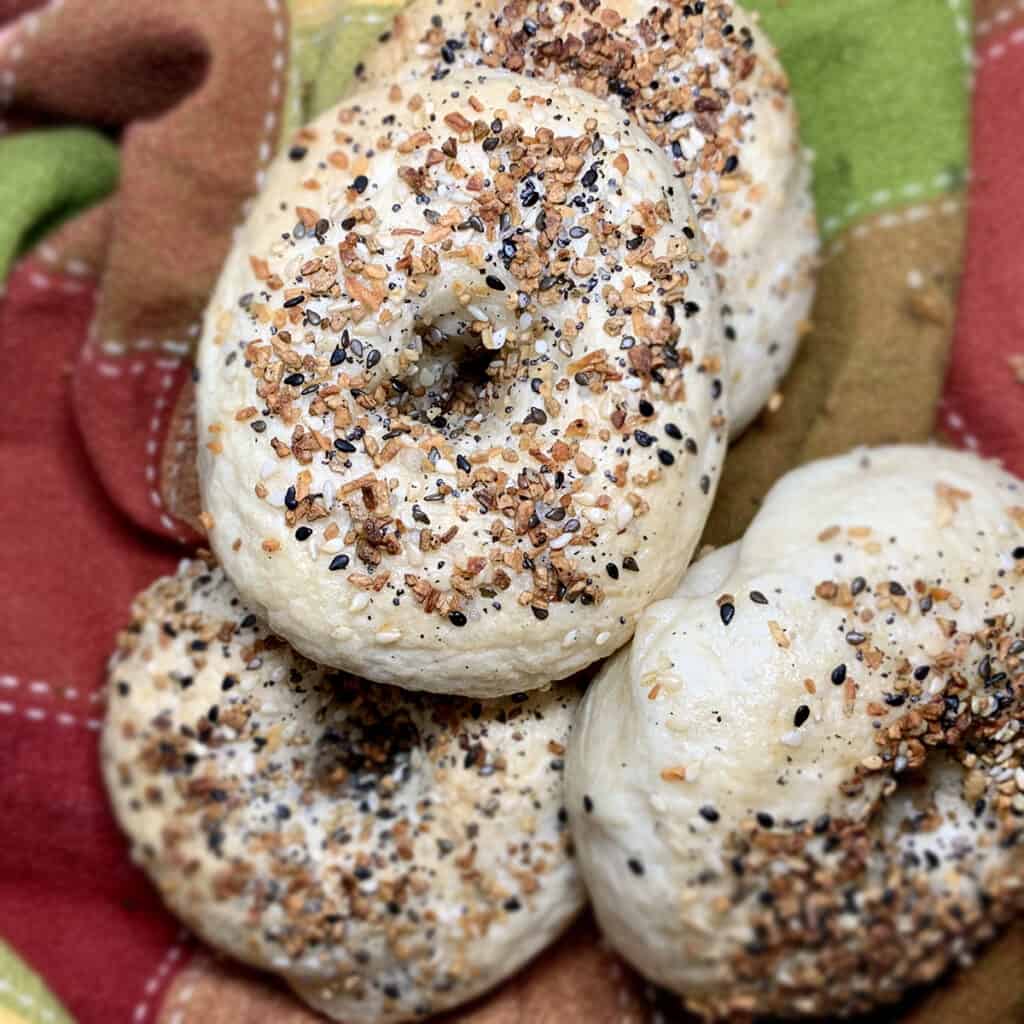 Tips & Tricks For These Vegan Bagels
Ensure your yeast is fresh: Fresh yeast is crucial to the success of your bagels. Check the expiration date and make sure your yeast is not expired.
Be precise with measurements: Measuring your ingredients accurately is essential to the texture and taste of your bagels. Use a digital kitchen scale and measuring cups to ensure precision.
Use bread flour: Bread flour has a higher protein content than all-purpose flour, which will give your bagels that classic chewy texture.
Knead the dough well: Kneading the dough for at least 10 minutes will activate the gluten in the bread flour. Creating a stronger and stretchier dough.
Let the dough rise properly: Giving the dough enough time to rise is crucial to the texture and taste of your bagels. Make sure to let it rise until it has doubled in size before shaping your bagels.
Don't over-boil the bagels: Over-boiling the bagels can lead to a soggy texture. Make sure to boil for only 1-2 minutes per side.
Experiment with toppings: While everything bagel spice is a classic choice. Feel free to experiment with different toppings such as sesame seeds, poppy seeds, or even vegan cream cheese.
FAQ: Vegan NY Style Bagels
How Can I Achieve The Perfect Texture These Homemade Bagels?
The key to achieving the perfect texture is to let them rise properly and boil them before baking. Boiling the bagels in water with sugar or malt syrup creates a chewy exterior, while the inside stays soft. Be patient and let the dough rise fully before shaping and boiling the bagels.
How Long Do I Need To Let These Homemade Bagel Rise?
The rising time can vary depending on the temperature and humidity of your kitchen, but generally, you'll want to let the dough rise for at least an hour before shaping the bagels. You can also let them rise in the fridge overnight for a more complex flavor.
Can I Freeze The Bagels For Later?
Yes! Once the Vegan New York Style Bagel have cooled, you can freeze them in an airtight container or freezer bag. When you're ready to eat them, just let them thaw and reheat them in the oven or toaster for a few minutes.
Can I Make These Bagels Gluten-Free?
Yes, you can use a gluten-free flour blend in place of the all-purpose flour, but keep in mind that the texture may be slightly different. You may need to adjust the amount of liquid in the recipe to get the right consistency.
How Long Do The Vegan Bagel Store For?
When it comes to storing, these bagels will last up to 3-5 days in an airtight container. They also can be frozen for up to a month. To reheat, you can place them in a preheated oven at 350 degrees Fahrenheit for about 5 minutes. Or in the toaster for a crispy texture.
What Toppings To Add To The Vegan New York Style Bagel?
One of the great things about this recipe is its versatility. You can top it with sesame seeds, poppy seeds, or any other toppings of your choice. Enjoy it with your favorite spread like hummus, peanut butter, or vegan cream cheese. The Bagels also go great with some vegan jam or jelly.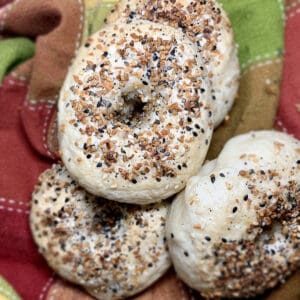 Vegan NY Style Bagels
Learn how to make New York-style bagels that are vegan and delicious with this easy-to-follow recipe. Perfect for breakfast, brunch, or a snack on the go.
Ingredients
Vegan Bagel
500

g

bread flour

Approx. 3.5 cups

23

g

white sugar

Approx. 1.5 tbsp

10

g

instant dried yeast

Approx. 1 tbsp

297

g

warm water @ 90 degrees Fahrenheit

Approx. 320 mL

6

g

salt

Approx. 1.5 tbsp
Instructions
First, you'll want to prepare the yeast mixture. In a measuring glass or small mixing bowl add 320ml warm water. You'll want this to be 90 degrees so make sure you check the temperature. Next, add in the sugar and mix it up. Leave this aside for about 10 minutes

Now, in a large mixing bowl add the flour and salt and mix it together. Once the yeast is ready, give it another stir and slowly add it into your dry mixture. Mix it together with your (very clean) hands until you have a nice shaggy dough. Turn this dough onto a lightly floured work surface and begin to knead the bread. You'll want to knead it for about 10 minutes until you have a nice soft dough (check the video to see how the dough should look).

Form the dough into a ball and place into a greased mixing bowl. Spin the dough around in circles so that the dough doesn't stick to the sides of the bowl. Now cover the bowl with a damp towel and leave it for 1 hour to rise. It should double in size.

Once your dough has doubled in size, place it on your lightly floured work surface and cut into 8 equal pieces. Next, fold the corners into themselves and roll your dough into evenly sized balls. Place the dough balls on a baking sheet and cover again with a damp towel. Leave for about 10 minutes. Now for the fun part – creating the bagel shape! Flour both your thumb and pointer finger and pinch a hole into the dough. Spin it around and work the dough until you have a small hole in the middle. Be careful not to stretch it out too much.

Now add the bagels to a large pot of boiling water. Boil for 1-2 minutes per side, (2 minutes for max chewiness). Be careful not to overcrowd the pot. the bagels will expand while boiling.

Strain them and then place onto a lightly greased baking sheet. We are using coconut oil as an egg wash substitute but you can use almond milk as well. Lightly brush the tops of the bagels with your egg wash sub and then sprinkle generously with everything bagel spice. YUM! You can experiment with other toppings but I think everything is the BEST!

Bake in the oven at 425 for 20 mins. Add your favourite bagel toppings and enjoy!!
Video
In conclusion, if you're looking for a delicious and easy vegan bagel recipe, this vegan New York Style Bagel recipe is an excellent choice. Not only is it free of animal products, but it is also made with whole grains and is a good source of protein. It's also easy to make and can be enjoyed as breakfast or as a snack.