Are you looking for a refreshing and healthy drink to start your day or to quench your thirst in the afternoon? Look no further than the vegan mango kale smoothie! This smoothie is not only delicious but also packed with essential nutrients that your body needs to function properly. In this article, we will show you how to make this tasty smoothie and discuss its benefits for your health.
Ingredients & Substitutions: What Is In A Vegan Mango Kale Smoothie
Let's talk about the delicious ingredients that make up this amazing vegan mango kale smoothie.
First up, we have frozen mango, which gives the smoothie a sweet and tropical flavor. Mango is not only delicious but also packed with vitamins and minerals, including vitamin C and A.
Next, we have chopped frozen kale, a nutrient-dense leafy green that adds a boost of fiber, antioxidants, and vitamins like vitamin K and C. Kale has a slightly bitter taste, but when paired with sweet mango, it creates a perfect balance of flavors.
To boost the protein content of this smoothie, we add a scoop of vanilla pea protein powder. Pea protein is a plant-based protein that is easy to digest and a great source of essential amino acids. It also adds a creamy texture to the smoothie.
To make the smoothie creamy and luscious, we use one cup of plain plant milk, which can be any type of milk made from nuts, seeds, or grains. We love almond milk for its nutty flavor, but you can use any milk you prefer.
If you're feeling adventurous, you can add some optional extras to your smoothie, such as chopped fresh ginger, ground flax seeds, chia seeds, or hemp hearts. Ginger adds a zesty kick and is great for digestion, while flax seeds, chia seeds, and hemp hearts add healthy fats, fiber, and protein to your smoothie.
So, there you have it – the ingredients that make up this delicious and nutritious vegan mango kale smoothie. Get creative and customize your smoothie with your favorite ingredients and toppings!
Helpful Tools
To make this vegan smoothie, you don't need any fancy equipment. Here's what you'll need:
A high-powered blender – A blender is essential for this recipe to achieve a smooth and creamy texture. A high-powered blender like a Vitamix or Blendtec works best, but any blender that can handle frozen fruits and vegetables will do the trick.
Measuring cups and spoons – To ensure accurate measurements, you'll need a set of measuring cups and spoons. This will help you get the perfect balance of flavors and consistency in your smoothie.
Spatula – A spatula is handy for scraping down the sides of the blender and ensuring all the ingredients are well mixed.
Glass – Once your smoothie is blended to perfection, pour it into a glass and enjoy! You can use any type of glass you like, but tall glass will give you enough space to add some fun toppings.
That's it – just a few simple tools and equipment to make this delicious vegan mango kale protein smoothie. Most of these items are likely already in your kitchen, so you can start blending right away.
How To Make This Vegan Mango Kale Protein Smoothie
Making this vegan mango kale smoothie is as easy as 1-2-3. Here's how to do it: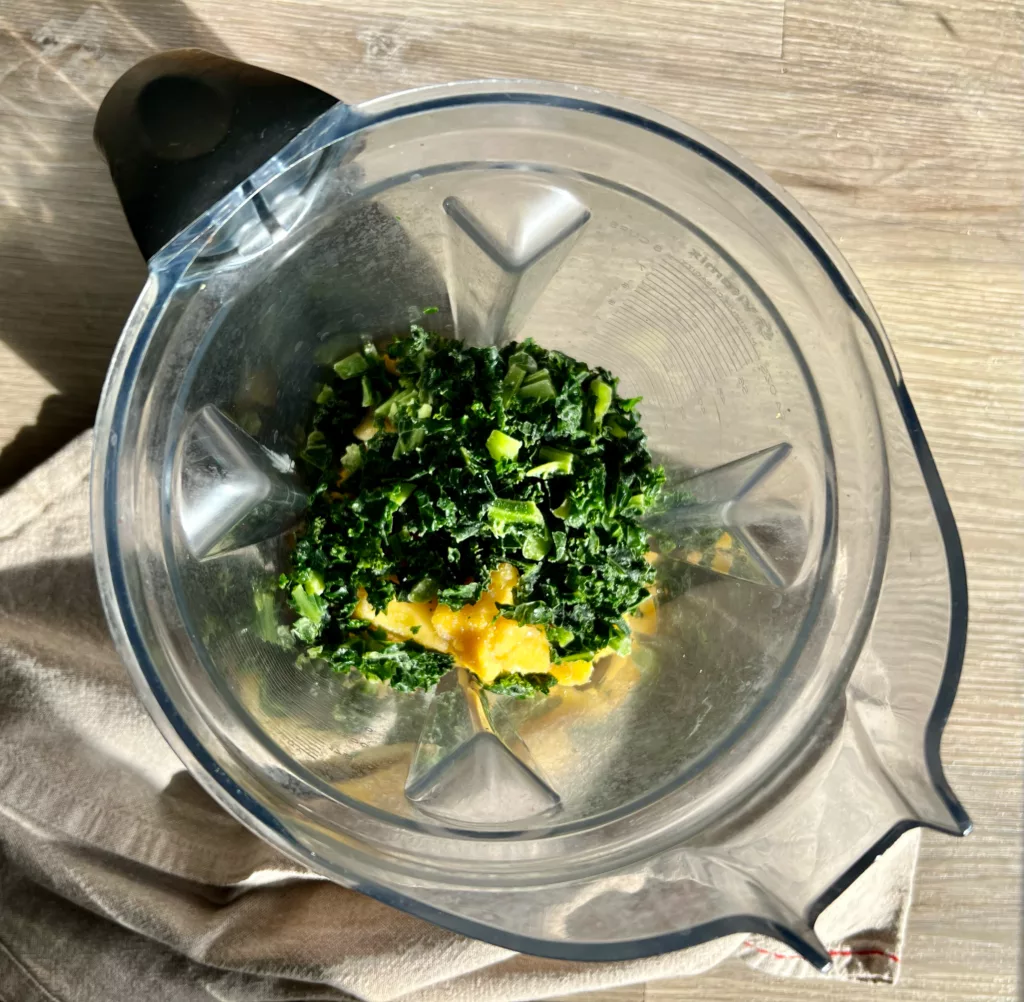 Gather all the ingredients and add them to a high-powered blender. Make sure to add the frozen mango and kale first. Followed by the protein powder, milk, and any optional extras you choose to include.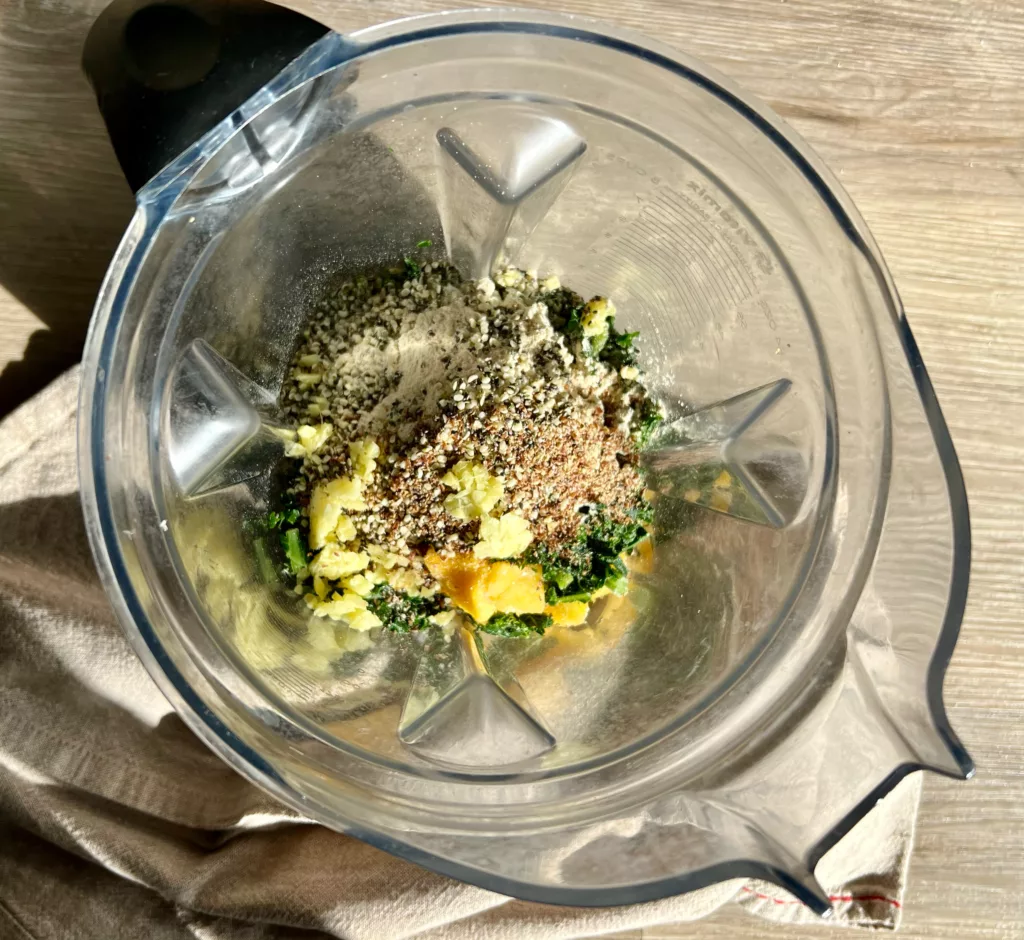 Blend all the ingredients until they are smooth and creamy. You may need to stop the blender and scrape down the sides with a spatula to ensure everything is well mixed. If the smoothie is too thick, you can add a little extra almond milk until you reach your desired consistency.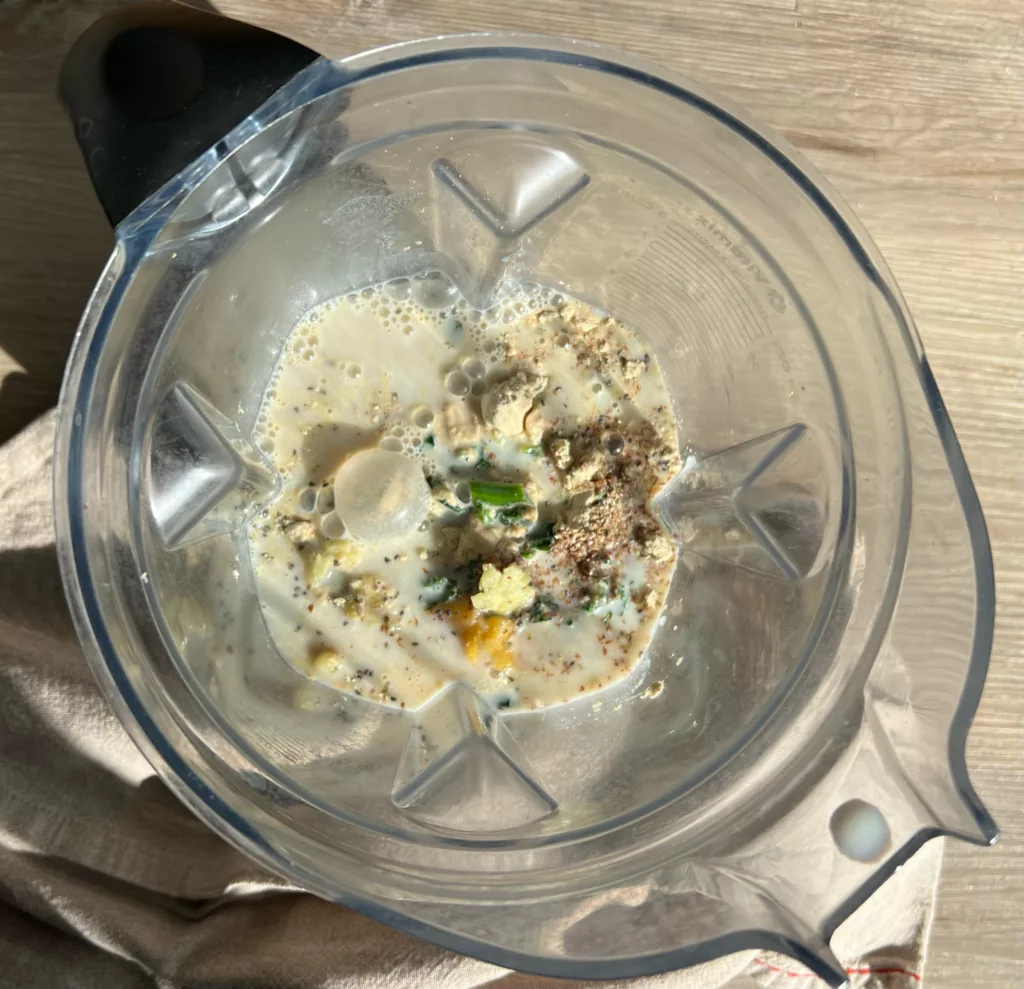 Once your smoothie is blended to perfection, pour it into a glass and enjoy! You can sip on it immediately or pop it in the fridge for a few minutes to chill. This smoothie is best served fresh, so be sure to drink it right away.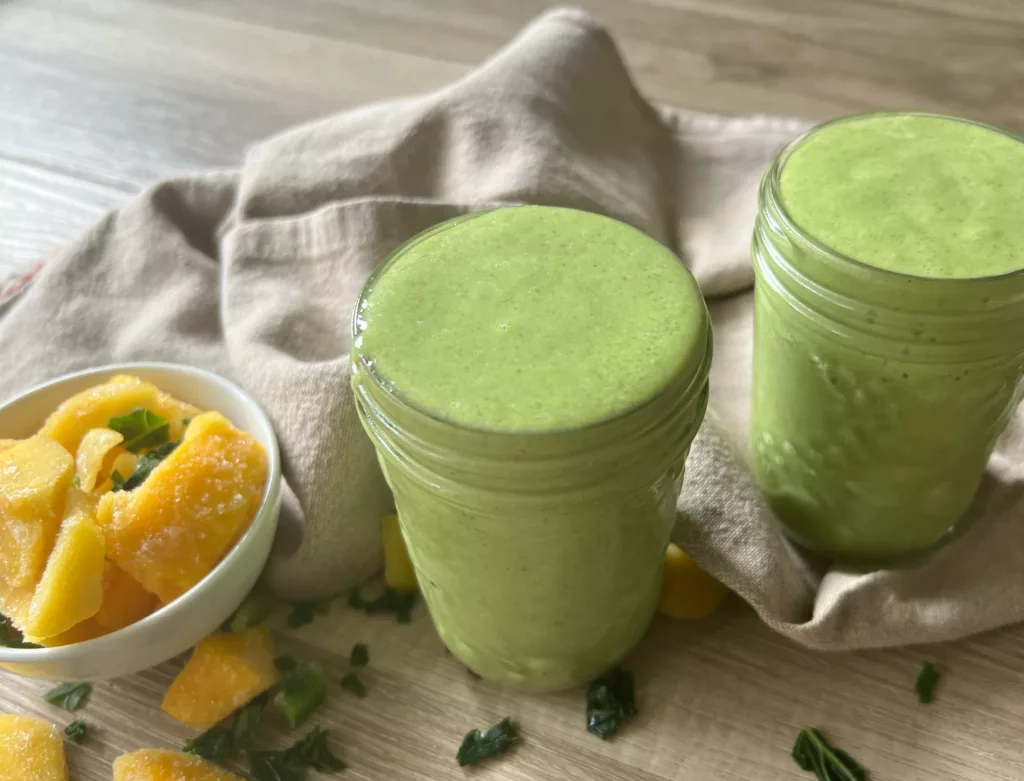 Tips & Tricks For This Kale Mango Protein Smoothie
Use ripe mangoes for the best flavor.
If you don't have almond milk, you can use any other type of plant-based milk, such as soy or oat milk.
Adjust the amount of milk – Depending on how thick or thin you like your smoothie, you can adjust the amount of plant milk you add. Start with one cup and add more if needed.
Serve immediately – For the best flavor and texture, serve your smoothie immediately after blending. If you need to store it for later, keep it in an airtight container in the fridge for up to a day.
FAQ: Vegan Mango Kale Smoothie
Can I use fresh kale instead of frozen?
Yes, you can use fresh kale, but the texture of the smoothie may be different. If using fresh kale, add a handful of ice to the blender to achieve a thick and creamy consistency.
Can I use a different type of plant milk?
Absolutely! You can use any type of plant milk you prefer, such as almond milk, soy milk, coconut milk, or oat milk. Just be sure to choose an unsweetened and unflavored variety to keep the sweetness level in check.
Is pea protein powder necessary?
No, you can skip the protein powder if you prefer. However, adding a scoop of protein powder will make the smoothie more filling and provide an extra dose of protein.
Can I substitute mango with a different fruit?
Sure! You can substitute mango with any other frozen fruit you like, such as pineapple, strawberries, or blueberries. Just keep the overall amount of fruit the same to maintain the consistency of the smoothie.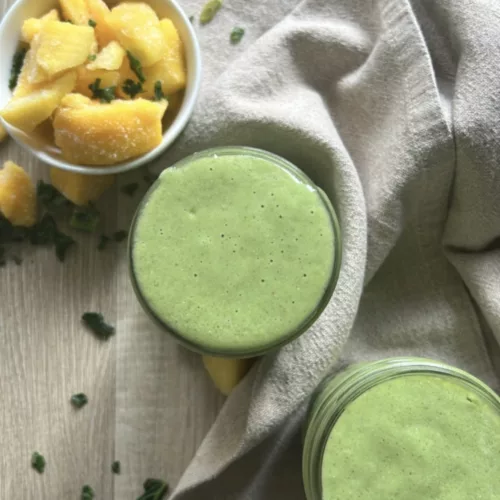 Kale Mango Protein Smoothie Vegan
This creamy and refreshing Vegan Mango Kale Smoothie is the perfect way to start your day or refuel after a workout. Packed with protein and healthy ingredients, it's easy to make and tastes delicious.
Ingredients
Optional Extras
1

tbsp

chopped fresh ginger

1

tbsp

ground flax seeds

1

tbsp

chia seeds

1

tbsp

hemp hearts
Instructions
Add all ingredients to a high powered blender and blend until smooth and creamy. If the smoothie is too thick, add a little extra almond milk.

Serve right away, and enjoy!
Video
Notes
If the consistency is too thick just add more plant-based milk as needed. 
Conclusion
In conclusion, this vegan mango kale smoothie is not only delicious and refreshing. But it's also packed with nutritious ingredients that will nourish your body and keep you feeling satisfied for hours. Whether you're looking for a quick and easy breakfast on-the-go, a post-workout snack, or a healthy dessert, this smoothie is the perfect choice.
With its vibrant green color and sweet tropical flavor, it's hard to believe that this smoothie is also incredibly good for you. The combination of frozen mango, kale, protein powder, and plant milk creates a creamy and satisfying texture that will leave you feeling energized and ready to tackle whatever the day throws at you.
So go ahead and whip up a batch of this delicious smoothie today. With just a few simple ingredients and a high-powered blender, you can enjoy a delicious and nutritious treat that will leave you feeling great inside and out. Cheers to good health and happy sipping!