Edamame, often described as young soybeans, are a popular and nutritious snack or side dish. These vibrant green pods contain immature soybeans and are harvested before they fully mature. Known for their mild, slightly nutty flavor, edamame is not only delicious but also packed with essential nutrients. In this recipe, we'll show you how to transform these nutrient-rich edamame into a mouthwatering and easy-to-make spicy edamame snack.
Ingredients & Substitutions
For this easy spicy edamame recipe, you'll need edamame in their shells, sesame oil, everything bagel seasoning, and hot chili flakes.
When it comes to possible substitutions, consider using frozen edamame if fresh ones are unavailable. Swap sesame oil with olive oil if necessary. If you don't have everything bagel seasoning, create your own blend using sesame seeds, garlic flakes, and poppy seeds.
Adjust the hot chili flakes to match your preferred level of spiciness or replace them with chili powder or hot sauce as an alternative. These ingredient swaps allow for flexibility based on what's in your kitchen, while still delivering a flavorful outcome.
Helpful Tools
Saucepan: Use a saucepan to boil the edamame.
Colander: You'll need a colander to drain the boiled edamame.
Mixing Bowl: A large mixing bowl is essential for combining the edamame with seasonings.
Spatula or Spoon: Use a spatula or spoon to stir and mix the ingredients in the bowl.
Measuring Spoons: These will help you accurately measure the sesame oil, everything bagel seasoning, and hot chili flakes.
Kitchen Towel: Keep a kitchen towel handy for patting the boiled edamame dry.
How to Make Spicy Edamame
To make this easy spicy edamame recipe, start by boiling 500 grams of edamame in their shells for 3-4 minutes.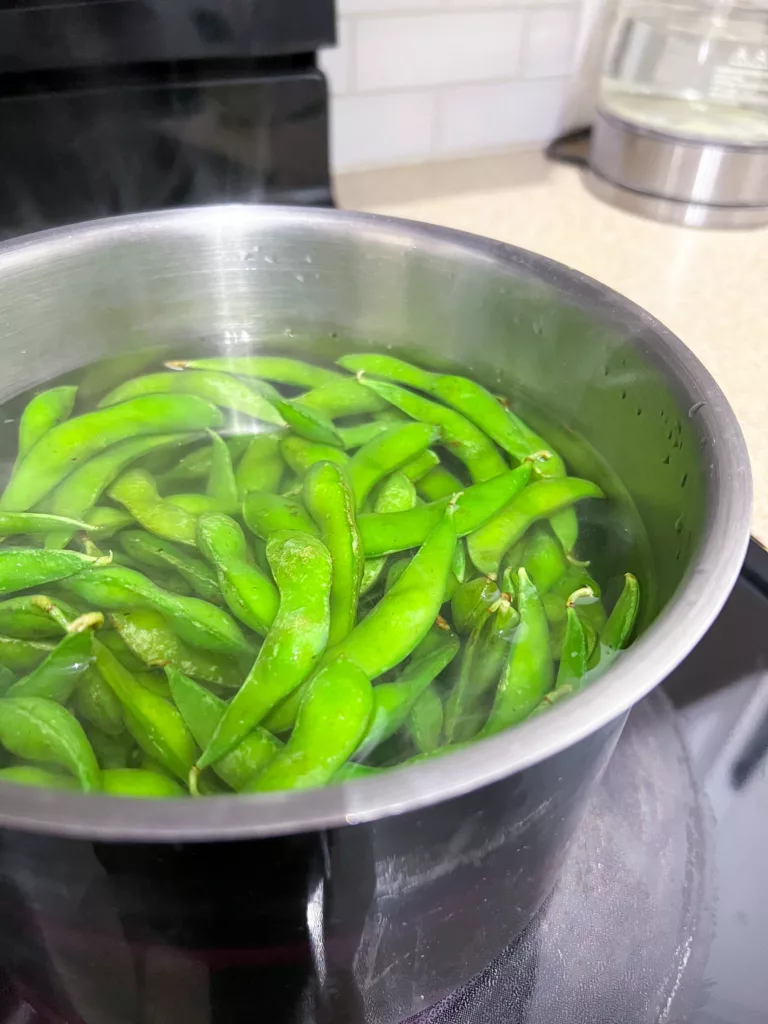 Once they're cooked, drain them and pat them dry. In a large mixing bowl, combine the cooked edamame with 1 teaspoon of sesame oil, 2 teaspoons of everything bagel seasoning, and 1-2 teaspoons of hot chili flakes.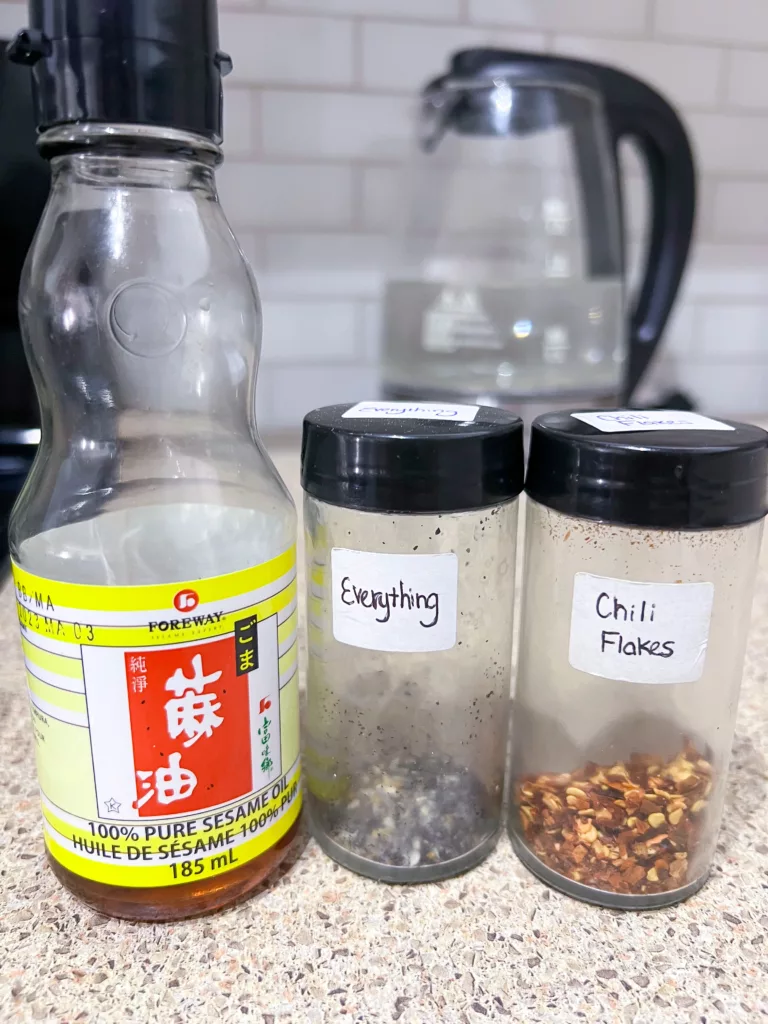 Give it a good stir to mix all the flavors together, and then serve your delicious spicy edamame while they're still warm. Enjoy this tasty snack!
Tips & Tricks
Quick Boil: Edamame cook rapidly, so keep a close eye on them. Boil for just 3-4 minutes to maintain a desirable tender yet slightly crunchy texture. Overcooking can lead to mushy edamame.
Drain Thoroughly: After boiling, drain the edamame thoroughly in a colander. Excess moisture can dilute the flavors and make them less appealing, so give them a good shake to remove excess water.
Season Gradually: Start with a modest amount of hot chili flakes in the seasoning mix. You can always add more if you want it spicier. This approach allows you to control the heat level according to your preference.
Serve Hot: Edamame are at their tastiest when served immediately after seasoning while they're still warm. The heat enhances the flavors and makes for a delightful snack or side dish.
Customize: Get creative with your seasoning. Besides chili flakes, consider adding ingredients like garlic powder, grated Parmesan cheese, or a squeeze of fresh lime juice to create unique flavor variations.
FAQ: Easy Spicy Edamame
Can I use frozen edamame for this recipe?
Absolutely! Frozen edamame works well. Just follow the same boiling and seasoning process as with fresh edamame.
Can I make this recipe ahead of time?
Yes, you can prepare this recipe in advance and reheat it when needed. It's a great option for a quick and healthy snack.
Can I use shelled edamame for this recipe?
While shelled edamame can work, the pods help retain the seasoning and are easier to handle. Shelled edamame may require a slightly different cooking method.
Are there any nutritional benefits to edamame?
Yes, edamame is a great source of plant-based protein, fiber, vitamins, and minerals. It's a nutritious addition to your diet, offering potential health benefits.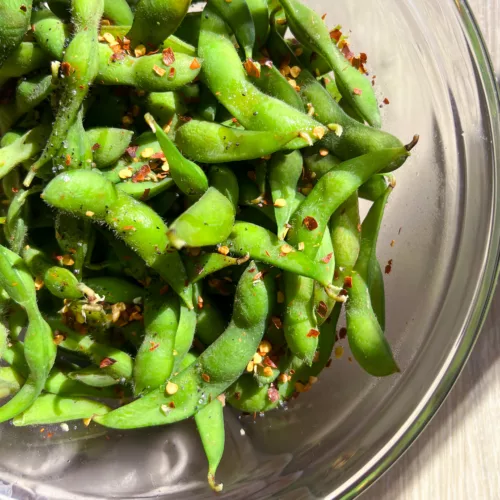 Easy Spicy Edamame
This versatile edamame dish balances mild nutty flavors with a hint of spiciness. It's perfect as a snack, appetizer, or side dish, and you can customize the heat level to your liking. Make it ahead for a convenient, high-protein option.
Ingredients
500

grams

edamame in shell

(about 1 lb)

1

tsp

sesame oil

2

tsp

everything bagel seasoning

1-2

tsp

hot chili flakes
Instructions
Boil the edamame for 3-4 minutes. Drain and pat dry.

In a large mixing bowl, add cooked edamame, sesame oil, everything bagel seasoning and hot chili flakes. Stir to combine, and serve while warm. Enjoy!
Conclusion
This easy spicy edamame recipe combines delightful flavors with a hint of heat, making it an ideal choice for a snack, appetizer, or side dish. Prepare it in advance for a high-protein vegan on-the-go snack at work or school. Enjoy!