If you're a fan of garlic bread and looking for a delightful twist, you're in for a treat! Tortilla garlic bread combines the goodness of traditional garlic bread with the convenience and crunchiness of tortillas. This quick and easy recipe is perfect as an appetizer, snack, or even a side dish for your favorite meals. In this article, we'll walk you through the simple steps to make this mouthwatering treat. We'll also explore the essential ingredients, substitutions you can try, the helpful tools you'll need, some tips and tricks to enhance the flavors, and answer some common questions about tortilla garlic bread.
Ingredients & Substitutions
To create the perfect tortilla garlic bread, you'll need the following ingredients:
Tortillas: Choose your favorite type, whether it's flour, corn, or whole wheat.
Butter: Unsalted butter works best for a rich flavor.
Garlic Powder: Adds the irresistible garlic kick.
Shredded Vegan Mozzarella: For that gooey, cheesy goodness.
Italian Seasoning: A blend of herbs that elevates the taste.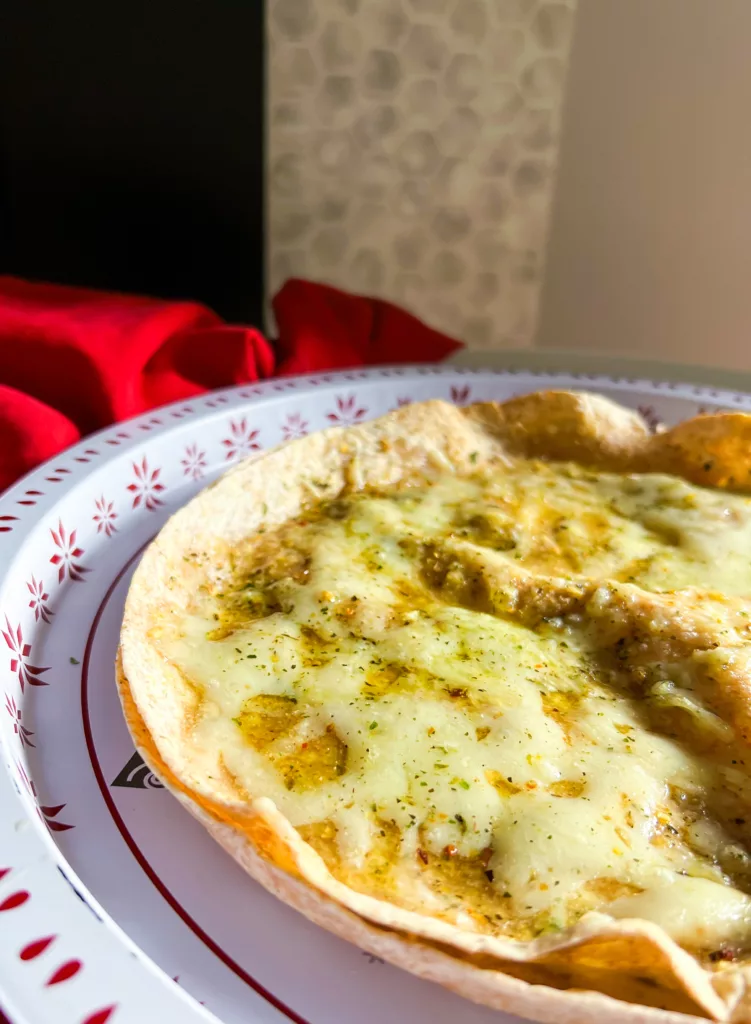 Substitutions: If you want to get creative, you can replace the vegan mozzarella with other vegan cheeses like cheddar or provolone. You can also experiment with different seasonings to suit your taste preferences.
Helpful Tools
Creating tortilla garlic bread is a breeze with the right tools:
Air Fryer: This is the star of the show, giving you that perfect crunch and melt.
Basting Brush: For evenly spreading the butter on the tortillas.
Measuring Spoons: To ensure accurate measurements of the garlic powder and seasoning.
How to Make Tortilla Garlic Bread
Spread the Butter: Using a basting brush spread a generous layer of melted vegan butter over each tortilla.
Sprinkle Garlic Powder: Evenly sprinkle garlic powder over the buttered tortillas. This will infuse them with amazing flavor.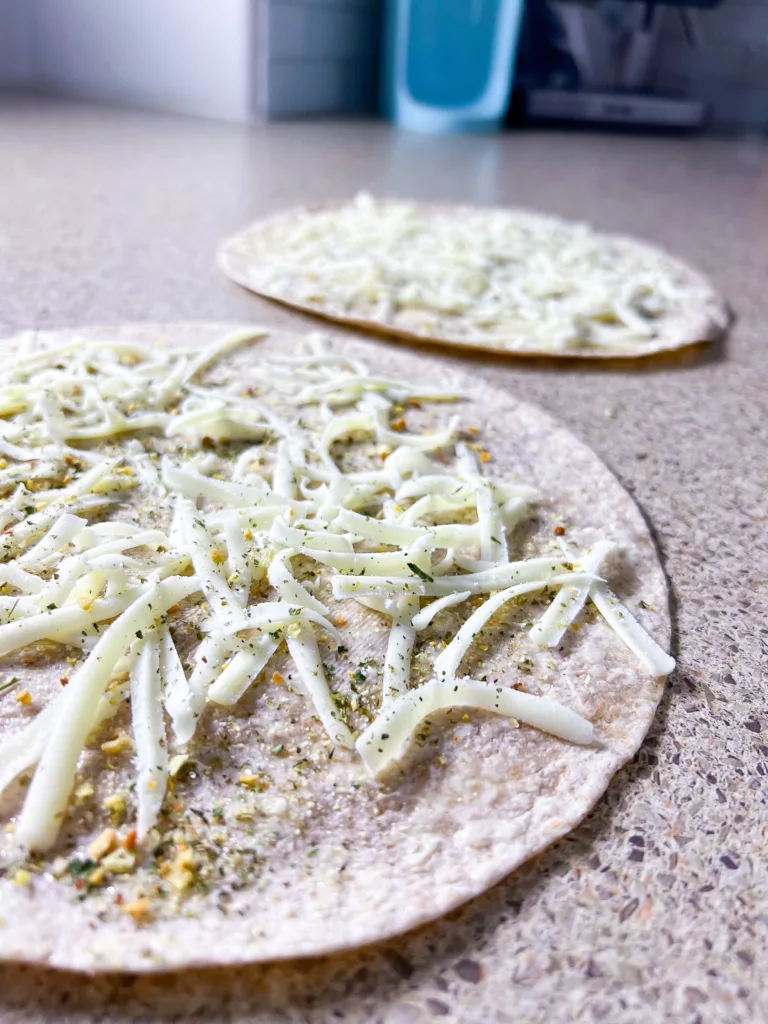 Add Vegan Mozzarella: Sprinkle shredded vegan mozzarella over the tortillas, ensuring an even distribution.
Season with Italian Seasoning: Top off with a sprinkle of Italian seasoning to enhance the taste profile.
Create a Sandwich: Place one tortilla on top of the other to create a sandwich-like structure, keeping them flat.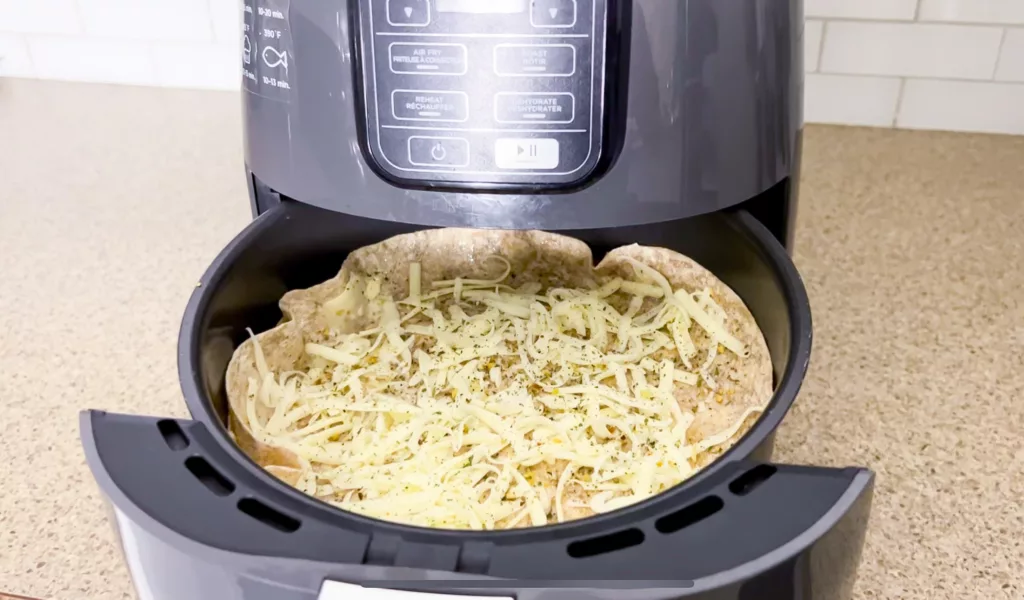 Air Fry: Preheat the air fryer to 375 degrees. Place the tortilla sandwich in the air fryer and cook for 3-5 minutes. Keep an eye on it to prevent burning.
Check for Perfection: The cheese should be melted, and the tortillas should have a light golden color.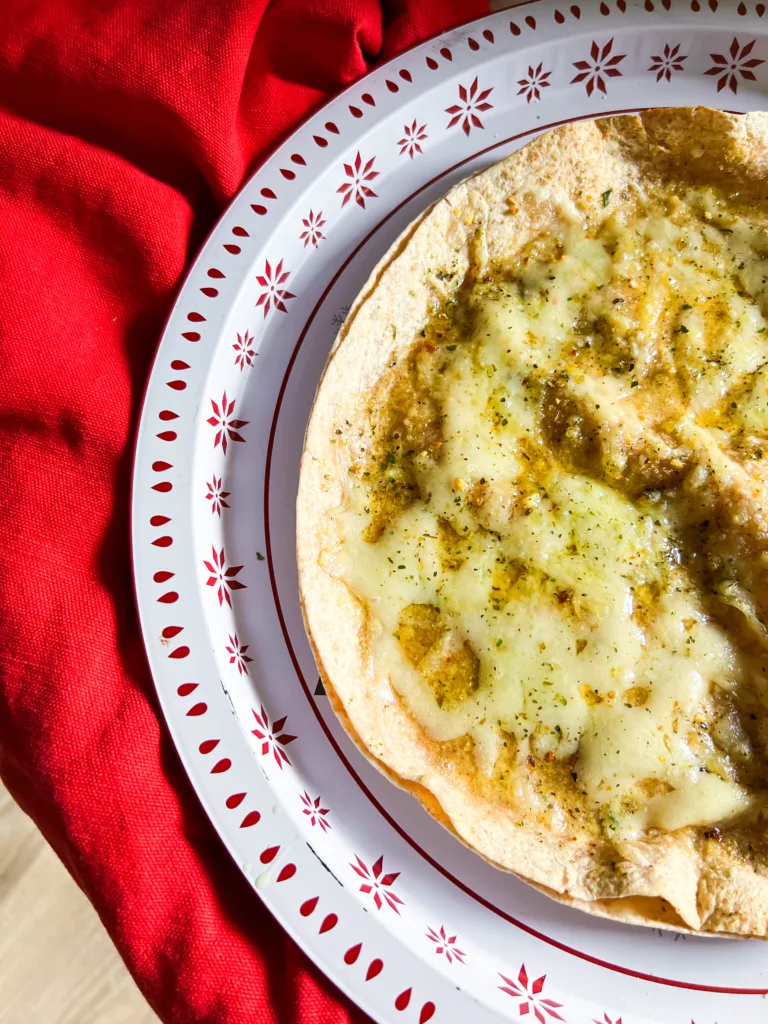 Serve and Enjoy: Carefully remove from the air fryer, slice if desired, and serve this delightful treat.
Tips & Tricks
Experiment with different vegan cheese blends for unique flavors.
Add a sprinkle of grated vegan parmesan for an extra savory touch.
Garnish with fresh herbs like parsley or basil before serving.
FAQ: Tortilla Garlic Bread
Can I use a regular oven instead of an air fryer?
While an air fryer provides the best results, you can use a regular oven. Oven Instructions: Bake at 350 degrees on a baking sheet for about 10 mins.
Can I use flavored tortillas?
Absolutely! Flavored tortillas, like spinach or sun-dried tomato, can add an extra dimension of taste.
Can I make these in advance?
While they're best enjoyed fresh, you can prepare the buttered tortillas in advance and assemble them just before air frying.
Can I use regular cheese?
Yes, you can substitute shredded cheese although this will not be vegan.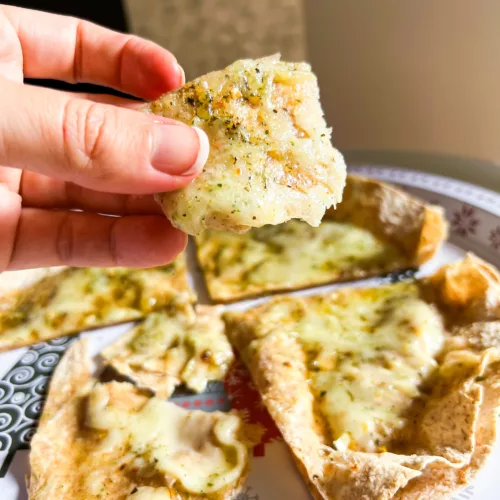 Air Fryer Tortilla Garlic Bread – Viral Tiktok Recipe
Indulge in the perfect blend of flavors with our Tortilla Garlic Bread recipe. Crispy, cheesy, and utterly delicious. Try it today! 🧀🍞 #TortillaGarlicBread
Ingredients
2

large

tortillas

1-2

tbsp

butter

(vegan)

¾

cup

grated mozzarella

(vegan)

1

tsp

garlic powder

1

tsp

Italian seasoning
Instructions
Spread the butter over each tortilla and sprinkle evenly with garlic powder.

Evenly distribute the shredded mozzarella over each tortilla and top with the Italian seasoning.

Place on of the tortillas on top of the other, keeping them flat.

Cook in the air fryer at 375 degrees for 3-5 mins. Each air fryer is different so keep an eye to make sure it doesn't burn. The cheese should be melted and the tortilla a light golden colour.
Notes
Oven Instructions: Bake at 350 degrees on a baking sheet for about 10 mins. 
Conclusion:
Tortilla garlic bread is a simple yet indulgent treat that brings together the comforting flavors of garlic bread and the satisfying crunch of tortillas. With just a few ingredients and the magic of an air fryer, you can create a crowd-pleasing snack that's perfect for any occasion. So, gather your ingredients, fire up the air fryer, and treat yourself to this delectable delight.