This delightful dip combines a rich vegan mayo base with tangy lemon juice and aromatic herbs for a burst of flavor. Perfect for entertaining or indulging in a solo snack session, our must-try vegan ranch dip is sure to impress.
Ingredients & Substitutions For This Vegan Ranch Dip Recipe
This Thick & Creamy Easy Vegan Ranch Dip recipe requires a few key ingredients to create its delicious flavor and texture. Vegan mayo serves as the base, providing a creamy and rich foundation for the dip.
To add a tangy and refreshing element, we use lemon juice. The acidity of the lemon juice balances the creaminess of the dip, providing a pleasant contrast. However, if you don't have any lemon juice on hand, you can substitute it with lime juice for a similar effect.
Apple cider vinegar is another essential ingredient in this recipe, adding a subtle tartness and depth of flavor. It complements the other ingredients and enhances the overall taste profile. If you prefer a milder flavor, you can substitute apple cider vinegar with white vinegar or rice vinegar.
The dip acquires its savory and aromatic qualities from garlic powder, infusing it with a distinct flavor that adds depth and complexity. Furthermore, a medley of herbs and seasonings contributes to the overall flavor profile. Onion powder imparts a subtle onion taste, while dried dill and dried parsley introduce herbal notes. Fresh chives provide a mild onion-like flavor and a touch of freshness. Lastly, salt and pepper are incorporated to season the dip to individual preferences.
Helpful Tools
Whisk or Spoon: A whisk or spoon is needed to thoroughly mix the ingredients together, ensuring a smooth and creamy consistency. Choose a sturdy whisk or a large spoon for effortless blending.
Measuring Spoons: Accurate measurements are crucial for achieving the perfect balance of flavors. Have a set of measuring spoons available to measure the precise amounts of lemon juice, apple cider vinegar, garlic powder, onion powder, dried dill, dried parsley, and salt and pepper.
Chopping Board and Knife: If you decide to use fresh herbs like chives or fresh parsley, a chopping board and a sharp knife will come in handy for finely chopping them before adding them to the dip.
Optional Blender or Food Processor: While not necessary for this recipe, a blender or food processor can be used if you prefer a smoother consistency. It can help blend the ingredients together more evenly, resulting in a silky texture.
How to Make This Thick & Creamy Vegan Ranch Dip
To get started, begin by grabbing a medium mixing bowl. In the bowl, combine the vegan mayo, lemon juice, apple cider vinegar, garlic powder, onion powder, dried dill, dried parsley, fresh chives, salt, and pepper.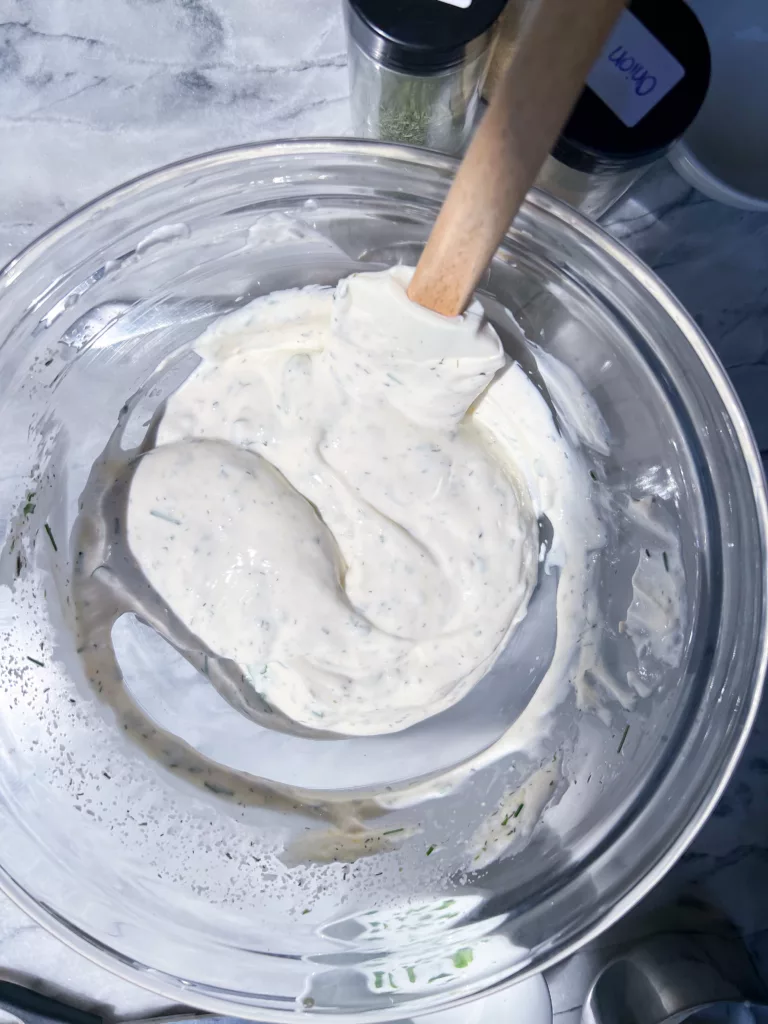 To ensure a well-blended dip, thoroughly mix the ingredients using a whisk or spoon. If you prefer a thinner consistency, gradually incorporate a splash of plain plant milk into the mixture and continue whisking to blend everything together.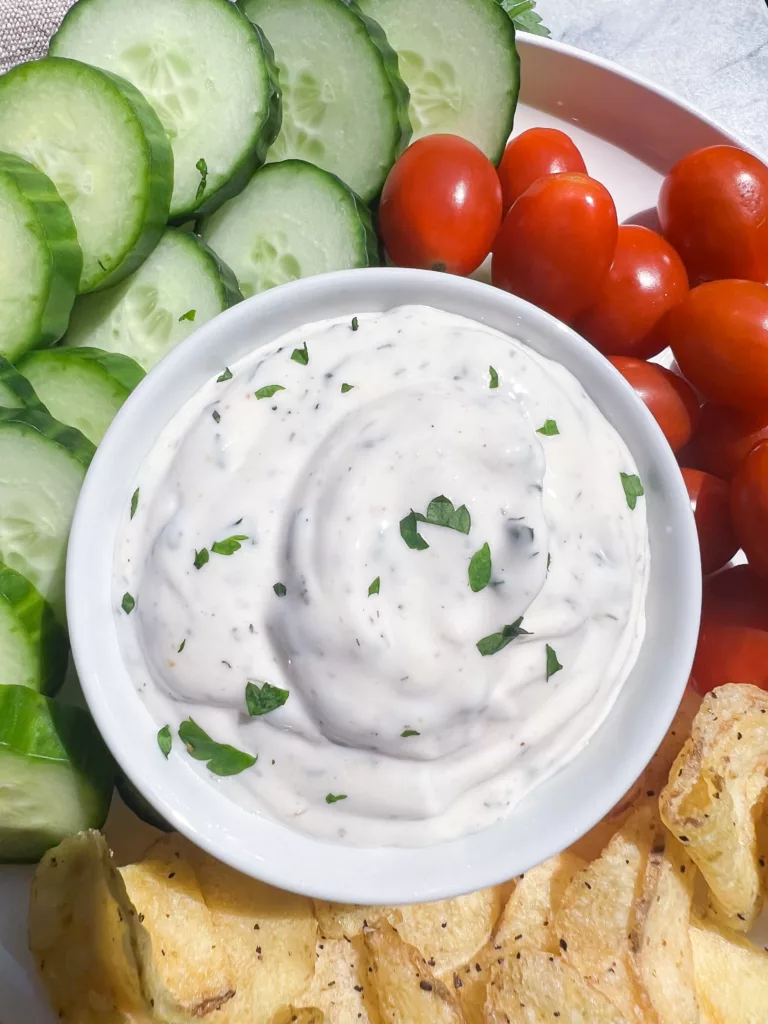 Once all the ingredients are thoroughly incorporated, your dip is now ready to be savored! Serve it alongside your favorite snacks or appetizers, such as fresh vegetables or crispy tortilla chips.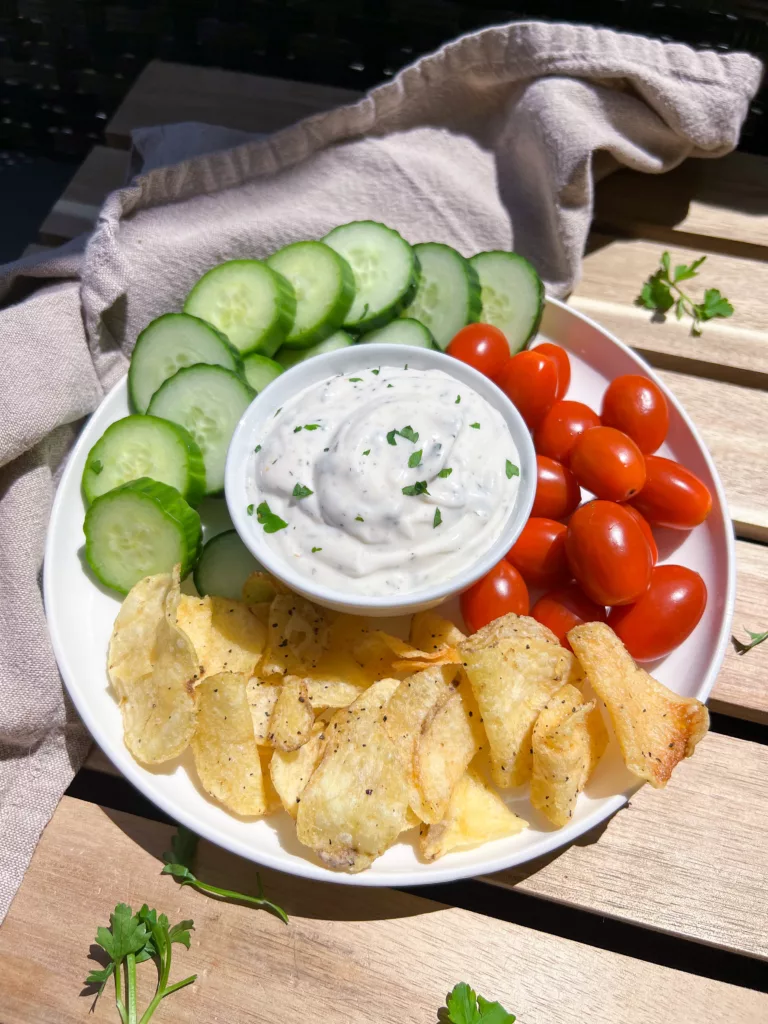 Tips & Tricks
Adjust the Seasonings: Feel free to tweak the amounts of garlic powder, onion powder, dried dill, dried parsley, and other seasonings to suit your taste preferences. Start with the recommended measurements, then gradually add more if you desire a bolder flavor.
Use Fresh Herbs: While the recipe calls for dried dill, dried parsley, and chives, using fresh herbs can elevate the taste even further. If available, substitute the dried herbs with their fresh counterparts for a burst of vibrant flavors.
Allow for Flavor Development: For best results, refrigerate the dip for at least an hour before serving. This resting time allows the flavors to meld together, resulting in a more pronounced and harmonious taste.
Experiment with Add-ins: Get creative and customize your vegan ranch dip by adding additional ingredients. Consider mixing in finely chopped fresh vegetables like bell peppers, cucumbers, or jalapeños for added crunch and freshness. You can also incorporate spices like paprika or cayenne pepper to give it a spicy kick.
Serve with a Variety of Dippers: While the dip pairs wonderfully with fresh vegetables and tortilla chips, don't limit yourself. Expand the options by serving it with pita bread, pretzels, roasted sweet potato wedges, or even as a flavorful spread in sandwiches and wraps.
Make Ahead: If you're planning to serve the dip for a gathering or party, you can prepare it a day in advance. Store it in an airtight container in the refrigerator, allowing the flavors to further develop overnight.
FAQ: Vegan Ranch Dip
Can I use a different type of mayo for this recipe?
Absolutely! While the recipe calls for vegan mayo, you can experiment with different brands or even make your own. Just ensure that the mayo you choose is vegan-friendly and has a similar creamy texture.
Can I substitute fresh herbs for dried herbs?
Yes, you can substitute dried dill, dried parsley, and chives with their fresh counterparts. Fresh herbs can add a vibrant flavor to the dip. Keep in mind that the ratio for fresh herbs to dried herbs is typically 3:1, so adjust accordingly.
Can I use a blender or food processor to make the dip?
While it's not necessary, you can use a blender or food processor if you prefer a smoother consistency for the dip. However, be cautious not to overmix, as it can make the dip too thin.
Can I freeze the vegan ranch dip?
It is not recommended to freeze the dip, as the texture and consistency may change when thawed. It is best enjoyed fresh or stored in the refrigerator for a few days.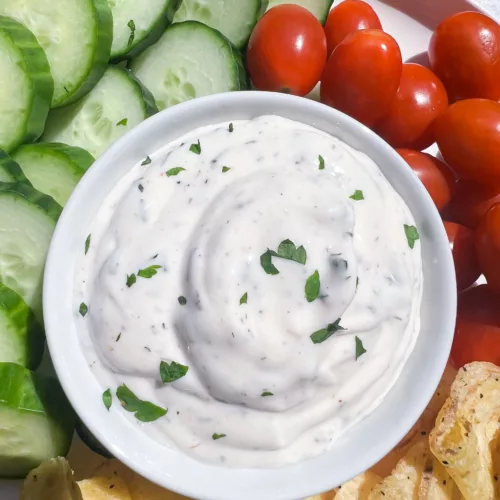 Easy Vegan Ranch Dip Recipe Thick & Creamy
This Thick & Creamy Easy Vegan Ranch Dip is a crowd-pleasing, vegan-friendly recipe. It offers a creamy and flavorful experience, ideal for dipping vegetables or using as a dressing. Prepare this easy and delicious dip for a versatile addition to your snacking and appetizer options.
Ingredients
1 ½

cups

vegan mayo

1

tbsp

lemon juice

1

tbsp

apple cider vinegar

1

tsp

garlic powder

½

tsp

onion powder

1

tsp

dried dill

(use 2 tbsp of fresh chopped if you have it)

1

tsp

dried parlsey

(or 2-3 tbsp fresh, finely chopped)

¼

cup

fresh chives, finely chopped

salt and pepper to taste
Instructions
In a medium mixing bowl, add vegan mayo, lemon juice, vinegar, garlic powder, onion powder, dill, parsley, chives, salt and pepper. Mix well to combine.

If using as a ranch dressing, use 1/4 cup up to 1/2 cup of plain plant milk to thin it. Serve, and enjoy!
Video
Conclusion
This Thick & Creamy Easy Vegan Ranch Dip recipe is a delightful addition to any snack or appetizer spread. With its savory flavors and creamy texture, this vegan-friendly dip is sure to impress both vegans and non-vegans alike. By following the simple instructions and incorporating some helpful tips and tricks, you can easily customize this dip to suit your taste preferences. Whether you're enjoying it with fresh vegetables, crispy tortilla chips, or using it as a dressing for salads, this versatile dip is a crowd-pleaser!