Packed with protein and bursting with flavors, this tofu bowl is the perfect choice for a satisfying and healthy meal prep option. Our crispy tofu cubes are seasoned with nutritional yeast and soy sauce, creating a delectable and flavorful experience. The couscous, infused with turmeric and black pepper, adds a delightful twist to the dish. To top it off, we have a Spicy Lemon Tahini Dressing that brings all the flavors together in a harmonious blend. This recipe is not only delicious but also incredibly easy to prepare. So, let's dive in and create a week's worth of scrumptious and protein-rich meals.
Ingredients & Substitutions
Let's explore the fantastic ingredients that make up our Tofu Bowl and some possible substitutions to cater to different preferences.
The star of this dish is, of course, the tofu – extra firm tofu adds a satisfying texture, but you can try using firm tofu for a different bite. For those who aren't tofu enthusiasts, consider swapping it out with tempeh or chickpeas for an equally protein-packed alternative.
Next, we have nutritional yeast, which adds a savory twist, but if it's not your cup of tea, you can experiment with miso paste or your favorite spices. Additionally, soy sauce or tamari provides that umami flavor, but for a soy-free option, coconut aminos work wonders.
As for the veggies, red cabbage brings color and crunch, but you can use shredded kale or carrot for a unique twist. Cucumber adds a refreshing touch, yet sliced bell peppers or zucchini make equally great choices.
And don't forget the couscous! If you prefer something different, swap it with quinoa or brown rice to suit your taste.
Lastly, the Spicy Lemon Tahini Dressing elevates the dish, but for a different dressing adventure, try a zesty lemon vinaigrette or a creamy avocado sauce. Now you have a range of options to customize your Tofu Bowl and make it perfect for you!
Helpful Tools
Tofu Press: A tofu press is a valuable tool for draining excess water from the tofu. It helps achieve a firmer texture, making it easier to cut and cook the tofu.
Air Fryer or Oven: An air fryer or oven is essential for achieving that crispy texture on the tofu without excessive oil. Whether you prefer air frying or baking, both methods work perfectly for this recipe.
Large Mixing Bowl: A spacious mixing bowl is handy for tossing the tofu in the cornstarch, nutritional yeast, and soy sauce, ensuring even coating and flavor distribution.
Mason Jar or Dressing Shaker: To prepare the Spicy Lemon Tahini Dressing, a mason jar or dressing shaker makes it convenient to combine all the ingredients and store the dressing for later use.
Sharp Knife and Cutting Board: A Sharp Knife is essential for precise chopping of the veggies, like red cabbage and cucumber, is crucial for a visually appealing and satisfying bowl.
Meal Prep Containers: Investing in good-quality meal prep containers allows you to divide the ingredients neatly and store them in the fridge for easy grab-and-go meals throughout the week.
How to Make Couscous Tofu Bowl for Meal Prep
First, cut the tofu into cubes and toss them with nutritional yeast and soy sauce for a burst of flavor. If you prefer a crispy texture, air fry at 390°F for 10 minutes, flipping halfway, or bake at 400°F for 30 minutes, flipping halfway.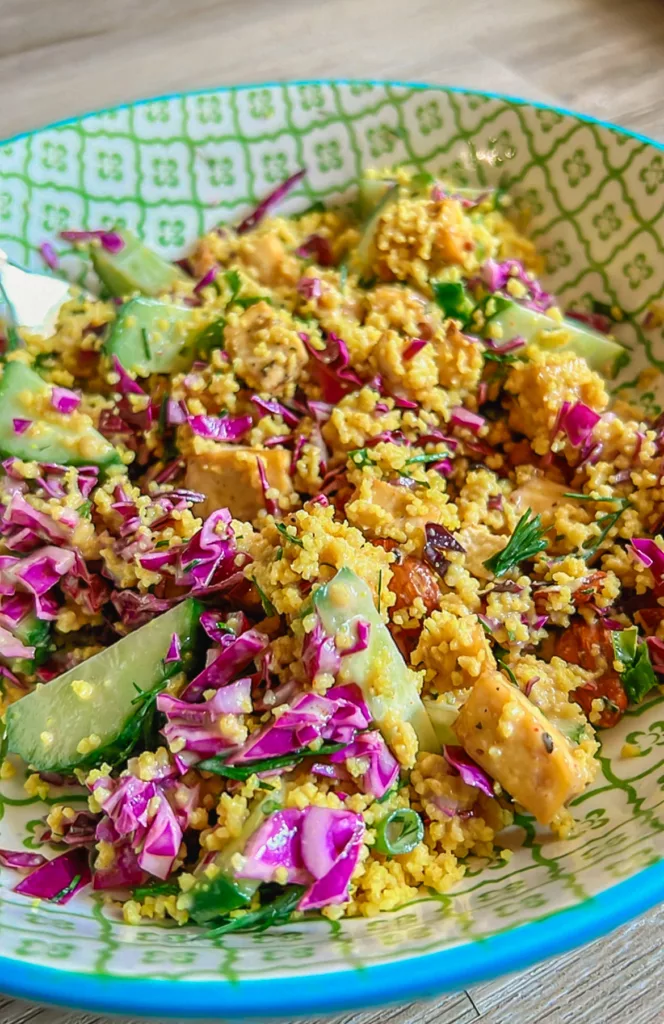 Next, cook the couscous. Add turmeric and black pepper and follow the package instructions.
Chop or grate the red cabbage, dice the cucumber, and prepare the fresh dill and chopped almonds for the delightful toppings.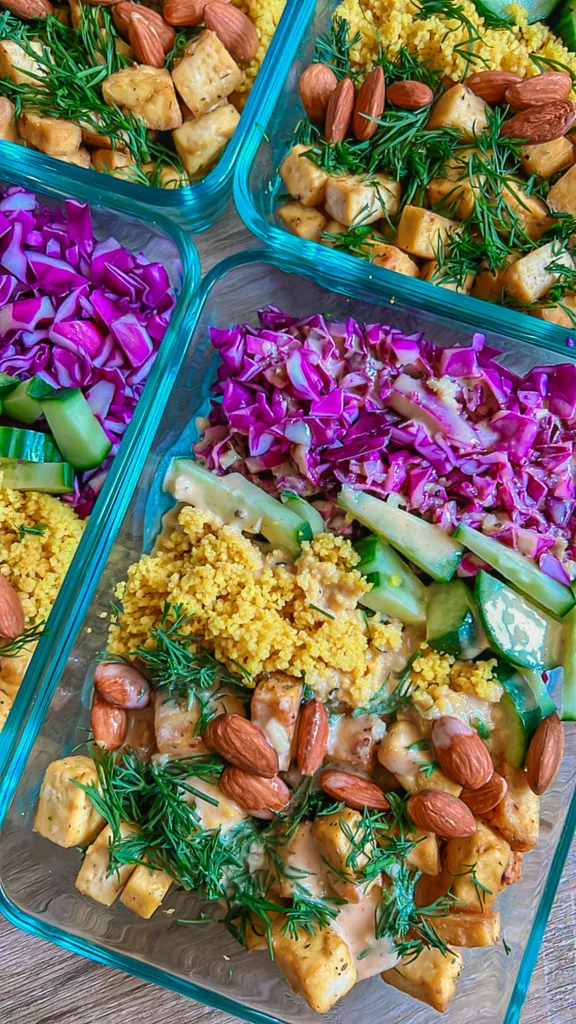 In a mason jar, combine tahini, olive oil, lemon juice, garlic, maple syrup, red wine vinegar, hot chili powder, salt, and pepper. Shake well to create a luscious dressing.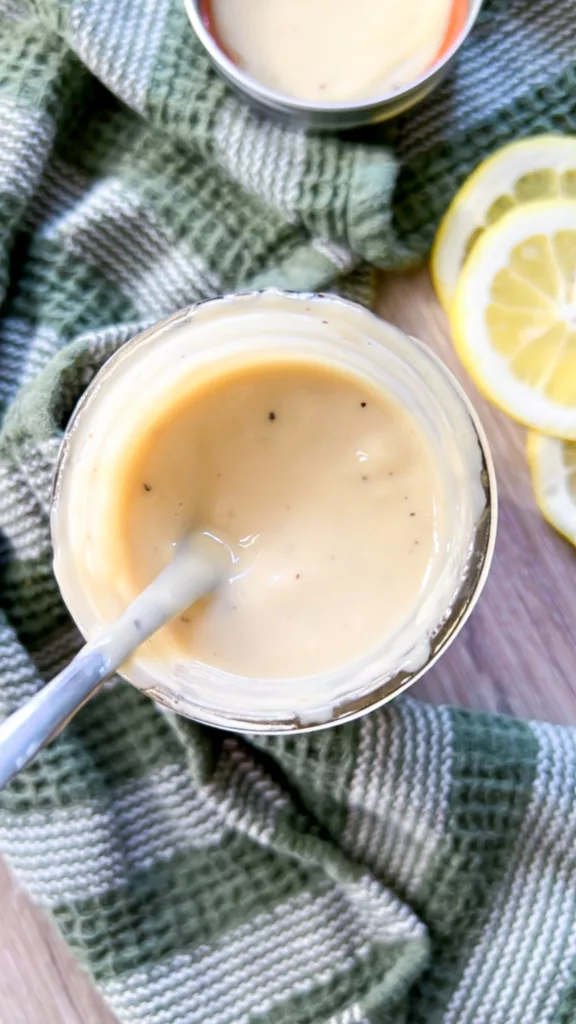 Divide the crispy tofu, couscous, chopped veggies, and toppings into 4 meal prep containers for easy storage.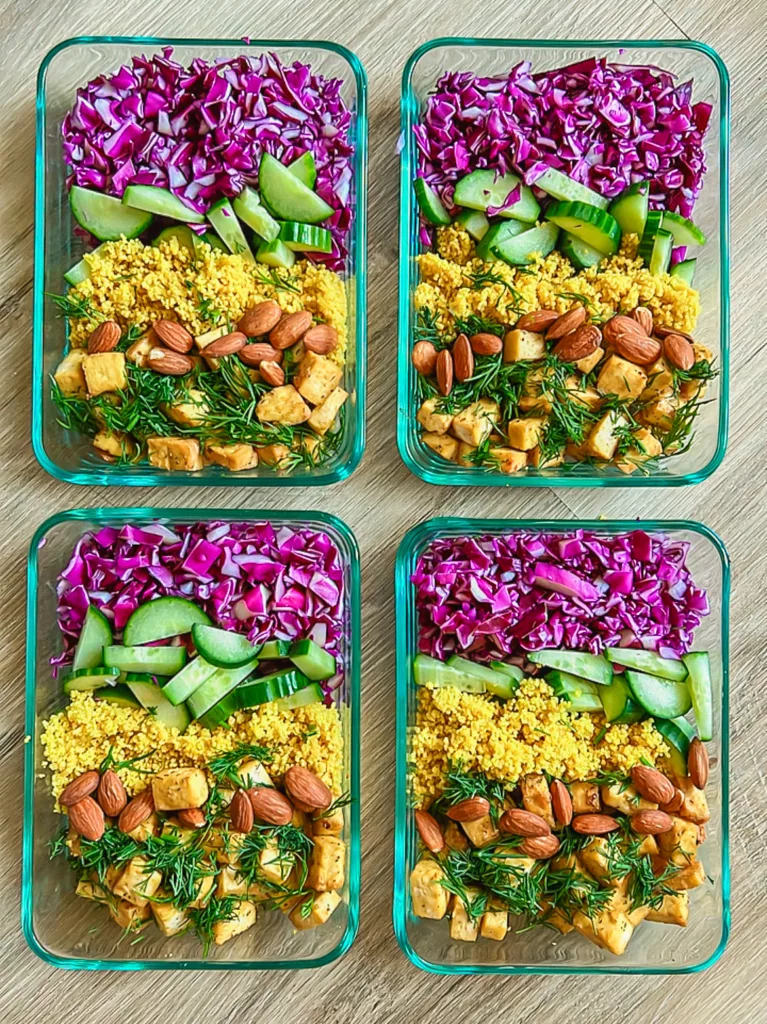 Keep the dressing and chopped almonds aside until you're ready to serve. When it's time to enjoy, drizzle the Spicy Lemon Tahini Dressing over your Tofu Bowl.
Tips & Tricks
Press The Tofu: Before marinating, press the tofu to remove excess water. Wrap the tofu block in paper towels and place a heavy object on top for about 15-20 minutes. This step enhances the tofu's texture and helps it absorb the flavors better.
Marinate the Tofu: For extra tasty tofu, let it marinate in the nutritional yeast and soy sauce mixture for at least 15 minutes before cooking. This allows the flavors to penetrate the tofu, making it even more delicious.
Air Frying vs. Baking: If you prefer a crunchy texture, air frying the tofu is a quick and oil-free option. For a chewier texture, opt for baking it in the oven.
Toast the Nuts: For added crunch and flavor, toast the chopped almonds in a dry pan over medium heat until lightly browned. Keep an eye on them as they can burn quickly.
Customize the Veggies: Don't hesitate to mix and match veggies based on your preferences or what's in season. Colorful veggies like bell peppers, carrots, or broccoli can add variety to your bowl.
Meal Prep Made Easy: Use sturdy meal prep containers to store the individual components of the Tofu Bowl. This ensures freshness and makes it convenient for grab-and-go lunches or dinners.
FAQ: High Protein Meal Prep Tofu Bowl Recipe
Can I use other protein sources instead of tofu?
Absolutely! While the recipe focuses on tofu, you can easily swap it out for other protein-packed options like tempeh, chickpeas, or even seitan to suit your preferences or dietary needs.
Is there a gluten-free option for the couscous?
Yes! If you need a gluten-free alternative, consider using quinoa, rice, or gluten-free couscous in place of whole wheat couscous.
How long does the Tofu Bowl stay fresh in the fridge?
When properly stored in airtight containers, the assembled Tofu Bowls can stay fresh in the refrigerator for up to 4-5 days, making it an excellent option for meal prepping.
Can I use different vegetables in the bowl?
Absolutely! You can customize the Tofu Bowl with your favorite veggies or based on what's in season. Bell peppers, zucchini, or spinach are great alternatives.
How can I reheat the Tofu Bowl for serving?
To reheat, gently warm the components in the microwave or on the stovetop until thoroughly heated. Add the dressing and toppings just before serving for a fresh and flavorful meal.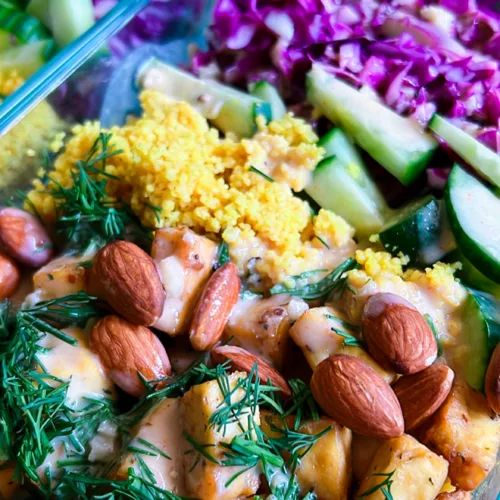 Couscous Tofu Bowl High Protein Meal Prep
This Tofu Bowl recipe features crispy tofu, nutritious veggies, and a zesty Spicy Lemon Tahini Dressing for a delicious and protein-packed meal prep option.
Ingredients
Veggies
¼

head

red cabbage, finely chopped or grated

1

cucumber, diced
Couscous
1

cup

whole wheat couscous

(uncooked)

1

tsp

turmeric

1

tsp

black pepper
Spicy Lemon Tahini Dressing
¼

cup

tahini

¼

cup

extra virgin olive oil

2

tbsp

maple syrup

2

tbsp

red wine vinegar

1

clove

garlic

1

tsp

hot chili powder

(or adjust to your spice preference)

salt and pepper to taste
Toppings
¼

cup

fresh dill, chopped

¼

cup

chopped almonds
Instructions
First, prepare the crispy tofu. Cut tofu into cubes and toss in the cornstarch, nutritional yeast and soy sauce. Air fry at 390 for 10 minutes flipping halfway or bake at 400 degrees for 30 minutes flipping halfway.

Meanwhile, prepare your couscous by adding the turmeric, black pepper, and following the package instructions. (Typically, add 1.5 cups of boiling water to 1 cup of couscous in a large bowl, cover for 5 minutes then fluff with a fork.)

Next, chop the veggies and toppings and prepare your dressing. In a mason jar, add tahini, olive oil, lemon juice, garlic, maple syrup, red wine vinegar, salt, pepper and hot chilli powder and shake well to combine.

Divide the ingredients into 4 meal prep containers and store in the fridge. Keep the dressing, and almonds to the side until you are ready to serve. Enjoy!
Conclusion
This Tofu Bowl recipe offers a delightful and nutritious meal prep option that is both flavorful and protein-packed. With crispy tofu, colorful veggies, and a zesty Spicy Lemon Tahini Dressing, this bowl is a perfect balance of taste and healthiness. It's a versatile dish that can be customized to suit your preferences and dietary needs, making it a great addition to your weekly meal planning. So, gather your ingredients and embark on a culinary adventure to savor the fantastic flavors of this Tofu Bowl. Happy cooking and bon appétit!